Chasing a dream against all odds

Santosh H K Narayan
&nbsp | &nbsp Ranchi
29-October-2010
Vol 1&nbsp|&nbspIssue 9
Her job as Commercial Tax Officer (Investigation) in Jamshedpur involves a wide range of challenges. But she takes them in her stride for the simple reason that life itself has thrown enough challenges till she cleared the state civil services examination conducted by the Jharkhand Public Service Commission (JPSC) in 2008.

Ranju, who was born with a problem in her eyes, lost vision in the left eye when she was five years and subsequently went fully blind. Since then it has been an uphill task for her in all spheres of life. "I do not take much help from others as I do not want to become a burden on them. I use a software that recites what I type on computer and just take help of my driver to put signature on the right place on papers," says the soft spoken officer.

Her engineer father Rajendra Prasad and housewife mother had been a source of support for her all through. In fact, they showered all their care and affection on her that it sometimes made her three brothers jealous of her. "They questioned their parents as to why Ranju was given special treatment," recalls her maternal uncle J L Agarwal.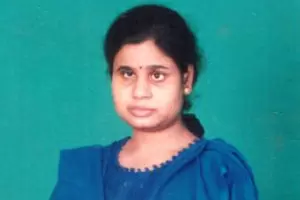 A fighter: Ranju did not let her visual impairment stop her from dreaming big
But Ranju, 34, had fixed goals early in life. "I decided to face Civil Services and become a magistrate as my dadaji (grandfather) used to tell me," she says. Her mother would often 'read' for her during entire nights and the intelligent Ranju would grasp the lessons just by listening. Some teachers also helped her in the preparations.

Ranju applied for the civil service examination conducted by the JPSC under the physically challenged quota with all supportive documents including the certificate of her blindness issued by the Government of India. She failed in the examination but instead of giving up, she started doing some research. After studying the reservation policy, she approached the First Information Officer of the Commission for details of the disabled candidates who got selected under the reserved quota using the RTI Act, but no reply came.

Later, she approached the Department of Personnel and Administrative Reforms. Though the State Disability Commissioner issued a letter to JPSC to consider the case of Ranju, nothing happened.

Undeterred, she took the next civil service examination, and got selected under the quota for disabled after a long struggle with officialdom that was bent on denying her a job. "One should keep pursuing till one succeeds," is her simple advice to people.

Trending Now: