India's first visually challenged acupuncturist has vision to broaden his ambit

Kavita Kanan Chandra
&nbsp | &nbsp Mumbai
08-October-2010
Vol 1&nbsp|&nbspIssue 6
When Doordharshan TV anchor, Kamlesh Mudgil, was bedridden due to paralysis and almost lost hope with all sort of treatments, he approached an acupuncturist in Delhi as the last resort. He was back on his feet, beaming with delight, after two months. Similarly, Harwant Khanna, who had damaged both his knees and could not walk after two operations, was completely cured by the same 36-year-old doctor Anil Kumar, who practices Sujok Acupuncture, a relatively new method developed in South Korea, in which the needles are inserted only in the su (palm) and jok (feet).

But the amazing fact behind the two stories is the acupuncturist. Anil Kumar is a visually challenged man, who lost his vision in both eyes at the tender age of five in a bout of meningitis. Before his optical nerves were removed he had made up his mind to become a doctor.

He showed tremendous foresight when he refused to study in a special school but insisted on going to a regular school. "The special school then only trained the students for some stereotypical professions like teaching, stenography or secretaryship, which I was certain I didn't want to do," says Kumar.

Though he could not enter the general medical stream, a chance meeting with an amateur acupuncturist rekindled his dream to be a doctor and with his mother Hardevi's blessings he joined the four-year degree programme in acupuncture offered by the Indian Board of Alternative Medicine in Kolkata. First he started a clinic in trans-Yamuna region in East Delhi and was then associated with the Apollo Millennium hospital.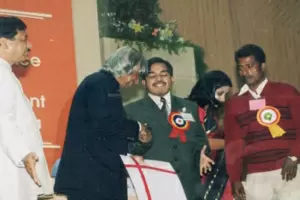 Anil Kumar receiving an award from then President of India Abdul Kalam
Today, he has a flourishing practice and has successfully treated patients of paralysis, hyper tension, knee pain, arthritis, asthma, constipation and epilepsy. Most patients approach him as the last resort after trying out other treatments. Many of them, on discovering that the acupuncturist is blind, would be initially sceptical since the treatment involves inserting of needles near nerve endings. But once they got the relief they were looking for, they prayed for his success, says Kumar.

A recipient of the National Award for being a role model for persons with disabilities, his name also figures in the Limca Book of Records (2003) as the only visually challenged acupuncturist in the country. Deepak Parvatiyar, a former journalist and documentary maker, has also done a documentary, 'Wizard of Needles', on him.
Even though his fame has spread and he visits several reputed hospitals and started another clinic at the upmarket Greater Kailash in South Delhi, he endeavours to serve people. Every six months he holds a free camp for the poor in Mohanpur village on Ghaziabad-Haridwar road. He is also continuously engaged in research to find cure for incurable diseases through acupuncture.

Trending Now: