Disabled swimmer on a mission to send out a message against terrorism
Sanu George
&nbsp | &nbsp Alappuzha (Kerala)
12-September-2016
Vol 7&nbsp|&nbspIssue 37
He is 51 and physically challenged. But nothing will stop E.D. Baburaj of Kuttanad from swimming 25 km non-stop on October 14 to campaign against what he calls the sinister menace of terrorism.
Baburaj will begin swimming from Champakulam and negotiate the backwaters till he finally gets to the wide expanse of the Punnamada lake, near Alappuzha, and the finishing point of the famous Nehru boat race.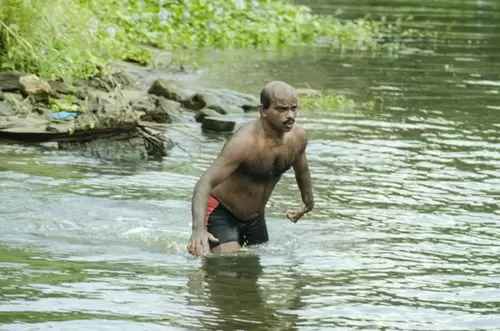 Baburaj has been training under his mentor, B Padmakumar, a leading physician, who is monitoring his fitness regime regularly (Photo: IANS)

"I thought that I will do my bit to create awareness about the destructive effects of terrorism by swimming 25 km non-stop," said Baburaj.
Punnamada is part of the larger Vembanad Lake -- the longest lake in India -- in the Kuttanad region, known as the rice bowl of Kerala. It is the venue of the annual boat race named after India's first Prime Minister that is now a major event on the tourist calendar of the state.
Baburaj has started practising, aiming to be in perfect shape for the arduous task. His mentor, B. Padmakumar, a leading physician, is monitoring his fitness regime regularly.
On D-day, Baburaj will begin at 6 am and hopes to touch the finishing line around noon. His practice regime currently involves swimming "for a few hours in the morning from 6 am and also a few hours in the evening".
Last year he swam 10 km at the widest part of the Vembanad lake. Baburaj's swimming feat has earned him recognition from the Universal Record Forum Asian Records which is recognised globally. Baburaj swam for three hours and set a record in the "disabled" category.
Also in the past year, Baburaj had qualified for the International Wheelchair and Amputee Sports Federation (IWAS) World Games that was held in Sochi, Russia. However, he could not raise enough funds -- he needed Rs 3 lakh -- and failed to attend the sporting event.
Baburaj began swimming when he was a school student. But then at the age of 12, he met with an accident that deprived him of strength in his left hand. But even then he contested in several national and international events. As per medical records, he has contested in the "disabled" category with 40 per cent disability. - IANS

Trending Now: