An inspirational hero who fought cancer and heart surgery to win a world title

Pranjal Baruah
&nbsp | &nbsp Guwahati
17-September-2010
Vol 1&nbsp|&nbspIssue 3
Mahadev Deka from Assam, who won the Mr Universe Muscle Mania contest at Florida in the USA in 2009, is now preparing to do the next big thing in his life: to act in a regional film as an 'action hero'. But he is already a real life hero for many who have seen him putting up a fight, against all odds, to win the title in 2009.

In fact, anybody else would have given up the idea of pursuing a dream of winning an international title after undergoing a heart surgery and chemotherapy. A passion that started more than two decades ago in arm wrestling contests while studying engineering ultimately saw Deka turning into a body builder and win more than 15 regional and national titles in various competitions.

However, the 42-year-old muscleman displayed extraordinary courage in overcoming the setbacks he faced in his career through self-motivation. "There were times when he was gripped by suicidal thoughts while in hospital. But through self-motivation and confidence he led himself out of the bad situation. We were happy to see his dedication but were jubilant when he proved it by winning the Mr Universe title last year. For many of our family members and friends, who had lost hope, Mahadev's courage is a source of inspiration. He had not only become an idol for many but a living legend," his wife Nayana said, referring to the time Deka was in Mumbai's TATA Memorial Hospital in 2002 for his heart surgery.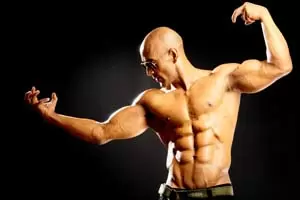 Mahadev Deka: strong in mind and muscle
"He is a man of honour who loves his life and has become a role model for those who think that cancer is the end of life," Dr Sanjay Sarma, senior cardiologist at TATA Memorial Hospital said. "Even when he was in hospital, he used to smile and encourage other patients. All the doctors and patients saw a man who never surrendered himself to any odds and today when we see his success, we pay respect to it. Mahadev Deka is truly a brave man," Sarma said.

However, bravery was something that came easily to this strong man. Back in 2001, while Deka was preparing for yet another Mr North East India title, he felt a pain in his chest and went to his doctor for a checkup. "The physiotherapist prescribed tests, but I was focused on the competition. I used to skip my checkups and continued my exercise and finally won that year's Mr North East India title for the second time," he recalls.

It was only after the competition when the chest pain kept growing and the fever did not subside even after a few weeks that Deka did a CT scan, which revealed a critical tumour growing in his heart. Doctors suggested a heart surgery immediately.

On August 14, 2002, Deka had the heart surgery and doctors suggested chemotherapy too. "I lost my hair with the chemo cycles and for the first time I got scared. Though I am normally positive and upbeat, I felt bogged down. Even my voice faltered. During that time it was difficult to keep away the negative thoughts," says Deka.

Nevertheless, to everybody's surprise Deka won the next Mr North East India in 2004 for the third time and that led Louis Zwick, then President of Muscle Mania World Federation to call Deka to join the Muscle Mania Mr Universe competition. Supported by his friend Madhab Pujari, the then President of Indian Body Building Federation, Deka went to the competition in the USA in 2009, where Deka won the 'Mr Universe 2009' title in Bantamweight category.

The Assam Government has recognized his dedication for the sport of body building and announced a job for him in the oil sector. Earlier he was a public health engineer in the government. The State government has also gifted a house for him. Deka is busy these days grooming his little daughter Barbie to become a sport star.

Trending Now: