"You haven't thrown acid on my face; you threw it on my dreams"
Vivek Singh Chauhan
&nbsp | &nbsp New Delhi
04-April-2016
Vol 7&nbsp|&nbspIssue 14
On a hot summer day 11 years ago, 16-year-old Laxmi was passing by the Khan Market bus stand in central Delhi when a spurned lover threw acid on her - leaving her in excruciating pain.
After seven surgeries - last one being the most critical - she is a self-reliant woman who took on the pain and social enigma with much grit in all those years.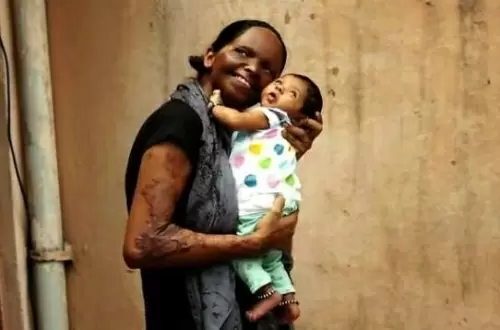 Laxmi is now helping disseminate awareness about acid attack and on surviving it (Photo: IANS)

Mother of a one-year-old daughter, Laxmi is currently working as director of a non-profit Chhanv Foundation. She is also associated with "Stop Acid Attacks" - a campaign that works against acid violence and reaches out to acid attack survivors.

"I was 16 when a 32-year-old man threw acid on me because I had refused his proposal. This happened in 2005 while I went to Khan Market for book shopping," said Laxmi.

"It was frightening and cannot be defined in words. I had to undergo seven tough surgeries, including the most difficult one in 2009 which was never attempted before in India," Laxmi added.

For her, society plays a major role in curbing social evils, and she is disappointed at people's attitudes for not raising enough voices against crime against women.

"Society prepares and even nurtures the conditions for a crime to happen against women. Why should people remain silent until they themselves suffer something odd to realise the agony that others went through? We should all take a stand against crime against women in our society," Laxmi stressed.

Overcoming the nightmare 11 years ago was not easy for Laxmi. At a point of time, it became very difficult for her to even finish higher secondary education.

"But the incident could not torment my spirit to fight back," she added. The determination and support from her family motivated her to enroll for senior secondary certificate (SSC) course as well as in advanced computer education.

Against all the psychological and physical torture she suffered, Laxmi says she can not only stand up for her rights but also raise her voice for others too.

Laxmi was honoured with the "International Women of Courage Award" by the US First Lady Michelle Obama in 2014.

"You haven't thrown acid on my face; you threw it on my dreams. You didn't have love in your heart; you had acid in it," she recited the poem in Hindi after receiving the award.

Laxmi is now helping disseminate awareness about acid attack and how to survive it. "We have several campaigns running like 'Spot of Shame', 'Black Rose Campaign' and have a cafe 'Sheroes Hangout' in Agra where five acid attack survivors are working to fend for their families," she informed.

"We are also happy to see people supporting us wholeheartedly through social networking platforms," said Laxmi.

Laxmi has made repeated attempts to curb acid sales and gathered nearly 27,000 signatures for a petition to stop the sales of acid in the market.

"Earlier there were no laws regarding the sale of acid but after the public interest litigation (PIL) that I filed, the Supreme Court ordered a ban on open sale and purchase of acid. Unfortunately, acid is still available in the market," she said.

Apart from being a social activist, she also manages to endorse a clothing brand "Viva & Diva".

"My family has always been the source of inspiration for me. They have supported me when I was low and motivated me to work for other acid attack survivors as well," she said. - IANS
Wish to share your story?
Trending Now: