A wounded soldier wins the war after losing several battles in life

Jency Samuel
&nbsp | &nbsp Chennai
03-September-2010
Vol 1&nbsp|&nbspIssue 1
Neerja Malik has a hearty, resonating, infectious laugh. And she breaks into a laugh at the drop of a hat. Her ability to laugh at the seemingly ordinary stuff stands her in good stead in her work with the Apollo Cancer Support Group (ACSG) in Chennai, a south Indian metropolis.

Neerja, in her mid-fifties, is the brain and energy behind the ACSG. Blessed with a zest for life, a sprightly spirit and the ability to see the positive side even of a disaster, she has battled through a lot. "My father used to call me the 'wounded soldier'," she reminisces. Right from broken wrists many times during her school days, to many miscarriages, to a stillborn child, to premature birth of her twins and the associated complications, to breast cancer twice, to a broken rib a few years back that still remains apart, causing her unbearable pain now and then, she has been through it all.

Her father's work as a naval officer took the family to many places and marriage brought her to Chennai. In 1998, when she was 44, she was diagnosed with breast cancer. "I too was angry. Not because I got cancer, but because the doctors told me that I had a 25 percent chance of survival if I went abroad for treatment. Having made up my mind to get treated in Bombay where my parents are, I decided that I had to live for my boy and girl who were only seven then," she says. Neerja's strong will coupled with the support of her immediate and extended family helped her through her ordeal.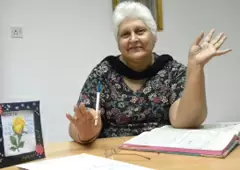 Neerja Malik: Come what may, we shall rejoice
However it was a call from her uncle that sowed the seeds for starting a support group. "He wanted me to talk to a gentleman who had been diagnosed and so was feeling low. Then a staffer at the Apollo hospital asked me to speak to families that were finding it difficult to cope. When the doctors realised that the patients' attitude changed after talking to me, they too wanted me to counsel patients. From 1998, I was volunteering all by myself."

When it was decided to start a support group, Neerja was particular that the volunteers had to be cancer survivors. "I felt that they would connect better with patients and their families," she recalls. But things turned out to be different. "When I started this group on March 8, 2004, there were twenty of us; all survivors. Within months, most of them dropped out because they could not help recollecting their own agony of it all. They could not get over their association with the hospital," she says.

"My graduation in social work, my work as a teacher, our travels within and outside the country and the testing times have played a role in preparing me for my work as a counsellor," she avers.

And how does she cope with witnessing the pain of others? Does she get emotionally involved? "You can't be humane without getting inolved. Some patients affect you more than the others." And she goes on to relate the story of Rajesh, adding details so that I could visualise a slim, zestful youngster in his twenties, with 'Victory' tattoed on his arm and vrooming around in his motorcycle.

"Rajesh had been treated for bone cancer in his leg and had started leading a normal life. But a year on, it had relapsed and the verdict was amputation. He came to me with his mind made up: 'No amputation, no chemo and no nothing' . It took a while to convince him. Luckily a poster on the Terry Fox Run to collect money for cancer research was lying around. I encouraged him, yelled at him, conned him and cajoled him to participate." Rajesh agreed. "Unfortunately four months before the run, he passed away. That affected me a lot," she recollects. But she recovers quickly. "I am happy, when I see the difference one can make with just a few words. Even my broken Tamil of limited vocabulary helps and I carry on," she says with a smile.

Trending Now: