Women in the forefront of fighting climate change through the 'gola'

Ajitha Menon
&nbsp | &nbsp Sunderbans
25-October-2013
Vol 4&nbsp|&nbspIssue 43
The 'gola' or grain basket, built on elevated ground in Goyadham village in Sunderban's South 24 Parganas district, West Bengal, is central to the food security of several households here.
As Sofia Bibi, 45, says, "The grain is protected from the recurrent flooding and storms and we are ensured of a regular supply when there is no agricultural work during the months of September to November and March to May."
Women and volunteers placing seed pots on high shelves to avoid flooding at a seed bank (Photos: DRCSC)
Sofia and 17 other women of the Maa Amina Self Help Group know that this grain bank is their safeguard against the adverse impacts of climate change.
For the 4.5 million people living on the islands in this delta region, it's a daily fight for livelihood and food security. Within the larger framework of climate change adaptation strategies, grain and seed banking are rapidly emerging as an acceptable and sustainable counter measure against the threat of starvation caused due to natural disasters like floods and cyclones or poor agricultural production due to land erosion and high soil salinity.
In Hingalgunj block of North 24 Parganas district, eight grain banks are being run by eight SHGs in six villages, benefitting about 96 households.
The Development Research Communication and Services Centre (DRCSC), which is implementing a European Union funded project, 'Collective Action to Reduce Climate Disaster Risks and Enhancing Resilience of the Vulnerable Coastal Communities around Sunderbans in Bangladesh and India' has catalysed and supported 225 grain banks with 2,400 households as members in different districts of West Bengal. Eighty per cent of these are run by women's groups.
Even though women form an integral part of climate change adaptation strategies, often entailing longer working hours for them in different ways, it is ironic that neither the National Action Plan on Climate Change nor any of the State Action Plans take this into account.
"The climate action plans should consider gender issues, which are critical to sustainability of any climate change adaptation model," says Aditi Kapoor, Director, Alternative Futures, a New-Delhi based group that is analysing government policies that can help communities adapt to climate change.
She adds, "The work overload on women can be discouraging and even though they are part of these strategies in large numbers now, to sustain these models, it is essential that their daughters and daughters-in-law too find motivation to become part of the movement."
Young Hasina Bibi, 25, of the MaaAmina SHG in Goyadham, is determined to end the recurrent food crisis, "We set up a grain bank as a measure to do this and were aided in this effort by the Area Resource Training Centre (ARTC)." The bank is set up within the compound of a member's house, on elevated ground since this is a flood-prone area.
"Usually, a concrete platform is used as a base to avoid rodent and pest attack. Large baskets are constructed over it with tightly woven bamboo, straw, mud and ropes.

"A mason is hired to construct the platform and ARTC pays for the mason and materials for the base, while the material for the basket is donated by group members," explains Hasina, adding, "Once the basket is ready, we all contribute a portion of the harvest to the bank. A matching contribution is made by ARTC to get the bank going."
Members contribute about 50 kilos of grains each but this varies depending on their economic status, land owned and annual yield. Grain loans are taken during the lean season and returned with a small amount of interest, paid in grain, when the next harvest comes in.
"The interest increases the grain stock and SHGs pay back the ARTC's initial grain contribution within three years. That grain is then used by ARTC in a revolving manner to set up more grain banks in other villages," shares Mamata Khanra, 25, a village development volunteer in Ramganga gram panchayat in South 24 Parganas district.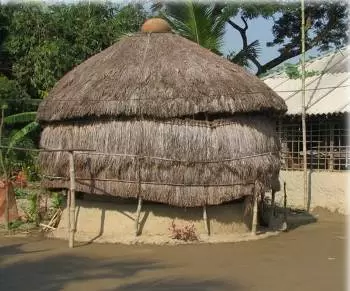 Seed banks usually have about 800 kilos of paddy and vegetable seeds
The SHGs make their own rules regarding lending, mode of repayment, interest rates. They also maintain the records. "Our 'gola' has grain reserves for about 60 days," says Soma Jhulki, 35, of Surya Kiran SHG. Ten grain banks involving 10 groups in seven villages are currently operational in Patharpratima block in South 24 Parganas district.
Seed banking has emerged as another effective adaption strategy wherein group members are encouraged to collect and preserve seeds, particularly of saline resistant and saline tolerant paddy and varieties of vegetables, both at the individual level and also within centralised banking systems.
While grain banking has ensured relief from moneylenders, seed banking, too, has provided economic sustenance. Says Bhavani Giri, 27, of Dakshinshivpur village, "We have planted several varieties of saline resistant paddy including Dudherswar, Taal Mugur, Nonasree, Kumrogar, Hogla and Bhuria.

"We have been trained to collect and preserve the seeds organically, using wood charcoal and neem oil, and we bank them in earthen pots and glass jars at the ARTC centre."

There are two centralised seed banks in Patharpratima block following a community based approach involving about 30 groups. Similar seed banks are operating in Hingalgunj and Basanti blocks as well. Several individual seed banks are also functional.
The seed banks usually have about 800 kilos of paddy and vegetable seeds. About 52-55 varieties of saline resistant paddy are available. The move is aimed to wean farmers away from hybrid paddy and bring about a return to cultivation of indigenous varieties.
The DRCSC lists the following benefits from grain and seed banking – reduction in indebtedness to moneylenders, creation of new self-employment opportunities, and acceptability of these as effective disaster mitigation strategies as well as improvement of the status of women within the family.

There is no doubt that grain and seed banking have been accepted as being vital to climate change adaptation strategy and there is funding from government and non-government sources as well.
However, it is the implementation on the ground which will make the difference between starvation and food security for millions living in one of the worst climate hotspots of the world. - Women's Feature Service

Trending Now: