Making waves on the shores among the fishing community women

Pamela Philipose
&nbsp | &nbsp Visakhapatnam
12-October-2013
Vol 4&nbsp|&nbspIssue 41
Sharada Devi, 34, from the fishing community in the small village of Govupeta, educated herself by simply trying to understand the social processes going on around her.
Her formal educational qualifications are basic; schooling ended far too quickly. As she explains simply, "I was married after I passed Class X, after that there was no question of going to school."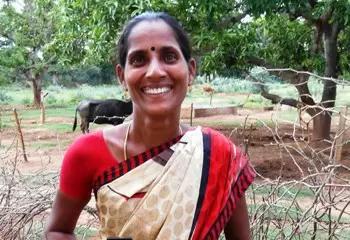 From fisher girl to a television celebrity, Sharada Devi has come a long way (Photos: Pamela Philipose/WFS)
Yet today, working in the old colonial Dutch fishing village of Beemili, about 50 kilometres from Andhra Pradesh's coastal city of Visakhapatnam, Sharada Devi has emerged as an able defender of the rights of her community.
She is vice president of the block level Samparadaya Matsyakarula Samakya (Traditional Fisherfolk Society) and co-covenor of the Samparadaya Matsyakarula Samakya at the district level, posts that had hitherto been held only by men.
Besides this she is a ward member from the community and administers five women's cooperatives. "My colleagues and I manage the collection of money and keep accounts without any outside help," says this mother of two daughters, proudly.
It was her association with Vikasa that set Sharada Devi on this road of discovery. Vikasa, an organisation instituted by social activist P. Viswanadham, had entered into a partnership with ActionAid India over a decade ago to help the fishing community of the area develop their capacities and access their entitlements.
Viswanadham remembers Sharada as a shy girl. "When I first met her, she was very reluctant to even come out of her home. Now she is an impressive public speaker and can travel anywhere without fear," he says.
This transformation was the result of regular capacity building exercises conducted by Vikasa-ActionAid. Says Sharada Devi, "I began by attending the fortnightly meetings of a sangha (cooperative society) run by Vikasa regularly. The first issue we were exposed to was sand mining. The sand mafia was mixing sea and river sand in a place close to our village and this was disturbing the local ecology."
Interestingly, while the men in the community were reluctant to take on the sand mafia, the women had no such qualms. Around 29 women of Sharada's sangha stormed their way to the site.
"We confronted the sand miners and told them that their activities were destroying the seashore and affecting the livelihood of our community," she recalls. Whether their intervention had indeed made a difference may never be known, but the sand mining activity in that neighbourhood wound down shortly thereafter.
Slowly, Sharada got drawn into activities that went beyond her village. After the 2004 tsunami, she was put in charge of working with women in 10 other fishing villages in the area, for a stipend of Rs 1,000 to cover travel costs. Such interactions really opened her eyes and helped her understand the specific problems of women in the community.
Another intractable issue is the rapid commercialisation of the coastline in the name of development. That earlier encounter with the sand mining mafia had brought about an understanding of the ecological fragility of the Visakhapatnam-Bheemunipatnam coastal stretch and Sharada Devi fears for the future.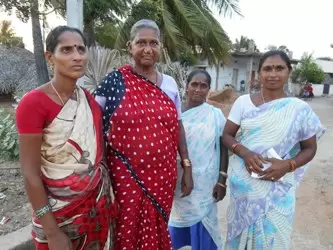 Besides being a ward member from the community Sharada administers five women's cooperatives
"Our region is changing rapidly. I used to remember the sea about 500 m away. Now it is barely 200 m away and this is partly because the government is not concerned about protecting the coastline. They call it development. But is this development, and who is it benefitting? First we had to fight against the mechanized boats fishing illegally in our waters. Now we have to fight big projects that are violating coastal guidelines," she says.
To do this, she had to learn how to use the Right to Information Act. "With more knowledge about the law, I now know how to get information from any government office. In this way, we get to know who is lobbying for what; which chemical unit is coming up where. All this is very crucial information for the fisher community in its battle for survival," says the young leader.
Sharada Devi's community work has not gone unnoticed. On International Women's Day 2013, she was given a special award as a social activist by a local television channel, TV 9.
When the cameras came to her small village to capture her life, it created quite a stir in the neighbourhood. It is not often that an anonymous woman from the fishing community gets the attention of mainstream media.
Reveals Sharada Devi, "My father then recalled that I had been born on Republic Day. He said this meant that I would either become inspired by great people and do great things, or go on the wrong track!" She adds with a smile, "Today, he says he is proud of me for being on the right track!"- Women's Feature Service
Wish to share your story?
Trending Now: