Giving hope to children to lead a normal life as cancer survivors
Rahul Chhabra
&nbsp | &nbsp Mumbai
09-August-2013
Vol 4&nbsp|&nbspIssue 32
It's called Canshala and is an island of peace and learning for a group of ailing children for whom education had, at one stage, become a distant dream due to their treatment for the life-threatening cancer.
The children mingle with normal children in the Brihanmumbai Municipal Corporation (BMC) school in south Mumbai's Parel area, where they are taught by regular teachers, two of whom are provided by the civic agency and the remaining by NGO CanKids.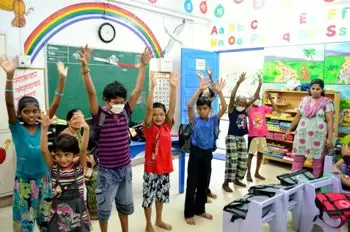 Free books, meals, uniforms and school bags are provided to the children to aid them in their recovery process (Photo: IANS)
This formal education helps them make up the time lost due to staying away from school or dropping out for treatment.
This special school has come about thanks to a public-private partnership between the BMC and CanKids, which also has a family support group for children with cancer.
Four rooms in the Jagannath Bhatankar Municipal School have been provided by the civic agency for the special school. Two of these serve as classrooms for the brave hearts, one as a therapy room and another as an office.
"The school bridges the gap in education these children have so far been facing during treatment," said Canshala mentor Surabhi Kakar.
"Now, with continuity of education, the children not only get a feeling of normalcy but they can carry on with education in their regular school after treatment, reducing chances of their becoming dropouts," Kakar added.
Corporation employee Neelima Vijaykumar Rawler, who teaches the children with cancer, said: "They are all hardworking students...after coming to school they forget about their painful brush with cancer."
Of the 80 cancer patients registered with Canshala, at least 20 attend classes daily.
Free books, meals, uniforms and school bags provided by the civic agency add to the attempt to make them feel at par with other normal children in the school.
Another BMC teacher, Suvidya Ramchandra Shinde, says there's not much difference between the two groups of children.
"But the hunger for learning in children with cancer has to be seen to be believed," said Shinde, who teaches Marathi, Hindi, English and Mathematics to the brave hearts.
A majority of the cancer-afflicted students of the school hail from Maharashtra, Uttar Pradesh, Chhattisgarh and Madhya Pradesh.
"They attend school when they are not undergoing treatment at city hospitals like Tata Memorial, Sion and Bai Jerbai Wadia," said CanKids director Enid A. Kerr.
"We contact parents in hospitals or dharamshalas meant for patients' families and motivate them to send their kids to our school when they are not required at the OPDs," Kerr added.
Shuba Devi Singh, mother of Gaurav Kumar Singh, 12, a patient of Hodgkin's lymphoma that weakens the immune system, is happy with her son's exposure at the school.
"He is a talented artist and got the first prize in an inter-school BMC art competition in Mumbai," she said proudly.
"Gaurav is always eager to head to the school. Interaction with the other kids has made him forget his trauma and he is no more an introvert," she added.
Niyali D. Chaurasiya, 11, who hails from Madhya Pradesh and is undergoing treatment for bone tissue cancer, acknowledged the gains from Canshala.
"I am making up for the lessons I have missed over the last two years," she said.
Kerr said the syllabus for the cancer patients is on the lines of that for other children but has been refined by experts.
"On completion of the course, we give them a certificate of our own depending on the standard they have achieved. We are trying for an arrangement under which the certificate would be awarded by the BMC," she said.
While most of the students afflicted with cancer are at the primary level, there is one at the Class 7 and another at the Class 9 level, Kerr said.
Shinde said that as a teacher, she has been experimenting with the curriculum's content. "We need a different approach. The students come after long breaks from formal schooling and need a lot of background material to cover the lost time."
The school also helps the patients overcome their trauma. Social worker-cum-counsellor Raju Pawar said: "It gives great satisfaction to help the kids."
Apart from support from the NGO in travelling between the hospital, school and dharamshalas, the special students also get a helping hand from European volunteers.
Netti, an economics student from Hungary, is on a six-week volunteer programme at Canshala. "I am preparing manuals on the curriculum to be taught and the responsibilities of teachers and workers," she said.
Worldwide, 70-80 percent of children can be cured of cancer. According to CanKids director Priti Dhall, in India just 40 percent of the affected children manage to do so.
"Imparting education to kids with cancer is one way of empowering them to lead normal lives as cancer survivors," Dhall said. - IANS
Wish to share your story?
Trending Now: