Disabled grow up to be achievers, thanks to 'Ability Unlimited Foundation'
Sreeparna Chakrabarty
&nbsp | &nbsp New Delhi
07-June-2013
Vol 4&nbsp|&nbspIssue 23
Gulshan Kumar has come a long way from being the polio-stricken wheelchair-bound son of a washerman to performing in the House of Commons in London.
Till he was eight, Gulshan Kumar was a severely disabled youngster shunned by society and had to make do by doing odd jobs for his father.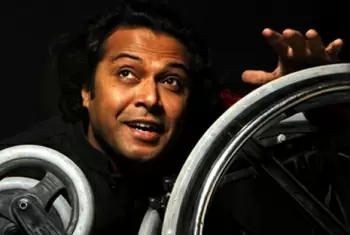 Syed Sallauddin Pasha, founder of 'Ability Unlimited Foundation', trains disabled children in dance and grooms them into stage performers (Photos Courtesy: Ability Unlimited Foundation)
Then a chance encounter with an organisation which practices therapeutic healing through music and dance completely changed his life. And since then there has been no turning back for this 20-year-old man now.
The therapy helped him blossom into a fine artist who has performed all over the world and even holds a Guinness Book of records for the largest number of spins on a wheelchair.
He is not the only one.
Sonu, 26, is 13 times national champion in wheelchair table tennis.
In 2007, Sonu was just another disabled boy commuting to school on a wheelchair. He had no friends and no contact with the outside world.
An introduction to therapeutic yoga, dance and music changed the course of his life. Six years hence he is married with a nine-month old son, has represented India at the world wheelchair Table Tennis championships and works in the administration department of an organisation.
"Therapeutic dancing, music and theatre not only helped me stand on my feet but also changed my entire outlook towards life. I no longer think about what I cannot do but only what I can," says Sonu.
According to Syed Sallauddin Pasha, founder of 'Ability Unlimited Foundation', which treats and rehabilitates disabled children from poor background, music and dance are the biggest healers.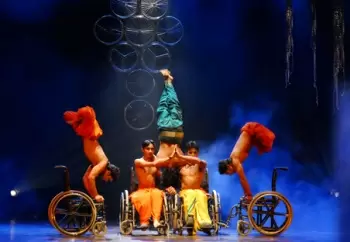 Dancers performing 'yoga on wheels'
"Our foundation practices different arts for providing therapy to children with different kinds of disabilities," says Pasha.
While dancing is a very good therapy for children with physical disabilities, for autistic kids and children with 'Attention Deficit Disorders', rhythm therapy is used, he said.
"For children with attention deficit disorder it can also lead to increased memory power," he said.
Attention deficit-hyperactivity disorder (ADHD) is a psychiatric disorder or neuro-behavioural disorder characterised by significant difficulties either of inattention or hyperactivity and impulsiveness or a combination of the two in a child.
Child psychiatrist Nikhil Raheja completely endorses music and dance therapy for children with disabilities.
"It has been proven by research that music and dance therapy can help children with disabilities," said Raheja
"Any physical activity which stimulates the body and mind helps cope with disabilities which otherwise make them feel worthless and depressed," he said.

Pasha said he has spent almost three decades providing therapeutic education in various parts of the world and analyzing the job opportunities for them.
His inspiration he said was the smile and confidence he saw on the faces of the children when they achieved something.
Pasha's foundation will soon launch a first of its kind in the world therapeutic centre at Muhiddinpur Dabarsi in Uttar Pradesh's Ghaziabad district, 26 km from Delhi.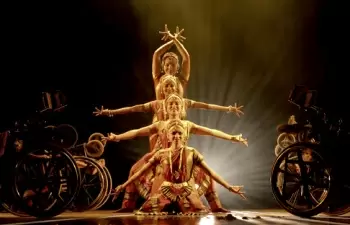 Artistes performing Bharatanatyam in wheelchairs
The centre spread over an area of 60,000 sq.feet. has the capacity to cater to arts, education and residential facility to 150 differently-abled students in the lap of nature.
"Our country is full of opportunities in metros for persons with disabilities whereas 70 percent of them live in rural areas where facilities and awareness is very less," said Pasha.
"This (centre) will help them to achieve highest standards in the field of dance, drama and music, and also give them capacity to lead an independent life with dignity and equality," he said.
In India, 1.67 percent of the 0-19 population has a disability, while 35.29 percent of all people living with disabilities are children. Other estimates say that India has 12 million children living with disabilities.
"I was able to recognise my capability only after I started music and dance therapy. It has changed my life forever," Gulshan Kumar said. - IANS


Trending Now: