Lighting pyres, a woman defies tradition in her own way

Sarada Lahangir
&nbsp | &nbsp Sambalpur
03-May-2013
Vol 4&nbsp|&nbspIssue 17
There's nothing extraordinary about the way she looks. Yet Shanti Behera, 52, a resident of Sambalpur, is unique. For the last decade she has been running the local crematorium.
According to traditional Hindu customs, women are not even allowed to go to a crematorium and participate in the funeral rites. But compelled to provide two square meals for her family after the demise of her husband, Shanti willingly took on the job of being the full-time keeper at the Kamlibatar Rajghat crematorium.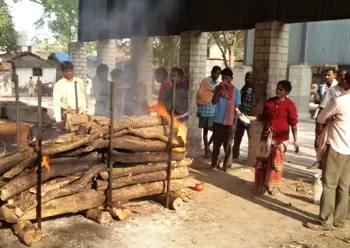 Starting with arranging the wood for the pyre, setting it alight, and ensuring that it burnt properly, Shanti Behera does it all. (Photos: Sarada LahangirWFS)
Married at 15, she had just turned 40 when she lost her husband to multiple illnesses.
"I had no work and six children, including four daughters, to support. I was thinking of seeking work as a domestic worker but destiny, I guess, had something else in store for me. My husband was the caretaker of the Kamlibatar Rajghat cremation ground.
"He worked there on a daily wage basis and so when he fell severely ill and was bed ridden I had to take over his duties or else he wouldn't have got any money," Shanti recalls.
The Beheras couldn't afford to lose their only source of income at a time when they were desperately looking for ways to fund the ill man's medical treatment. That's when Shanti decided to take her husband's place in the crematorium.
"As this is the only crematorium in the area, thousands of households were dependent on it. My husband was the only keeper there and his absence would have posed a huge problem," she adds.
Her journey from being a simple housewife to becoming the manager of a crematorium was a difficult one. There were several personal as well as social hurdles to cross.
Initially, it was not easy for her to look at the dead bodies being brought to the crematorium. She also faced opposition from her relatives and friends because she was daring to go against tradition.
But Shanti grew stronger as time passed, "My husband was cremated at the same ground where he used to work. I had to take over just after a few days after his death.
"It was very painful for me but I went ahead. Then, a few months later, my son died in a road accident. I don't know how I set the pyre for his funeral. It was a heart breaking moment for me."
Behera's job is certainly not for the faint-hearted. Starting with arranging the wood for the pyre, setting it alight, and ensuring that it burnt properly, she does it all.
"I work round the clock, and am there whenever the need arises. In fact, I have had to come here at midnight braving terrible storms too. Over the years, I have realised that this work is not only a means of a livelihood but has a higher purpose.
"I believe I am helping the dead souls rest in peace and that gives me immense satisfaction. The only thing I find difficult is to see a family cremate a child. It reminds me of the worst experience of my life – cremating my own son," she says.
Initially, for the first five years, Shanti worked for free because the municipal authorities did not believe that she would be able to manage the crematorium properly.
During that period the family survived on whatever the people coming to the crematorium gave her as tips though that amount was neither fixed nor sufficient. Later, she started receiving a monthly payment of Rs 1,500 from the municipality. Managing expenses for the whole month on this meagre salary has only gotten tougher in recent years.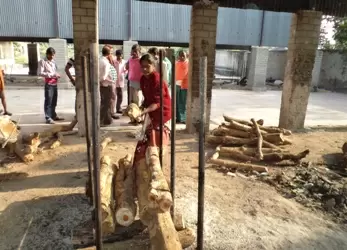 Shanti's arrangements at the crematorium are so thorough that families draw great comfort from her presence
As she puts it, "I have to pay Rs 600 rent for the single room where we are staying. Today, the price of rice is not less than Rs 20 per kilo and even the cost of other commodities has increased exponentially. I don't even have a Below Poverty Line (BPL) card so that I can get subsidised rice. I have run from pillar to post to get a BPL card, but to no avail."
While making ends meet is still a struggle for Shanti, she is glad that at least the community's attitude towards her has changed. While the local people were once shocked by her bold move, today they respect and admire her courage.
Talk to people here and this becomes clear. Remarks Padmabati Behera, 60, a local resident, "She is a great woman and everybody respects her. She is doing a job that no other woman had dared to do. I have seen her over the years and feel proud of her. She is working selflessly without any expectations."
Many hope that Shanti's example will inspire other women to opt for unusual professions.
Says Abhida Nanda Mishra, an academic from Sambalpur, "For me, Shanti's work in the crematorium is not just a livelihood issue but, looked at from a broader prospective, is about women's empowerment and acceptance in society. It represents positive change."
A mother of four happily married daughters today, Behera has demonstrated that given the right opportunity and support, a woman can do anything. - Women's Feature Service

Trending Now: