Chennai corporate honours achievers with disability
12-March-2013
Vol 4&nbsp|&nbspIssue 10
Four outstanding achievers with disability from across the country received the CavinKare Ability Awards at a recent function in Chennai. All four awardees, Ranjan Kumar Biswal, Samuel Ashish Marcus, Deepa Malik, and Sayomdeb Mukherjee, received a citation, trophy and a cash prize of Rs.2 lakh each.
Each of the awardees had been chosen for their achievement in their respective fields.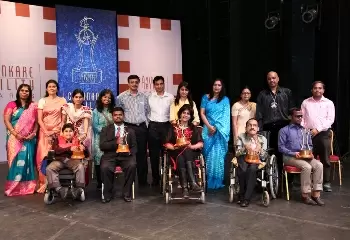 The awardees with CK Ranganathan, CMD, CavinKare, and Jayshree Raveendran, Founder, Ability Foundation
Biswal founded the Milton Charitable Foundation in 2004 to empower the lives of those with visual impairment in Odisha. As a person with visual impairment himself, Biswal fought physical, social and personal odds to realize his dream. In the last eight years, his organization has helped more than 1,000 people in several ways.
Samuel, a person with autism, has a degree in music and passed his seventh grade Trinity exam in piano. He has gone beyond his personal interest in music, to excel, get qualified and teach others. He has also composed over ten songs.
Deepa took up paralympic sports at the age of 36. She received the Arjuna award last year for her achievements in track and field. Deepa became paralyzed from the chest below, following an operation to remove a tumor on her spine in 1991.
Kolkata based Sayomdeb is an extremely popular RJ and hosts a daily show in an FM station. He uses his life experience to respond to the problems of listeners. Born with dopa-responsive dystonia, a rare disorder, Sayomdeb has extreme mobility problems, and was non-verbal till age 25. It was only in 2005 that he began to speak.
Speaking of the awards, CK Ranganathan, CMD, CavinKare said, "The Ability Awards are coveted prizes and we set high standards to finalize the recipients. It is an incredible experience, realizing how the recipients, and also many of those shortlisted, have achieved so much through personal efforts and merit. We have also completed ten years of the institution of these prestigious awards, which makes this eleventh year extremely special for everyone involved in creating this milestone."
"There are more role models amongst people with disabilities than anywhere else. The public needs to appreciate and understand the potentials and explore the multitude of possibilities that come from an inclusive society. Our awards showcase a few such magnificent persons every year," said Jayshree Raveendran, Founder and Honorary Executive Director, Ability Foundation. – TWL Bureau
Wish to share your story?
Trending Now: