'Special' Paharganj trio followed Olympic dream to Seoul

Santosh Rao
&nbsp | &nbsp New Delhi
19-February-2013
Vol 4&nbsp|&nbspIssue 7
From the congested bylanes of central Delhi's Paharganj to icy arenas in glittering Seoul, it has been a journey to fame and honour for teens Raj Kumar Tiwari, Suman Chandraprakash and Alpana Jagdish who won golds at the Special Winter Olympics.
Raj Kumar, 18, who suffers from hyperactivity disorder and low IQ, won a gold and silver in figure skating, a sport hardly known in India.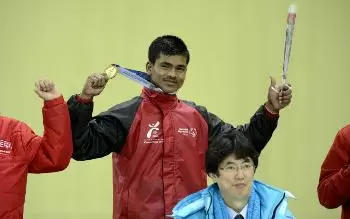 Raj Kumar after winning the gold medal (Photo: IANS)
Suman, 19, who is intellectually disabled, captained the floor hockey team to another gold, as India's tally of medals at the February Games reached 46. And Alpana, 18, who also suffers from the same condition, won the gold in snowshoeing, again a sport few people know about.
Theirs is a rare story of triumphing odds at multiple levels - battling not just their compulsions and societal biases to reach the acme of their sport but also overcoming enormous financial constraints to scale heights rarely seen before. Because the trio from Paharganj, a locality known more as budget tourist hangout, is not part of India's elite but belong to families who struggle to make ends meet.
Raj Kumar's father is a street vendor, Suman's a tailor and Alpana, who lost her father to dengue in 1996, is supported by her mother who works as a domestic help.
The trio attend the Prabha Institute, a school for special children, where they met their coach Rohit Manchanda, who was a catalyst in their sporting careers.
"I can't thank people enough... I have had to work really hard but it's all come good. Now I want to go to the Special Summer Olympics," said Raj Kumar.
His father Ramkesh earns just about Rs.1,000-Rs.1,500 a month (About $25-30). The household's major income comes from Raj Kumar's elder brother Vivekanand, who earns Rs.4,000 a month as an electrician.
The severe crunch did not come in the way of the family doing everything it could to provide training to the son, who has always been an athlete at heart.
A small rented room in Paharganj where seven family members are crammed in, is hardly a place for budding figure skaters. But that didn't stop him from fulfilling his dream.
"I had never seen ice before. I started with roller skating but my coach at the Prabha Institute thought that I should give figure skating a try," he said.
Accompanied by his mother, Raj Kumar then went for figure skating sessions at the Ambience Mall in Gurgaon where each session, lasting an hour and 15 minutes, on weekdays costs Rs.350 and on weekends and Rs.450 on holidays.
"You cannot fathom what he has done for the family. People who would shun us away at every sight now want to meet us and sit with us. Our villagers back home are slowly getting the news of my son's achievement and the phone has not stopped ringing," said his proud father Ramkesh.
"We could only manage two small meals a day but now I can see good things happening to this family. I can't thank my son enough."
Suman, who stays a stone's throw away from Raj Kumar, tells a similar story.
"This is only the start for me. I have now got a great platform and I want to learn other sports as well so that I can compete in many more competitions. I also want to teach sports to children like me," says a beaming Suman.
Life has not been easy for her but battling adversities has made her the person she is. Suman's father has a small tailor stand and takes care of his wife, four daughters and a son.
Alpana stays in a tiny room with her mother and twin brother. Her doughty mother Krishna left no stone unturned to fulfil her daughter's wishes.
"I was never interested in studying. I spent my time playing various sports. The coach used to send me to Shimla and other places where it snows for my training," said Alpana.
"Now when I step up out from the house, people recognise me as the girl who came on television. I want to go for other tournaments as well. I'm pretty good in basketball so hopefully someone will notice that as well."
Inspirational stories all, unfolding in one neighbourhood. Clearly, Paharganj is where 'special' dreams are born. - IANS
Wish to share your story?
Trending Now: