The little-known 'pehelwan' brother of Akhilesh Yadav

Mohit Dubey
&nbsp | &nbsp Lucknow
06-November-2012
Vol 3&nbsp|&nbspIssue 44
Samajwadi Party (SP) chief Mulayam Singh Yadav has reason to be a proud father. His elder son Akhilesh Yadav at age 39 is chief minister of Uttar Pradesh while his 25-year-old younger son Prateek has made a mark as a body-builder.
Before entering politics, 'netaji' or leader, as Mulayam Singh is called by his supporters, was himself famous as a 'pehelwan' or body builder.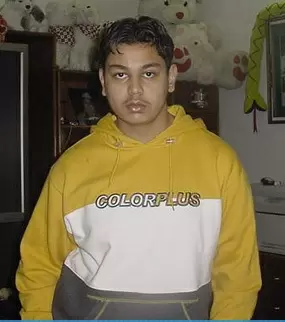 Before: At 11, Prateek weighed 103 kg (Photos: IANS)
In September, the younger Yadav was featured in an internationally acclaimed body building website as "the international transformation of the month".
The transformation in Prateek left many stunned. His weight dropped from 103-plus kg to 67 kg over the past few years; he has also added rippling muscles to his 5 feet 11 inch frame.
The transition, Prateek said, happened as a result of a pep talk he received from his father over a decade ago.
"I was back from my school in Dehradun with pneumonia. In the course of treatment, steroids were administered, and it led to major weight gain. By the time I turned 11 years old, I weighed 103 kg."
Netaji asked him to shed weight and told him that if he lost 10 kg, he would fetch himself a reward.
"He would chide me and tell me not to gorge on mangoes, and tell me to drink my milk plain, without Bournvita, as weight was becoming such a big concern," Prateek says.
Prateek also decided to join a local gymnasium and compete with two other friends in a weight loss race.
All these efforts began to pay off. In time, he stood on the weighing scales and found himself 15 kg lighter.
Ever since, Prateek says, he has maintained a steady diet-and-exercise regimen.
It helps that he is married to his only love, Aparna, who too joins him in his 45-minute "intense work out."
"Now," an excited Prateek says, "There are old friends who think I am my own younger brother!"
There are people who wonder how he has managed to retain the bodybuilder's structure over so long. "It's become a habit now, I don't even have to try," Prateek says, giving one an insight into his diet and lifestyle.
There are multi-grain 'rotis' and olive oil, and a protein shake. And all the food he eats is measured. His family now knows just what and how much he will eat.
Wife Aparna points out that her husband is a vegetarian: "Prateek is a complete vegetarian, a needle-free bodybuilder," she says, with evident pride.
Prateek explains that he has never had steroids for muscle gain; and he says he is proud to demolish the myth that only non-vegetarians can have rippling muscles.
"I eat a lot of vegetables and fruits. I am vegetarian, and my body is here for all to see!"
And how does his father react to Prateek's bodybuilding feat?
After: Papa Mulayam Singh's fitness tips helped in Prateek's stunning transformation
"Obviously, he is elated. He is a busy man, and we only get to meet late at night. He then has time to share some time-tested bodybuilding techniques," Prateek says.
"Papa has his own way of explaining fitness: a man's chest should be the thing thrust out, not his belly, he says. And one should never entirely satisfy one's hunger, one should eat just a wee bit less. Those are his tips," says Prateek.
With 18.25 biceps to show, Prateek now has a new mission: he would like to propagate the vegetarian-as-bodybuilder notion and see more bodybuilders go veggie.
And how does he feel to be so apolitical in a family of leading politicians?
Politics only interested him ever when he was eight years old, Prateek says.
"I would see my father on TV, and then try to imitate him: 'Brothers and sisters, I am now just a young boy...' my speech would go, the young man says, chuckling.
And what does he have to say about his father Mulayam Singh Yadav and brother Chief Minister Akhilesh Yadav?
"Netaji has a great memory, he remembers everyone," says Prateek. "Akhilesh bhaiyya has a vision, he wants much changed," he says.
A beautiful body, and politically correct: that's Prateek. - IANS

Wish to share your story?
Trending Now: