Despite developing skin and health problems, villagers persisted and won the water war

14-September-2012
Vol 3&nbsp|&nbspIssue 37
People in Madhya Pradesh's Khandva district who had been holding protest demonstrations since mid-July against the state's decision to increase the water level in the Omkareshwar dam reservoir and demanding rehabilitation have finally succeeded in forcing the government to act.

The Madhya Pradesh government relented and agreed to reduce the water level in the dam reservoir to the original 189 metres on September 10.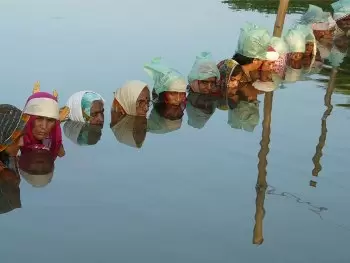 Water agitating standing in neck-deep waters (Photo courtesy: Narmada Bachao Andolan)
It also agreed to give land in lieu of land to all affected people. The government announced that a three-minister team has been constituted to look into the problems of the people displaced by the Omkareshwar dam.

The team comprises state industries minister Kailash Vijayavargiya, tribal and scheduled caste welfare minister Vijay Shah and Narmada valley development minister Kanhaiya Lal Aggarwal.

Some 50 project oustees had joined senior Narmada Bachao Andolan (NBA) activist Chittaroopa Palit in protesting against the state government's move to raise the water level of the dam reservoir in violation of Supreme Court orders by staging a jal satyagraha.

These protesters sat in neck-deep water for 17 days, demanding that the water level be brought down and rehabilitation package be given as directed by Supreme Court.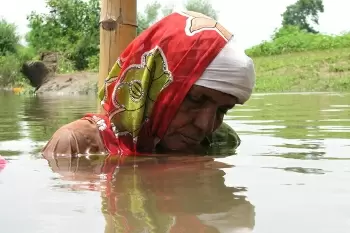 A woman of Ghoghalgaon village rests by holding on to a bamboo support
Since the government's announcement, the water level at the protest site in Ghogalgaon village has been reduced, after which the protesters emerged from the waters. Many of them have developed severe skin and other health problems from constant exposure to water, said Alok Agarwal of NBA.

The increase in the reservoir's water-level had submerged over 400 hectares of agricultural land and standing crops, said Palit.

"The crops on this land have been completely destroyed," she said. "People have been hit hard by this destruction, and will demand compensation for the loss along with compensatory land," she added.

By arrangement with Down to Earth


Trending Now: