On prosthetic limbs since six months of age, he was part of the S African Olympic squad

23-August-2012
Vol 3&nbsp|&nbspIssue 34
Oscar Pistorius runs on carbon-fibre prosthetic limbs, and he runs so fast that many able-bodied athletes and administrators were led to wonder if his blades-for-legs conferred some kind of advantage.
The first double amputee in world history to compete at the Olympics, and the star of the Paralympics arena (100, 200 and 400 m gold in 2008), Pistorius would have you believe that nothing, indeed, is impossible…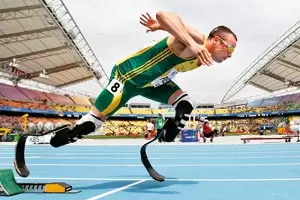 Oscar Pistorius is the first double amputee in world history to compete at the Olympics (Photo: The Sunday Indian)
Your qualification to the London Olympics had to go through much controversy. What are your thoughts..?
To have been selected to represent Team South Africa at the London 2012 Olympic Games in the individual 400m and the 4x400m relay is a real honour, and I am pleased that years of hard work, determination and sacrifice came together.
You've been on prosthetic limbs since six months of age. Do you attribute your ease (if you would allow us the assumption) at life to starting early?
I have never known any different. I have worked extremely hard to be the athlete I am today. I have been competing with the same Össur manufactured Flex-Foot Cheetah blades since 2004. Like anything else, it look me a while to get used to running in them but I guess practice makes one perfect.
Was there ever a point when you felt that you were not meant for this sport?
I have always been active as far back as I can remember. When I started school, I would take part in all sports, so I think it was inevitable that I did something in this field.

I've always been a fierce competitor, so that has driven me to want to go farther and achieve more. I do have other interests and still like to watch rugby union.

I got into running after I suffered a rugby injury; part of my rehab for the injury was to run on the track, and it was there I met my coach Ampie Louw. I really took to running and realised I was actually quite quick and here I am. If I wasn't an athlete then I'd have done something in architecture.
How do you deal with the unfairness of life/of people?
People will always have an opinion and that is fine, that is up to them. For me, I want to put my energies into my training and competitions and let my running speak for me.

I have been competing on the same Össur manufactured Flex-Foot Cheetah blades since 2004 and they have been scientifically proven to have no net advantage in performance over other athletes. I will always compete within the boundaries that are set. It's important to me that I compete on a level playing field.
You use Flex Foot Cheetah blades for running. Do you use the same brand/equipment for other routines in your life?
No. I have an everyday prosthetic. Flex Foot is purely for running and I have just one pair.
What you are doing is a kind of a first in sports. Who is your inspiration?
I have been influenced by a lot of people – growing up, my grandparents were ever so influential and supportive. In athletics, Colin Jackson and Frankie Fredericks have achieved great things and carried themselves in a very inspirational way. Outside of athletics, I am a huge fan of Valentino Rossi and what he has achieved.
How would you describe the relay race team dynamics?
I have a lot of respect for my fellow competitors and team mates. I don't sense any trepidation in them except the urge to succeed. We are all here to be the best athletes we can be and we are all working towards the same goal.

When I run, I run for myself first, then I run with my supporters, my management and my fans in mind and I want to do my best and make them proud.

By arrangement with The Sunday Indian



Trending Now: