Woman who braved 'untouchable' tag and poverty is now a successful sarpanch

Mauli Buch
&nbsp | &nbsp Mumbai
26-April-2012
Vol 3&nbsp|&nbspIssue 16
She was born into a community once considered untouchable in the Indian caste hierarchy and was married off at the age of nine. But 55-year-old Babai Sathe, now a village head, has touched the lives of hundreds of people in Maharashtra.
Working as a health worker and now the 'sarpanch' of Jawalka in Ahmednagar district, she wants to see women in her village earning for themselves.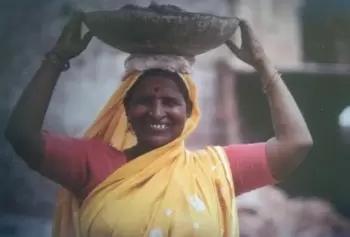 55-year old Babai Sathe, the sarpanch (village head) of Jawalka village in Maharashtra's Ahmednagar district (Photos: IANS)
"Born into the lowest caste of untouchables called Matang, I grew up in utmost poverty. I was married at the age of nine to a 20-year-old man who did not treat me well. He never spoke to me properly and, after a few years of marriage, abandoned me for another woman," Sathe said in an interview here.
Sathe can only speak Marathi. But that doesn't stop her from being heard. Addressing a gathering at a recent seminar on 'The New Indian Woman' organised by the Confederation of Indian Industry (CII), she turned several heads, including the likes of Shabana Azmi, Nandita Das, Zoya Akhtar and Kiran Rao, with whom she shared dias.
An illiterate, Sathe never saw the face of a school. But today Sathe dreams of building a high school in Jawalka so that girls in the village can have good education.
"God has given me a chance to serve and that is what I will do. I will teach the women in my village to hold their heads high."
"I will educate them and make them worthy of a skill that will help them earn their own bread. I have tasted poverty myself and so I must do what I can to help," she said.
Sathe's husband, whom she refuses to name saying she has moved on, neither fed her nor clothed her properly.

She ate only leftover food from others' plates and had one ragged sari, which she stitched by joining two torn saris. She doesn't remember having any footwear in those days.
In a few years, she moved back to her parents' home and lost all her self-esteem. But today she is a confident woman who is helping an entire village through her strong leadership.
"After I moved back to my father's home, I worked as a labourer for many years. Then, destiny took a positive turn and I was nominated as a village health worker in Jawalka in 1994," Sathe said.
Trained under the Comprehensive Rural Health Project (CRHP), she then went on to serve the primary healthcare needs of her village. She was happily on call 24 hours a day for any illness or injury.
CRHP was founded in Jamkhed town of Ahmednagar district in 1970. After completing rigorous medical and public health training in India and the US, two ambitious doctors with the highest qualifications, Raj and Mabelle Arole, vowed to dedicate their lives to improving the lot of the poor and marginalised.
Between 1976 and 1981, WHO and Unicef officials visited Jamkhed to adopt the model for other parts of the world. Today, over 300 villages with a combined population of 500,000 are participating in the project.
After her training, Sathe put her heart in caring about the health needs of her village. She helped spread health awareness among women of Jawalka. She delivered over 200 babies and patiently instructed mothers on post-natal care.
"There has never been a case of death of either the mother or the newborn in the 200 plus deliveries that I have undertaken," said a proud Sathe, smiling.
"Babai did have chances to remarry. But she needed to take care of her six sisters and two brothers. She considers all village children as her own and the entire village her family," said Ratna Kamble, a social and health activist from Jamkhed.
Kamble, who has been in the field for over 40 years, says she has been a witness to Sathe's transformation from a diminutive little girl to a leader.
Sathe, who won the hearts of villagers with her health work, was asked to run for sarpanch. Her village of 2,000 people was confident. She ran without spending a single rupee on her campaign, saying if the people wanted her, she would be elected and has been serving them for five years now.
"I did not want my village to be disconnected. I wanted my people to have easy access to other big villages and towns. Hence I brought in fluorescent lighting so the village paths would not be dark at night," she said.
Sathe also got water pipes installed in the homes of lower castes and dug a tube well at a popular temple outside the village, drawing water from a handpump supplied by CRHP.
"Our village did not have electricity, I made sure we have 'light'. I also got concrete roads made, roads that connected my village to others," she said. - IANS

Wish to share your story?
Trending Now: