First he lifted himself from the wheelchair, then a gold at Commonwealth games
Spriha Srivastava
&nbsp | &nbsp New Delhi
30-March-2012
Vol 3&nbsp|&nbspIssue 13
In that quarter of an hour waiting time in one of Delhi's hotels, I received at least four apology calls from my subject for running behind schedule. Seated facing the entrance, I looked closely at every burly guy that walked in.
And when I spotted Sangram Singh – tall, broad-shouldered, fire hose-like biceps – come in with a sheepish smile, it was tough to believe that this champion wrestler had managed a bullish physique after an arthritis attack that had confined him to a wheelchair for eight long years!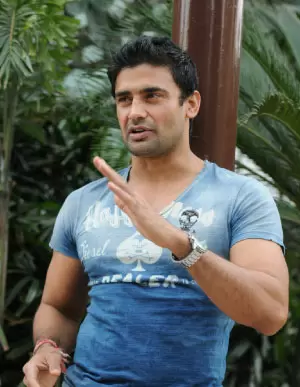 Sangram overcame ridicule and paralysis to become a champion wrestler (Photos: The Sunday Indian)
Sangram was a premature baby born in a small village in Rohtak, Haryana. He weighed only 210 gms, and since birth, illness stuck to him like a shadow. He was barely three when he was detected with arthritis that slowly led to paralysis.
"Till about 8-9 years of age, I couldn't even lift my hand to hold a glass of water," he reminisced. Sangram's father was a government employee; mother, a homemaker, and his elder brother, a wrestler. "I remember sitting on a wheelchair and watching a wrestling match at the akhada. They were all so strong." He was six and since then had a simmering desire to be like them.
Sangram was shown to the doctors in AIIMS, but was given bleak hope. Despite that, the thought of wrestling never left him. However, both life and people weren't very kind to him. "People would laugh at me when I shared my dream of becoming a wrestler," he said, but his will stood as strong as those muscled men, perhaps even stronger.
A mentor in the akhada he fondly refers to as Panditji showed him hope and related the legend of Lance Armstrong and his tenacious victory over cancer. Inspired, Sangram started making his way to the akhada regularly. Panditji would push him to move his limbs; with concerted effort and meticulous medication, Sangram felt stronger than before and within six months he was able to stand without support.

Candid and talkative, the tragedy in his life hasn't exactly left him humour deprived. At about 13, Sangram started practising at the akhada, but was still weak and waif-like. He spoke about those days and gesticulated excitedly.
"The kids would push me around, easily lift and throw me. I'd fall and often fracture my bones. It would leave me, both bewildered and in pain. I used to be so shy that I didn't take off my clothes for practise at the akhada. I was teased a lot!" he laughed.
"It made me think of finding another way to go about this. I'd watch the kids practise and then do all those moves and exercises alone after they left. And, of course, there was Panditji to guide me and tell me about my diet etc. In some years I gained weight and touched 96 kgs and had become confident at the sport. Soon I landed up in Delhi and that's where my career as a wrestler took off," Sangram Singh recapitulated.

Sangram's biggest achievements were winning gold in the Commonwealth Championship in South Africa (2006) and to be chosen as one of top ten wrestlers in the world in Senior World Wrestling Championship in Hungary (2005).
As he narrated his story about how he made his way from the wheelchair to winning medals, it sounded like the classic rags-to-riches stuff, except you may double his odds.
Sangram, bent forward, his elbows resting on his knees, explained, "When I look back at those days and then look at myself now, I feel immense pride. I mean, look at me... can you believe that once upon a time I was paralysed and couldn't even move a muscle?
"Today, I have a whole lot of medals; my wrestling also got me into television and landed me a movie (opposite his lady love, Payal Rohtagi). I love wrestling and I want to popularise the sport in India."

No matter how busy his day is, he doesn't fail to work out. At present, he runs for 10 kilometres every day, does 1000 dips, 500 chin-ups and practises wrestling, all of which gives him "real happiness".
And what about the recently acquired celebrity status? Sangram didn't hide his excitement while answering this question. "Oh! I love it... to see myself on TV, acting in a movie, meeting stars like Shahrukh, Sachin, Sylvester Stallone, is great. You know, I've never paid so much attention to my clothes and looks, but then I look at these TV and film stars and try to imbibe the kind of glamour they've created around themselves.
"But at the same time I strongly believe that one shouldn't lose one's originality. I've learnt English, but still prefer talking in Hindi and will do so even when I become very fluent in English."
As he rose to leave for his evening workout, he left me with words that can be paraphrased for the preface to the optimists' handbook. "I was able to lift myself from a wheelchair. No achievement will be bigger than this. Now I have to lift the level of wrestling and make it a world class sport. And no happiness will be more than that." The force is with Sangram indeed…
By arrangement with The Sunday Indian

Wish to share your story?
Trending Now: