Tribal women rewrite their destiny by not giving up in their fight

Pamela Philipose
&nbsp | &nbsp Balaghat
09-March-2012
Vol 3&nbsp|&nbspIssue 10
Kaushal Markam's experiences are not unusual. When she managed to get a job card entitling her to work on one of the government-run worksites under the Mahatma Gandhi National Rural Employment Guarantee Act (MGNREGA), she was delighted.
Money was always in short supply, and this 35-year-old Baiga tribal woman of Dongaria village in Paraswara block of the western Madhya Pradesh district of Balaghat was always on the look out for ways to supplement the family income.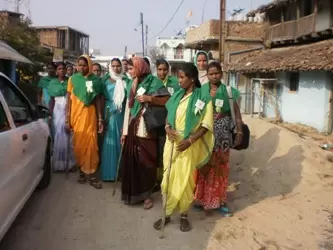 Tribal women are learning to fight for their rights in Madhya Pradesh (Photos: WFS)
"We farm women are used to hard work, but even for us hauling headloads of soil under the sun was exhausting. Still, it was a source of income, and we would get work, off and on," recalls Kaushal.
Everyday Kaushal would wait to be paid and every time she was told to wait. So she waited through the parched summer last year.
In the mean time, she also got more information on the MGNREGA from other women in a local self-help group (SHG). "Two things struck me. One, that they are supposed to give us work within five kilometres of our village, and two, they had to pay wages within two weeks," she elaborates.
But with her dues still elusive after six months, it seemed a dead end. "I had no idea what to do. Some women who also had not been paid argued that it was no use chasing this up because it would only meant wasting more time. But I made up my mind to persist," adds Kaushal.
She learnt that it was the gram panchayat that was holding back the money, so her first stop was the local panchayat office.
When the sarpanch was approached, he told her the money had been deposited in the local post office. "I still remember what we were told at the post office: 'Rozgar guarantee mein koyi guarantee nahi hai' (there is no guarantee in the job guarantee scheme)."
"That's when some of us decided to take up the matter with the authorities at the Paraswara block office," recalls Kaushal.
She got together with 50 others – 40 women and 10 men - and tried to meet officials who just kept fobbing them off, saying the proper person was not available.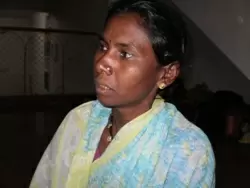 Kaushal Markam has mobilised women power in her Dongaria village
"We made several trips – it was very frustrating," remembers Kaushal. Finally, they managed to meet the Block Development Officer. "Fortunately, he was a good man and listened to us patiently. The sarpanch of our gram panchayat was called in and soon our money was released," Kaushal ends her story with a half smile. As she puts it, finally the matter was not just about money, it was about 'izzat', personal honour.
Like Kaushal, there are other Baiga tribal women fighting for their 'izzat' in their own ways.
Gita Marakam, 29, of Mugaon village, also in Paraswara block, lived life under a cloud. Everywhere she looked children were running, people were walking, but she herself needed a bamboo cane to move around because of a polio attack as a child.
"Those were days before the government's polio campaign," she remarks wryly. Initially, the feeling of being worthless was overpowering.
Every time the children around teased her about her stick, she would withdraw a little more into herself. The one person who stood by her was her father who ensured she got a school education.
Life changed for Gita when she got active in the Nari Shakti Mahila Sangh, a federation composed of SHGs in the blocks of Balaghat, Paraswara and Lamta. "More than anything, talking to the 'didis' (members of the federation call themselves 'didis', or sisters) did wonders for my self-confidence," she says.
That was three years ago. Today, Gita is recognised by her peers as an extremely successful farmer. Last year, she was able to get 16 quintals of paddy from her family's small land holding of about three acres. Only part of the land has been converted into paddy land, on the rest of the holding she cultivates vegetables, tomatoes, brinjals and green chillies – with only a bamboo stick to help her move.
That's not all. The extra money she made from her vegetables went towards getting her brother married. She could also save Rs 3,000 (US$1=Rs 49) to start a fish rearing enterprise.
Gita is also getting exposed to new ideas all the time because of her close association with the federation, "I didn't know I was entitled to work on a rural employment guarantee work site as a disabled person. But the 'didis' encouraged me, so I approached the local panchayat office and now I get work too, and earn the same as everyone else – Rs 120 a day," she reveals.
But Gita doesn't see marriage on the cards. "I prefer to live as a single person. I know I will be able to live a productive life. I will rise and rise, of that I am sure," she says.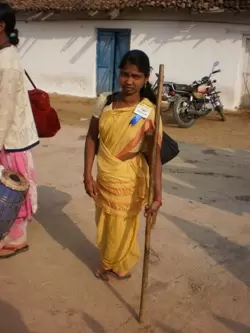 Gita Markam may be stricken with polio but she has not allowed her physical disability to stop her from turning into a successful farmer
There is a quiet authority emanating from Shanti Vike, a Gond tribal, who has emerged as an anti-alcohol crusader in her village of Amoli in Balaghat block.
"Nasha (alcoholism) is huge issue here," says Shanti. Initially, she would try and intervene at a personal level, but clearly that was no solution given the dimensions of the problem.
"After discussions with our local women's group, we decided to set up a small group to work towards ending alcoholism, share information on incidents of violence and keep track of new 'thekas' (outlets) coming up," she elaborates.

When the group did its own survey it became clear that many women were living in great fear and penury thanks to the drinking habits of the men. They then decided to confront husbands, some of whom even argued that it is their right as men to drink as much alcohol as they pleased.
Alcoholism was ruining families, but it also impacted the community in general. "Our local post office, for instance, was in the hands of a man who was hardly ever sober. He was in charge of giving out the MGNREGA payments but couldn't do his job properly. We decided to approach the authorities with this specific case. After some effort, we were finally able to meet the collector at Balaghat."
The drunken postman was soon transferred. "That sent out a message that we were serious about our campaign," says Shanti, who has experienced personal tragedy, having lost two sons to illnesses.
Her "gudiya" (daughter) is the one spark in her life. "She is studying in Class Four. When she grows up, I want her to be able to talk freely about the issues that matter, just like I am doing," says the proud mother.
These are three village women from tribal backgrounds who have taken the road less travelled in a poverty stricken region where the average land holding is around two acres or less.
Says Sahana Mishra, of Pradan, who has been working to organise women here into SHGs for the last four years, "When these women come together, they realise the value of coming out of their homes and the additional income they bring gives them a new status within the family."
But biggest difference, of course, is that they can now draw strength and support from each other to face life's many challenges. - Women's Feature Service

Wish to share your story?
Trending Now: