A 67-year-old 'Leading Lady' sees modern women as 'too quick-tempered'
Sudha Menon
&nbsp | &nbsp Mumbai
11-February-2012
Vol 3&nbsp|&nbspIssue 6
When I was interviewing inspirational women who have emerged as post-independent India's most prominent professionals, entrepreneurs and corporate heads, for my book, 'Leading Ladies: Women Who Inspire India' not many had chosen to speak of their personal relationships.
Lila Poonawalla, 67, philanthropist and former chairperson and managing director of Alfa Laval India was one of the exceptions. She was quick to speak about the Significant Other in her life - Firoz Poonawalla whom she met almost by accident.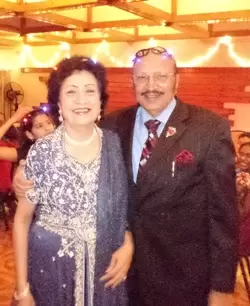 *The couple that parties together and has fun together, stays together, says Lila Poonawalla, seen here with her husband, Firoz. (Photos: WFS)
A mechanical engineer by training, Lila always knew she wanted to be different. So she consciously chose to be a mechanical engineer, preferring to soil her hands "on the shop floor to being trapped in a laboratory, doing research... I wanted some action in life."
But that was easier said than done. She first went looking for a job to the large companies in Pune, including Bajaj Auto and Telco (now Tata Motors), that turned her away saying that they did not employ women!
Lila, with characteristic optimism, saw such rejections as a sign of destiny's kindness, since it had something even more important in store for her. As she put it, "I am glad I did not join the Tatas and Bajajs because, if I had, I would never have got the opportunities I did in this smaller company."
It was this quiet confidence that led her to the eventful first day at Ruston & Hornsby to meet with a senior engineer at the company, who was entrusted the job of escorting its first female junior apprentice engineer from the bus stop to its offices.
That young man, Firoze Poonawalla, was destined to be her husband and her closest companion. Said Lila, "I knew the moment I saw him that he was the one I would marry."
Firoz put Lila through the paces at work. Their marriage followed almost a year later, but it came with a fairly heavy price: The company had a policy that discouraged married couples from working together.
Since Lila had got her break here after a long search, Firoz decided to step down and look for employment elsewhere. He felt his young wife needed to fulfill her career aspirations. Not many spouses would have done this.
"That has been the nature of our relationship. We looked out for each other and cared and nurtured each other so that both had space to grow," Lila said. A few years ago, when Firoz decided to set up a floriculture unit to grow roses, the fond husband named the company Fila Roses (after their two names, Firoz-Lila). Incidentally, their home in the outskirts of Pune is called Fili Villa!
Being married to a woman like Lila must have had its share of challenges for Firoz. She headed corporate entities and was on the boards of many reputed companies in India; she is a recipient of many national and international awards, including the Padma Shri, from the President of India in 1989 and the Polar Star in 2003, from the King of Sweden.
She was constantly flying around the world to attend board meetings and sell dairy equipment in places like Sri Lanka, Bangladesh, Nepal and Russia. She has been on the governing body of organisations like the Confederation of Indian Industries, besides being the chairperson for Agro Food Processing.
She also served as a member of the scientific advisory board of the Central Cabinet (SAC-C) and was chairperson of the Herbal and Floriculture Taskforce of SAC-C.
So how did Firoz cope? At a reading of 'Leading Ladies…' a few months ago, Firoz, himself an engineer of repute and one of the brains behind the Quality Circle Forum of India's Pune chapter, made some heart-warming revelations.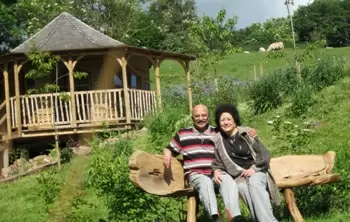 On a cherished vacation: Lila and Firoz Poonawalla. The couple shares a common love for travel and photography
In the early days of their marriage, he said, when Lila's career graph was zooming and her work involved travelling, he would literally have to check her diary to keep track of her.
Once, when their wedding anniversary came around and Lila was again away from home, Firoz decided to check her diary and found that she would be in transit at an airport in Europe en route to another meeting.
He decided to surprise her: He still remembers with a chuckle her look of shock when she found him sitting patiently on an airport bench near the arrivals' gate of the airport.
While Lila remains one of the most sought after corporate consultants in India today, she continues to do what she has always done: Be there for Firoz.
Said she, "For years I would wake up at 5 am, cook lunch for Firoz and me and wake him up for our breakfast, before setting off for work. I love cooking for him even today and he loves the fact that I still find the time to do that for us.
"Women these days are too quick-tempered, too ready to walk out marriages. If you commit to a relationship, give it your everything, life will become so easy."
Lila's meteoric rise in the corporate world meant the couple had no children. Not for a moment does she regret that, instead thanking the almighty for the large family of daughters she now has.
Since 1996, the Lila Poonawalla Foundation has funded the education of almost a thousand girls, giving them scholarships to become doctors, surgeons, architects, designers - careers they probably would never have had if they had not come across this handsome woman with her flashing eyes and shock of curly hair.
When the Foundation is not keeping them occupied, Lila and Firoz love to socialise. Every year they take off on an overseas tour, exploring the countryside, eating in quaint restaurants, indulging in their hobby of photography and acquiring collectibles.
In fact, their collection of memorabilia grew so large that the couple actually moved out of one house and into Fili Villa, so that their cherished possessions had a proper home!
Said Lila, summing up this rich life of partnership, "The time we spend together over our shared hobbies and in travelling keeps our relationship strong and always interesting." – Women's Feature Service
Wish to share your story?
Trending Now: