Thanks to diktat from editors' association, no 'breaking news' of Ash's baby
17-November-2011
Vol 2&nbsp|&nbspIssue 45
The news of Aishwarya Rai's pregnancy and her star-studded baby shower grabbed print and electronic media coverage galore. But thanks to a 10-point directive against excessive coverage on TV of her childbirth, news channels had skeleton coverage when she delivered a baby girl Wednesday.
According to media reports, the Broadcast Editors Association (BEA) had issued a 10-point advisory to its members on how to cover the birth of Amitabh Bachchan's third grandchild, following obsessive speculation about the date of Aishwarya's delivery and the baby's gender.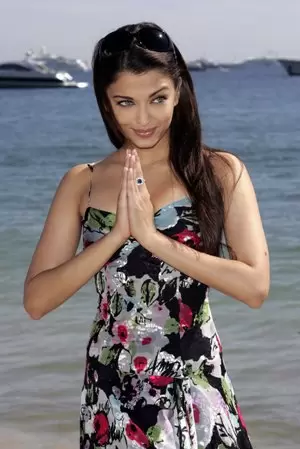 Aishwarya Rai bagged a new role as mom in real life with the birth of a baby girl (Photo: IANS)
While some predicted 11.11.11 as the birthday of the Bachchan baby and bookies even placed bets on the date, many believed Ash would give birth to twins.
However, most of these shows and news clippings were curtailed as the advisory was issued earlier this month. The directives saw a direct impact on the amount and nature of media coverage on the television.
Mumbai's Seven Hills Hospital, where Ash delivered her bundle of joy, had tight security outside as well as inside.
The paparazzi was only allowed to set up cameras behind the walls of the seven-star hospital, where Bachchans booked three rooms -- one for Aishwarya, the other for the Bachchan family and the third for the Rai family.
Therefore, coverage was bare minimum.
Amitabh had earlier clarified that he had no role to play in banning TV channels from placing reporters and cameras outside the hospital. However, he took to Twitter to applaud media's self-imposed restraint on his celebrity daughter-in-law's pregnancy.
Other events in the Bachchan household, including Abhi-Ash's wedding in April 2007, Aishwarya's Karva Chauth, the announcement of Aishwarya's pregnancy in June, and her baby shower in October, saw almost all news channels blowing information out of proportion and jazzing their programmes to have maximum TRPs.
All aspects of Abhi-Ash's "low key" wedding were covered. Be it the pre-wedding functions like mehndi and sangeet, to the D-day when Abhishek, went from his house Jalsa, to his other house, Prateeksha, to marry his lady love - all of it was covered frame by frame by electronic news channels.
When the former Miss World observed a Karva Chauth for the first time for Abhishek, secret TV cameras were planted behind bushes to capture the special moment, while for Ash's second Karva Chauth, prying camera spoilt the sanctity of the festival, according to Amitabh.
"The prying electronic media positioned themselves at vantage points to invade private space inside our home. It is callous, abhorrent act. Our privacy was invaded without our consent," Amitabh had said.
As soon as 69-year-old Big B announced in June that Ash is expecting, it received a lot of national and international coverage. Since Aishwarya also announced plans of withdrawing from Madhur Bhandarkar"s "Heroine", the coverage continued to be blown out of proportion.
Following that, whether it was any party or event, Aishwarya's baby bump drew interest among cameramen - but in vain. She made few public appearances, and even if she did, she took care to hide her tummy.
Her baby shower was attended by several female celebrities - and news channels once again parked themselves outside Bachchan house to dig details of the party.
Pictures from Aishwarya's last public appearance before her delivery at a party last week, saw the actress in a black and gold heavy Abu Jani-Sandeep Khosla creation, which very well hid her baby bump. However, her bloated and glowing face were a mark of her mother-to-be status. - IANS


Trending Now: