Hope strikes at a moment when a rocky marriage heads towards an end

08-September-2011
Vol 2&nbsp|&nbspIssue 36
This short story by Faraaz S Kaazi, author of the romantic novel, 'Truly, Madly, Deeply', is part of The Weekend Leader's First Anniversary special edition on the theme of Hope. 'Triumph of Love,' the story you are about to read, is based on a real life incident. Editor

Smita stood on the soft sand, submerged upto her ankles. Silently she looked out at the vast Arabian Sea, feeling the cool breeze blow against her face. The place was beautiful, perhaps as much as the feelings in her heart when she had last come here at this very resort.
Aaryan had popped up the question to her right here three years ago. The very next day they had got married on the same spot at the beach. Smita had been happier than she had ever thought possible.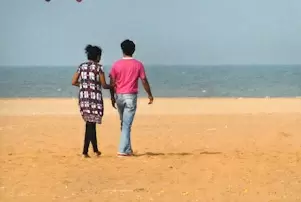 "Three years from the day of their marriage and they had returned, not to romance each other but to end it right where it had started." (The above image is for representation purpose only. Photo by Nathan G)
Aaryan had looked simply out of this world and a dream came true when they had walked down the aisle, together hand in hand.
They enjoyed the limelight of each other's attention and laughed at the sheer joy of being young, in love and staying in a five star resort in Goa. They had vowed to be with each other when the priest had asked them, together forever, and had dreamt of happy times ahead.
They had planned their honeymoon. Switzerland she had said, Malaysia he had argued and they compromised within India itself, visiting heaven on earth and the monument of love over a span of two weeks.
Aaryan's job kept him busy usually, touring destinations around the world and that made her sad as she had to spend long intervals alone at home.
That seemed eons ago, almost in a different age. The three years had changed a lot in her and him.
Three years from the day of their marriage and they had returned, not to romance each other but to end it right where it had started.
Smita let out a moan, reminiscent of the hurt and pain she had been through. She thought about herself and the course from here on. She knew she had no choice but to go ahead with life.
How could she, she alone of all people in her family suffer the trauma of divorce, and that too from a man she had loved like there was no tomorrow? How could God do this to her? How? She found no answer when she looked up in the sky, grazing the soft sand with the toe of her feet in a swift circular motion.

*
The man stood watching from the terrace of the building. He felt himself being pulled towards the woman he could see standing at the water's edge, gazing out in the horizon as though she was expecting something.
She looked beautiful in that orange top on her dusky skin and the blue earrings, he thought complemented her personality. No, he wasn't taken in by her beauty; he came across numerous stunning women in his work as a modelling coordinator.
It was her silent plea of loneliness that called out to him. From a hundred meters away too, he was aware that she was unlike any other woman he had met or would ever meet.
Smita had been aware of the man standing there and she had felt absolutely no qualms about being observed in that manner. She could feel him coming near as he ventured towards the beach.
She turned to look at him and felt a guilty wave of pleasure tingle her spine, the kind she had only experienced once before.
He walked slowly towards her, never leaving her gaze and it suddenly felt like she had known him all the time.
And from there she did not know when they made their way to the coffee shop in the resort. Savoring cup after cup of cappuccino they began to talk. They talked about the beach, the food and the locals.
Once the caffeine had started seeping in, the conversation deepened. They discussed the reasons for being there and then even though she didn't want to, for some strange reason, Smita opened up to the man in front about her past, the events that had led her to where she was. She told him of things that had been locked deep inside the crevices of her heart.
She had got an offer from one of the best conglomerates of the country to head their promotions team. She was overjoyed on receiving it.
It was the job she had always wanted. That meant she would no longer have to remain alone at home.
What she forgot was that she was four months pregnant. Aaryan was livid when she mentioned that she wanted to work. He would not allow it.
They fought, lashing at each other verbally with crude words and she decided to ignore herself from then on. In a state of carelessness when as usual Aaryan was away for work, she tumbled down the building staircase. For half an hour, no one got to her unconscious state until their neighbor decided to go down for some work and discovered the mess.
Aaryan did not make it back. They had lost the child.
The doctor had placed an arm on her shoulder and whispered to her, "May be you could try adopting." She had never forgiven herself for it. She had never forgiven Aaryan for not understanding and not being there for her when she needed his support.
In the time that followed, she had withdrawn from her husband, family, and friends. She did not want to come over the pain she had felt then, it would have meant betraying her unborn son. After cremating the fetus along with the dreams of motherhood, she had left for her parent's.
As she looked up, Smita could feel her emotions staring back at her through the man's eyes. Strangely, she no longer felt alone or scared. The future no longer seemed uncertain. She felt the weight on her shoulders move away. The man kept his hands over her quivering ones, holding her, reassuring her and she felt that she had something for him.
While clearing the bill she could hear the sound of an old folk song being played on the radio held by the old Goan owner of the restaurant. The words called out to her, called out to them.
May be love still walked in those forgotten crevices of her heart. They had come here to end it all and part ways but maybe there was some hope left.
Smita got up holding Aaryan's hand, leading him away from that place to the sand where they had stood on three years back, hoping to spend a lifetime together.
She was sure she would withdraw the divorce the next day. Tonight they would build their dreams sealed with new vows concerning the same old people.



Trending Now: