Good Samaritans offer help for Delhi blast victims
07-September-2011
Vol 3&nbsp|&nbspIssue 35
Volunteers flocked to donate blood at the Ram Manohar Lohia (RML) Hospital where most of the victims of the Delhi High Court blast were rushed Wednesday.
"Ever since news spread that the blast victims have been brought here, we have been getting a lot of donors for blood donation," said an official of the RML hospital handling the helpline.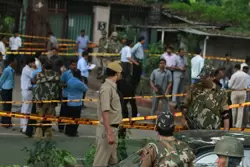 Blast site: Police conducting investigation at the spot where the blast took place near Gate No 5 of the Delhi High Court (Photo Courtesy: Tehelka)
"We have enough stock (of blood). So if anyone wants to donate, then they can enquire and come," the official added.
Social networking sites like Twitter were abuzz that hospitals like RML were running short of blood.
Offering all possible help - be it blood donation, information on missing people, emergency numbers or the latest update - web users came together Wednesday to provide solace to victims of the Delhi High Court bomb blast.
Barely hours after news of the blast made waves across the capital and elsewhere, people on social networking site Twitter formed hashtags like #delhiblasthelp and #Delhiblasthelp through which help could be offered.
Kiran Kumar, one of the users, tweeted the helpline numbers of various hospitals where the blast victims were rushed to - requesting people to donate blood.
The helpline numbers at the Ram Manohar Lohia Hospital are 011-23348200, 23404446, 23743769, 23404478. The number of the All India Institute of Medical Sciences (AIIMS) Trauma Centre is 011-26588700; and of the Safdarjung Hospital 011-26101925, 26161960, 26161960.
People also volunteered to donate blood of a particular group.
"If anyone needs blood of AB-positive group, please contact me at 9716150054," tweeted one.
Madhukar Kumar uploaded a list of blood banks, including the Indian Red Cross Society and the Rotary Blood Bank.
There were others who offered unconditional help.
Wrote homemaker Rajni Shah: "If anyone knows anyone who is missing after the blast, please let me know, or post the details here. It will spread the message around and I will do whatever I can to help."
Megha Sharma tweeted: "I am here in Delhi and if anyone needs help, please contact me."

According to police, seven people from among the 68 victims admitted to RML hospital were critical.
Some of the victims have been referred to the Safdarjung hospital and the All India Institute of Medical Sciences.
Eleven people were killed and at least 76 injured when a powerful bomb exploded outside the high court premises Wednesday morning. - IANS


Trending Now: