Being the wife of an iconic boxer is not about facing punches but KO'd by love
Ajay Rana
&nbsp | &nbsp New Delhi
12-August-2011
Vol 2&nbsp|&nbspIssue 32
Life is like a boxing bout, full of hooks and punches. You land some, you miss some. That is the philosophy that drives Arjuna Award-winning boxer Akhil Kumar. "He is never down in the dumps no matter how disappointing the outcome of a bout is," says his wife Poonam. "He is always raring to go back into the ring."
Poonam knows exactly what she is talking about. Not only is she a leading boxing coach's daughter, she also happens to be a qualified coach with NIS Patiala. So, Akhil always has a ready supporter at home whether he returns victorious or is nursing the after-effects of a defeat.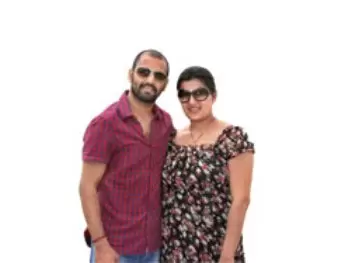 Warmth of love: Akhil Kumar and wife Poonam love each other, as much as they love their boxing (Photos: Smash)
Poonam, a former flyweight category national champion herself, is a mathematics graduate who has done her Master's in sports business management from Sheffield Hallam University, England, as well a Master's degree in Physical Education.
That apart, armed with a one-year boxing coaching diploma from NIS Patiala, where she is now employed, Poonam is currently doing a PhD from Kurukshetra University. But she says, "My greatest achievement is that I got married to the man I love, Akhil Kumar." They are a happy couple, made for each other in every sense of the term. Boxing dominates their existence – the sport gives them the reason to live, love and celebrate the bliss of togetherness.
Poonam, being the daughter of boxing coach Sube Singh Beniwal, had heard a lot about the upcoming Akhil Kumar before she met the pugilist for the first time in 2006. That was the year when she was pursuing a coaching diploma at NIS. "I was with my classmates standing outside the boxing gym. Akhil suddenly rushed out wearing a sweat suit. I froze for a split second and we made eye contact. It was love at first sight," she recalls.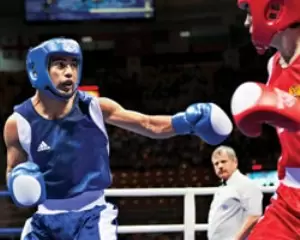 Memorable moment: Poonam can't forget the fight when Akhil prevailed over the reigning world champ, Sergey Vodopyanov, in the pre-quarter finals of the 2008 Beijing Olympics
Soon thereafter, Akhil proposed to her through a friend who happened to be Poonam's classmate. The lady needed little prodding. Poonam's father, on his part, supported her choice and the couple tied the knot in March 2010 after a long courtship.
The couple has a daughter. "He was overjoyed when he learnt that I had given birth to a baby girl. Akhil always wanted a daughter," says Poonam.
Is it tough being an iconic boxer's wife? "As a boxer, Akhil is completely committed to his sport," says Poonam. "But outside the ring, in real life, he is a fun guy, very relaxed."
To sustain his fitness and agility, Akhil has to follow a strict training regimen and maintain a controlled diet. It certainly helps that his wife knows what it takes to be a champion boxer. "I give him all the support that he requires in order to keep on improving as a boxer," says Poonam.
Akhil, however, is too experienced a boxer to need any motivation from external sources, asserts his wife. "Not only does he motivate himself, he has the ability to motivate others as well," she says.
Akhil won the gold medal in the 2006 Melbourne Commonwealth Games in the bantamweight 54-kg category, but the one bout that is etched in Poonam's mind is the one in which the boxer got the better of the reigning world champion, Sergey Vodopyanov, in the pre-quarter finals of the 2008 Beijing Olympics. "The victory came on August 15, Independence Day," she recalls.
But when is Poonam most pleased with Akhil? "When he makes bed coffee for me," she replies.

Published by special arrangement with Smash
Wish to share your story?
Trending Now: