A travel show that explores Indian men!
09-June-2011
Vol 2&nbsp|&nbspIssue 22
Most travel shows tread the beaten path but here's one that is definitely different. "What's With Indian Men?" features supermodel Indrani Dasgupta and actress Sugandha Garg attempting to understand Indian men while journeying across the length and breadth of the country.
The show premiered on FOX History & Traveller June 4 and depicts the two women encountering men from different walks of lives, regions and tastes on their way.
"Most shows are scripted, but this one is not. All of us want to know about Indian men - and imagine being paid for it," said Sugandha, known for her roles in films like "Jaane Tu…Ya Jaane Na" and "Tere Bin Laden.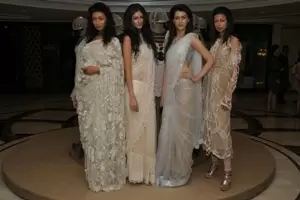 Will 'What's with Indian Men' provide the answers women are looking for? (Photo for representation purpose only. The picture shows models sporting designer Rina Dhaka's latest collection. Courtesy: IANS)
"A good travel show is very hard to come by. The reason why I call ours a good show is because it is not just travelling with voiceovers and montages of people travelling in different cities. In our show, we bring out the flavour of the places by making a local taking us around. We met a lot of locals and got to know about men from different regions," she added.
The show, which will be aired every Saturday, will take Sugandha and Indrani to 10 Indian cities, including Delhi, Amritsar, Jaipur, Kolkata, Mumbai, Varanasi, Guwahati, Kochi and Ahmedabad.
They have taken this trip to understand what makes Indian men tick and how these cities have shaped their menfolk.
"Being a part of the show was like doing a doctorate on Indian men. We left all our inhibitions aside while interviewing the guys and were amazed with their candid confessions," said Sugandha who is married to Rahgu Ram, the man behind MTV's popular show "Roadies".
The two women met men from diverse backgrounds, but they found one thing common in all of them.
"India is a totally diverse country and the men living here can be very different, but one thing is common and that is the sense of being providers. They still want to look after their families whether they are rich, poor or live in any part of the country.
"Their situation or tastes in food and girlfriends are very different, but one thing is the same that they want to be an important member of the family and the kind of a head of the family," said Sugandha, who also found out that the Indian men have an insane sense of humour.
"I never thought this about Indian men before and I never thought I'll attribute them with this ever, but Indian men are very funny. They have an insane sense of humour. They are very quirky. I was pleasantly surprised. I laughed my lungs out in the show," she said. - IANS

Wish to share your story?
Trending Now: