How to keep your woman from flirting

Kushbhu Sundar
&nbsp | &nbsp Features Editor | TWL
20-May-2011
Vol 2&nbsp|&nbspIssue 20
It's now over eleven years since I have been married to Sundar. We dated for six years before we got married. But even today when I travel out of Chennai, Sundar comes to the airport to see me off if he is in station. He doesn't need to do it, but he does it nevertheless. The last time I flew out of Chennai, the flight got delayed. Sundar took me out for lunch at Trident and dropped me back at the airport. He always makes you feel special.

I like it when he holds my hand sometimes when we go out. It makes me feel secure and loved. These may be small gestures but they build up the warmth between the two of us.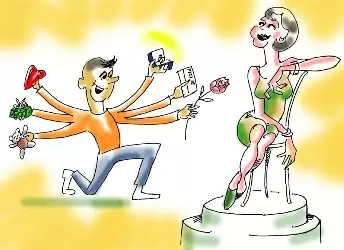 Illustration: KravMaga Sreeram
That's how you keep the magic of romance alive in your life. You need to put in that extra bit of effort to retain the spark in your relationship.

There is nothing wrong if you are friendly with someone from the opposite sex, as long as you know where to draw the line. You invite trouble when you start doing things behind your partner's back, and allow sexual undertones to creep into a relationship.

Trust is very important in any relationship and more so, between a man and woman, and vice versa. There should be no secrets between the two of them. I, for instance, put in a word to my husband when I meet any of my male friends over coffee or lunch. So, if someone is going to tell Sundar that I saw Kushbhu with x or y, it's not going to bother him. He never asks me who I meet, but I still keep him informed.

Whenever I am in Mumbai I try and meet up with Govinda, who is a good friend of mine. Sundar even knows that I used to have a huge crush on him at one point of time. Now, of course, he knows we are just friends.

It is good to use one's intelligence and think of innovative ways to bring excitement into a relationship. Whenever I go for an important event, before leaving home my daughters shoot a picture of me in the dress, and send it to Sundar on the Blackberry. It's not to take his approval, but to show that we care for his views.

My advice to men is, don't take your partner for granted. Be nice to your woman. Make her feel that she is the most important and only woman in your life. Being nice to her doesn't mean you take her out on expensive holidays or buy her costly gifts. Giving her a good hug and saying how much you love her can work wonders.
Also Read: How to keep your man from flirting

Wish to share your story?
Trending Now: