For Mamata Banerjee, the leadership training started at home

Ajitha Menon
&nbsp | &nbsp Kolkata
13-May-2011
Vol 2&nbsp|&nbspIssue 19
When Swapan Banerjee lost his father at the age of two, he was inconsolable until his 'didi' (elder sister) placed her hand on his head and said, "Don't worry Babun, I will take care of you." To this day, the now 39-year-old Swapan says, didi has kept her promise. She is none other than Mamata Banerjee, feisty politician and 'didi' to millions in the eastern Indian state of Bengal.
After losing her father, Promileswar Banerjee, as a teenager, Mamata took up the responsibility of looking after her mother and two younger brothers with the help of her elder brother, Ajit. An interest in politics led to her joining the Youth Congress as a student, and she rapidly rose to become the General Secretary of the State Mahila Congress. "She has always been busy with her political career, but she never neglected the family. Whenever she has the time, she cooks or knits sweaters for her brothers. Singing, poetry and painting are her other passions," reveals Swapan, who lists the simple 'ghughuni' (a white gram Bengali preparation) as his sister's signature dish. "It tastes almost like meat when she makes it," he smiles.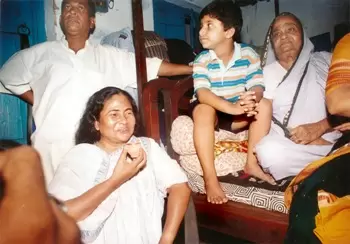 Didi at home: Mamata with family members. Seen in photo, Gayatri Banerjee, her mother, and a nephew. (Photo: Monojit SahaWFS)
Emotion has been a defining factor in Banerjee's career from the beginning. Her speeches have successfully played on the sentiments of the listeners, enabling her to build up a massive following, particularly amongst women. Her slogan 'Maa, Maati, Manush' (Mother, Earth, People) seems to have so caught the imagination of the young and old alike in West Bengal.
Her connect with women is evident in her speeches though not everyone agrees that she is a champion of women. Shyamali Gupta, Central Committee Member of the CPI (M), the opposition party, points out, "She was one of the leading supporters of the Women's Reservation Bill, but when the Bill was finally put to vote in the Rajya Sabha, the two Trinamool Congress MPs abstained."

Her political opponents also term her characteristic independence as "autocratic". But Banerjee, 56, doesn't appear to care. She has greatly cherished her independence, not just in her personal life but also during her long political career.

Yet, unlike other successful women politicians like Mayawati, Jayalalithaa, or Sonia Gandhi, Banerjee has never had a male mentor or politically well-connected relatives to smoothen her political trajectory. "No one can question her struggle or the transparent honesty with which she has fought her battles. But more than a politician, I admire her and find her acceptable as someone who truly feels for the people and works towards their well-being," remarks Mahesweta Devi, 86, Magsaysay Award winning writer and social activist.

It's her familial bonds that give her the strength to carry on. Her mother, Gayatri has, time and again, acted as her main support and lifeline. According to her brother, if Banerjee has displayed phoenix-like qualities, it's because of the quiet courage imparted by her mother. "There is a special bond between them. Even today 'didi' does everything personally for mother, who is over 80 and ill. Whenever 'didi' sets out to do something, mother sees her off with 'prasad' (offerings made to the Gods) and a Rs 10 note. 'Didi' never leaves the house without that," says Swapan.

Banerjee used to love the 'naadus' (sweet coconut balls) made by her mother. "She talks to us about the house, about changing curtains, dusting - all the sundry household work that catches her attention. Inside the house she is like any other sister-in-law," says Kalpana, wife of Banerjee's youngest brother.

Though a committed, independent politician, Mamata does make her softer side - although generally reserved for the family - discernible in public. She is unashamed that she is a woman; that she cries when she feels pain and that she cries harder when others feel pain.

Women's Feature Service

Wish to share your story?
Trending Now: