Gujarat's whistleblower Sanjiv Bhatt is on firm ground with family support

Kavita Kanan Chandra
&nbsp | &nbsp Mumbai
13-May-2011
Vol 2&nbsp|&nbspIssue 19
When an entire establishment – the state machinery, the political right and the corporate world – wants something, it gets it. But not now in Gujarat, where a 47-year-old IPS officer, Sanjiv Bhatt has denied such glory to the mighty establishment just because he stands on the bedrock of his family's support.

Any other man would have buckled under pressure as perceived and real threats could bring about pressure from within the home to give up. But Bhatt is lucky. His wife, Shweta, mother and two children, a daughter in the final year of MBBS and a son in class XII understand him and his fight for justice.

"My children are absolutely supportive, for over the years they have known the values and principles I stood for. And despite everything (that has happened in my life), my son also wants to join the police," says Bhatt with pride.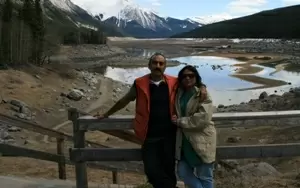 Family support: Wife Shweta and his children are standing by Sanjiv Bhatt as he takes on Narendra Modi in the Gujarat riots case
The whistleblower took Gujarat Chief Minister Narendra Modi head on by filing an affidavit in the Supreme Court on April 14 to bring on record certain aspects concerning the investigation being conducted by the Special Investigation Team (SIT) appointed by the Supreme Court to go into the post-Godhra riots of 2002 that claimed around 1200 lives.

In his affidavit, Bhatt has stated that Modi instructed senior police officers and civil servants at a meeting on February 27, 2002, to let the Hindus vent their anger against an incident at the Godhra railway station where about 59 kar sevaks were burnt to death by pro-Pakistani elements.

Bhatt, who was Deputy Commissioner of Internal security in the state intelligence bureau during the riots that followed the Godhra incident, alleges that the SIT leaked his testimony to the Gujarat government.

"I had not talked about my testimony to anyone outside the SIT. But even as my deposition was on, I was receiving calls from people in the higher echelons of authority asking how I could say such and such things," says Bhatt referring to his deposition before the SIT in November 2009 .

Though he had deposed truthfully and fearlessly with all documents and details, the SIT failed to conduct an impartial and thorough probe into the allegation of a larger conspiracy behind Gujarat riots of 2002.
"I was angry that the SIT was not living up to expectation and hence filed the affidavit. It is just a correspondence, putting things in perspective," says Bhatt who is neither a petitioner nor a respondent in the riots case. He could not disclose information on such a sensitive matter earlier as he had to maintain confidentiality as a serving officer. However, Modi has denied that Bhatt was present at the February 27, 2002 meeting convened by him.

Bhatt reiterates there was complete subversion of the law during the 2002 riots and wishes such riots should never take place again. "People quote the riots of 1984 and 1993 to justify the 2002 riot; at least the 2002 riot should not be quoted as a precedent," he adds.
The Mumbai born and Ahmadabad -bred alumnus of the reputed St Xavier's High School, says it was an urge to bring about positive changes and make substantial contribution to society that motivated him to join the police. So, after doing his Post-graduation in Geotechnical Engineering (a specialized Civil Engineering branch) from IIT Mumbai and a stint in CMC Ltd, he joined the IPS in 1988.

In last 23 years he has served in different capacities in various districts, Police Commissionerates and Police Units. Now he is Principal of the State Reserve Police Training Centre in Junagadh.

Having done sensitive assignments, including being in charge of Chief Minister's security, Bhatt is aware of threat perceptions. He has mentioned in his affidavit his concern for the safety of his immediate family members. "I have presently one PSO (Personal Security Officer) and one sentry, which is highly inadequate. The minimum requirement should be four more guards and one more PSO," he says.

But that is not going to deter him from speaking the truth. Following summons, he is ready to face the Nanavati Commission – probing the Godhra case and the role of Modi in the post-Godhra riots - on May 16. We hope to hear more startling revelations from the man who knows too much and importantly, is willing to talk too.
Wish to share your story?
Trending Now: