Saurav Jha and Devapriya Roy come together as writers to explore India

Lesley D Biswas
&nbsp | &nbsp Kolkata
07-April-2011
Vol 2&nbsp|&nbspIssue 14
Saurav Jha and Devapriya Roy, a young couple in their late twenties, have swapped their messy desk for the clear blue sky and their dreary nine-to-five jobs for an exciting journey across India on a tight daily budget of Rs 500 a day. Having already travelled 100 days and covered around 12,000 kilometers, their experiences are shaping up as a travelogue titled, The Heat and Dust Project, commissioned by Harper Collins.
"Part compulsion and part impulse is what catalyzed this idea," explains Saurav. Afraid of being trapped by the meaningless cycle of work and consumerism, the couple packed everything they needed to survive on a backpack and decided to blaze a new trail every morning, to discover the India foreigners have so often written about. But exciting as the prospect sounded, "It wasn't easy to quit our regular jobs," adds Saurav who worked as an energy analyst with the energy sector while Devapriya was into publishing.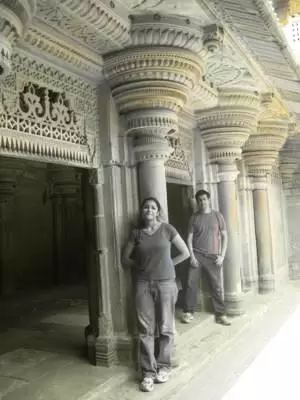 Rightly aligned: Saurav Jha and Devapriya Roy have learned a lot on their road trip across India
"Finances had to be planned. No jobs meant depleting our savings," says Devapriya. However, once they made up their minds, the experience has been transforming. "Now we find it hard to be grounded," admits Devapriya. "Having been on the move for over 100 days at a stretch, it's difficult to stay in one place. We cannot imagine getting back to the old lifestyle."
Starting out from Delhi on May 1, 2010, they travelled through Delhi, Madhya Pradesh, Maharashtra, Karnataka, Kerala and Tamil Nadu. A challenging budget meant eating fruits and traditional Indian thalis. For both of them who grew-up in Calcutta and studied and later worked in Delhi, their tryst with the country, its mysteries and wonders, and tasting the hospitability of complete strangers was most thrilling.
Amongst the innumerable adventures this couple have to narrate is their dinner at Barmer, Rajasthan. "We were invited to a lovely homemade dinner by Ramaram Mali, an auto rickshaw driver, who had earlier taken us for a spin of the sand dunes." Other experiences include their stay at Pahariganj, Delhi's Hippi joint, eating chulha-baked thin-crust pizza at Orchha, Madhya Pradesh, arriving at odd hours and proving their marital status before they could get accommodation and "putting up at one of those hotels like in the movie Jab We Met," laughs Devapriya.
Unlike their inspiration, The Motorcycle Diaries where the author Ernestro Guevara rides a motorbike across South America, this couple travels mostly by bus. "We wanted to see and feel real India, meet ordinary people, listen to their stories and travel cheap. Our book will embody the soul of India and dispel the myth that India is only heat and dust," reveals Saurav.
Their first book together – Saurav has authored The Upside Down Book of Nuclear Power and Devapriya The Vague Woman's Handbook earlier - is being written in over 100 locations across rugged countryside, formidable forests and in between hopping on and off rib-shattering bus journeys. And helping the couple decide their itinerary with feedback and tips are their 1,800 strong Facebook community who regularly comment on their Facebook page - The Heat and Dust Project: A book in motion.
This concept, according to Lipika Bhushan, marketing head, Harper Collins, "Of a book in motion is new and with interaction on Facebook, it's adding to the anticipation. Since backpacking is catching up in India and most people seek advice about budget tours the authors' experience will provide lot of information," revealed Bhushan.

Wish to share your story?
Trending Now: