Old romance now flows over in a new Indian cup

Partho Burman
&nbsp | &nbsp New Delhi
07-January-2011
Vol 2&nbsp|&nbspIssue 1
The romance of Mills and Boon book is back in Indian flavour. For the first time, the book features Indian characters, places, streets, cuisine, rituals and customs and entertainment. "Love Asana" is the first ever Mills & Boon book authored by an Indian writer, Milan Vohra. The book was released in Delhi on December 14.

"The fictional romantic book portrays the thrilling passage of love and sacrifice by the heroine, while the hero is a ruthless character who leaves no stone unturned to accomplish his intention," says 45-year-old Vohra, a typical Indian woman and exceptionally romantic as her fictional heroine Pari.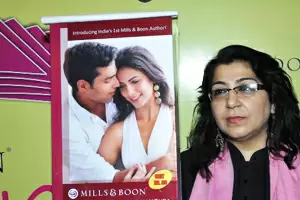 A romantic tale: Milan Vohra grew up reading Mills & Boon, but now is an author herself in the world famous publication known for its romantic fiction
She met Vidur, her husband, in a yoga class in Delhi, when she was 17 and he was around 19. Both dated for seven years before they got married. Their marriage is now over two decades and they have two children. She comes from an academician family. Both her parents are professors. She is a Delhiite, but spent the last decade in Bangalore.

Vohra grew up reading series of different taglines of Mills and Boon. She had even dreamt of writing for M&B during her teenage days. Her dream took shape about a year ago, when a friend of her forwarded an email regarding the first ever 'Passion Writing Contest'.

The contest was to pen a romantic tale in 2000 words. During those days, she was associated with an advertising organization and hence found it easier to compose a novella. Among the 524 budding writers, who participated in the nationwide contest, she came up with flying colors. Mills and Boon, UK, offered her the mentorship.

"I had no master plan to become an author. But the two-year courtship with Mills and Boon gave me much support. It's a great pleasure to be an acclaimed author from a budding writer," says Vohra. According to her, romance is no man-woman thing. It's about attitude. Romance hasn't changed. She thinks people still look for the same qualities in their partners that they did centuries ago. Nobody compromises on these things.
However, writing a romantic book in 50000 words proved to be a challenging task. "While I was doing yoga, I thought of the title. The book has nothing to do with me. It is fiction," says Vohra.

She is fond of online gaming, likes to watch Hindi flicks and is passionate about traveling. "I use every single buck that I need to travel," she confesses. The message however, for the younger lovers, she spreads: "Believe that you will find love and you will."

Harlequin Mills and Boon India (HMBI) began its operation in February 2008. It caters to the readers between the age group of 16 and 60 years. Manish Singh, Country Manager, HMBI informs that they are the world's leading publishers of women's fiction. "We publish in 26 different languages and have readers across 110 countries," Singh says.

Wish to share your story?
Trending Now: