When an Indian boy and Pakistani girl fall in love at Tasmania, there is a happy ending

Jane Rankin Reid
&nbsp | &nbsp Tasmania/ Australia
12-November-2010
Vol 1&nbsp|&nbspIssue 11
Sometimes dreams come true in the strangest of places. When Delhi-born management student Varun Khetarpal arrived in Tasmania four years ago, he'd never expected to meet the love of his life in the island's tiny sub-continental community. Active in anti-racism campaigns, Indian cultural activities and the local Hindu society's temple development, Varun's positive attitude towards his adopted homeland is inspiring. But Varun had always expected to marry a nice Hindu girl. Until he met the beautiful Pakistani born journalism student Uzma Qureshi at a Bollywood dance class.

Was it love at first sight? "We took our time, talking and sharing our love of music, dancing and local culture," remembers Khetarpal fondly. "Yes, I soon realized Varun has something I've always wanted," Uzma adds.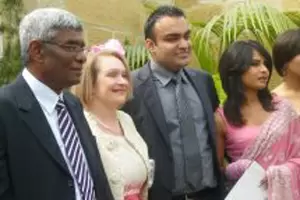 An Indo-Pak alliance: Varun and Uzma Khetarpal with the bride's parents Ikram Qureshi and Alison Raticliff
Uzma Qureshi is no ordinary Pakistani girl. She's travelled and studied between Karachi, Malaysia and Australia since 2005. In 2008, Uzma and her parents, Ikram and Alison Qureshi discovered Tasmania and soon began calling the island home. Uzma's photography and journalism studies continued and she soon became immersed in the local community. The Pehchaan Society's recent Pakistani flood disaster fundraising appeal inspired Uzma and Varun to galvanise Tasmanian support, raising thousands of dollars for relief efforts.

But marriage between a Hindu and a Muslim is another story. "We fell in love and knew we just had to be together," Varun said the day he formally asked Uzma's father Ikram's permission. "Our religious differences mean little in the face of our love." A few nervous hours later, the happy couple posted in Facebook: "We're going to be married." Champagne corks began popping, and half a century of Indo Pak tension temporarily evaporated.

"We'll raise our children in both cultures," Uzma adds firmly. "After all, my mother was born Christian. Both our parents have successful love marriages. Its natural we'd want to choose our life partners for ourselves."

"My chacha forecast we'd marry in October and live a long happy life, other than disagreeing about cricket," Varun laughs. His mother, Praveen Kheterpal was thrilled. "My new daughter Uzma is beautiful and cute and we share birthdays!" Praveen wrote happily.

Varun's sister Richa Khetarpal brought Uzma an exquisite pink chiffon wedding sari from Delhi and hosted the Mehndi Rasam ceremony at the Qureshi's home. Their October spring wedding day was glorious. The verdant serenity of Hobart's Royal Botanical Garden's pavilion filled with magnificently dressed family and friends, all blessing the ecstatic couple's unusual union. After their civil ceremony, Varun applied ritual sindoor vermillion to Uzma's hairline; rose petals fluttered, cheers erupted.

A delicious northern Indian buffet and celebratory toasts and the bride and groom's sensational Bollywood dancing followed. Astonishing for traditional Hobartians it might have been. But a welcome taste of the island's future.

Uzma's genial father Ikram Qureshi was particularly pleased. "The only thing wrong with Tasmania is it's just not brown enough, yet. Our kids will make a huge difference here, and that's fantastic for all of us."
Wish to share your story?
Trending Now: