Lee and Hesh as a pair made tennis proud again

Anand Philar
&nbsp | &nbsp Chennai
24-September-2010
Vol 1&nbsp|&nbspIssue 4
Eight years ago, Indian tennis icons Leander Paes and Mahesh Bhupathi split as a team after their relationship soured. And yet, to see them together at the Davis Cup tie against Brazil in Chennai was a revelation. It was as if, they were keen to make up for the lost ground.

They won the crucial doubles rubber with ease to set up a historic 3-2 win for India who trailed 0-2 after Day 1. Their triumph on the second day turned the match on its head. India took the two reverse singles on the final day to cement their berth in the World Group.

Sitting side by side during the media conference, Leander and Mahesh (or Lee and Hesh, for you) dug elbows into each other, whispered, laughed and giggled like there was no tomorrow. They presented a picture of two men who put the past behind them and entered into a mature relationship.

The two came together for the first time in 1995 for a Davis Cup tie against Croatia in New Delhi. The on-court chemistry between them was fairly obvious and as a doubles combination, they grew in stature.
If anything, it was a special relationship between Leander, 37, and Mahesh, 36, as they travelled the globe together, sharing rooms and moments. So much so, they, subsequently, came to be known as the "Indian Express" even as they steadily rose through the World rankings.

Doubles play demands rapport between the partners, a deep understanding of each other's strengths and weaknesses, besides a healthy respect for one another. It is give and take all the way. Leander and Mahesh epitomized these virtues.

It was hardly a surprise that they went on to win three Grand Slam titles before parting ways in acrimonious circumstances. They came together briefly before heading out in different directions for good. But, as they say, time is the best healer. Leander and Mahesh often paired up when representing India, be it the Davis Cup or international sporting events. Gradually, the pain of separation gave way to respect and regard that was every evident at the recent Davis Cup tie in Chennai.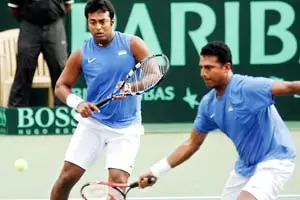 Lee and Hesh: these guys prove that real friends always come together after a fight
"We are mature adults now. We take responsibility for whatever happened between us in the past. We respect what we have achieved as a team and as individuals," said Leander.

On his part, Mahesh was reluctant to be drawn into a discussion about their past, although he admitted that had he and Leander worked on their relationship as a doubles combination, they might have won many more Slams.

"It is easy to sit back and wonder at the past. But, we are both happy now and prefer to live in the present," was Mahesh's response to persistent querying on the subject.

"On the tour, you are responsible only for yourself, but in a Davis Cup, you are responsible for 1.4 billion people," was how Leander put it and Mahesh, sitting beside him, nodded in agreement.

Is it any wonder then that the two have recorded 24 consecutive doubles wins in Davis Cup? Their partnership is often held out as the last word in on-court relationship, bettering or at least rivalling that of the Australian pair of Todd Woodbridge and Mark Woodforde.

During the dark days of the split, Dr Vece Paes, father of Leander, had said: "I am sure they will sort out their differences so long as everyone else stays out of it. They are both grown up boys and bound to have their share of problems as in any relationship. But again, over time, I am sure they will patch up and be good friends again. The bond between the two is far too strong for them to stay away from each other."

Prophetic words they turned out to be. May be, Leander and Mahesh will never again play together as a team on the professional tour, but when they sporadically do, the old magic works like it did against Brazil, much to the pleasure of their fans.

Trending Now: