The making of India's first spastic software engineer

Sudha Narasimhachar
&nbsp | &nbsp Bengaluru
03-September-2010
Vol 1&nbsp|&nbspIssue 1
"This child is a vegetable. He is like a doll. You can do nothing," said the neuro-physician who saw 10-month old Ashwin, leaving the parents, Prabha and Nagaraj, shell-shocked. He was a victim of cerebral palsy which had turned him into a spastic.

"All the terms were new to me. I shut myself inside a room for three months and even toyed with the idea of killing the child and myself. But my responsibility towards my first child, who was just six years old stopped me from doing that," recalls Prabha with tears.

From then on, her struggle to disprove the doctor started. She wanted Ashwin to grow up into a successful person. Having married at a young age of 19 years, she was quite naïve, and totally dependent on her husband Nagaraj, who was a busy executive at Canara Bank. Undeterred, she took upon her young shoulders the task of raising Ashwin. "I am lucky that all my family members support me morally to this day. Besides, I cannot forget the cooperation and contribution of hundreds of my friends and relatives in making Ashwin the first and only spastic software engineer of the country," says a grateful Prabha.

With just one cooperative finger, Ashwin has become an engineer. "All thanks to the relentless efforts of my mother, my brother Naveen, my other friends and most of all, my dearest friend Bharat," says 25-year old Ashwin.

Bharat, who was Ashwin's batchmate in junior college, is today a very important member of Ashwin's family. "Ashwin lost his father Nagaraj when he was 12 years old. I started helping Ashwin attend college, write his exams as a scribe and take care of all his other physical needs at home. Today, I cannot stay even for a minute without Ashwin," says Bharat.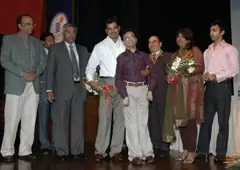 Felicitation: Recognising triumph of human spirit
Do you believe that someone could sacrifice four precious years of his prime life for the sake of a friend? Bharat has done that. After junior college, he spent the next four years assisting Ashwin to become a software engineer. "After Ashwin's graduation, he forced me to continue my studies and I too became a mechanical engineer. I now work for Hindustan Aeronautics Limited (HAL)."

When Ashwin, the first spastic to top in his tenth board exams with 87 percent, received the Brigade-Rotary Young Achiever Award from top Indian cricketer Robin Uthappa, Bharat received an unexpected, unannounced award at the ceremony - 'The Best Friend in a Million'.

Robin Uthappa befriended the duo and arranged for a small interview with cricket legend Sachin Tendulkar during a cricket match in Bangalore. The friends were overwhelmed by Sachin's humility in calling them his inspiration and cannot forget the interview he had arranged for them with a popular television channel.

After completing his engineering degree, getting a job was not easy for Ashwin. Though many companies were awed by his excellent academic record, his physical disability would put them off. Success could not elude him for long, though. After two years of struggle, with the intervention of Enable India, an NGO, Ashwin was selected by MPhasis, a company which is keen on placing physically challenged employees. Recognition has also come in the form of a National Award for the Best Physically Handicapped Individual in India, instituted by The National Trust, an NGO and sponsored by the Ministry of Social Welfare and Empowerment, being presented in September.
Wish to share your story?
Trending Now: