A government order that has helped many a poor and orphaned girl
Rakesh Kumar
&nbsp | &nbsp Jaipur
21-June-2014
Vol 5&nbsp|&nbspIssue 25
Priyanka, 15, from Sikar in Rajasthan, had been living a rather austere life with her mother, Vinod, ever since her parents separated five years back.
Vinod, who works for an ashram, had a place to stay on its premises and Priyanka's daily routine was rather dreary – she went to school and, once back, helped out her mother. Her dreams, too, were not very big.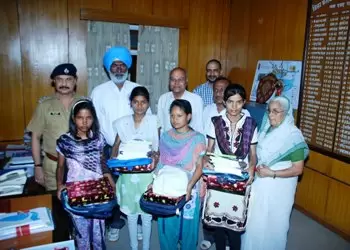 Sikar's collector Salvinder Singh Sohata with his new daughters (Photos: Rakesh KumarWFS)
After all, as the daughter of a single mother she knew she could not be demanding. Then one day her life suddenly changed when officials from the district collectorate landed at her doorstep. They told her to come and meet Sikar's collector Salvinder Singh Sohata.
Full of trepidation, the youngster walked into Sohata's office on May 26, 2014, with four other girls – Anita, 16, Champa, 14, and Sonu and Harkori, both 18. As the youngsters came face to face with the most powerful government officer in their district, he smiled warmly and told them that from then on all five of them were his adopted daughters.
In a similar manner, on April 30, Bhumika Bhoi, 9, became the daughter of Kunj Bihari Gupta, collector of Banswara, a tribal district.
As she applied 'tilak' on his forehead in the presence of local legislators and officials from the state Women and Child Development Department, Bhoi thoroughly enjoyed the attention being showered on her. Having lost both her parents the child has been in the care of her widowed maternal aunt.
In Rajasthan, a state infamous for having one of the worst child sex ratios in the country -888 females per thousand males - and where one-in-four girls is married off before she turns 18, Chief Minister Vasundhara Raje Scindia has come up with an interesting initiative to improve the status of the girl child.
Collectors across the state have been told to adopt at least one girl in their district to set an example for the community.
Gupta began his search for a daughter by getting in touch with the Additional Director of the Social Justice and Empowerment Department and the Superintendent of District Child Care Homes. He wanted to offer a better life to a child who was orphaned.
When he heard about Bhumika he instantly wanted to do something for her. The Class Four student had lost her father when she was barely one and then a year later, her mother passed away. The last few years had not been easy for the child or her maternal aunt, who is a domestic worker.
Says Gupta, with a smile, "After adopting Bhumika, I have secured her admission at a Central school. She has a set of new uniforms, a school bag, books and stationery. Everything is as per her choice."
Recently, he invited the child and her aunt to his home for a special Sunday outing to get to know them better. "I wanted her aunt to be comfortable with us and understand that for us Bhumika was our child now and that she could always count on us for any kind of support," he adds.
In Sikar, collector Sohata felt that he could afford to provide for five girls and that's how Priyanka, Anita Verma, Champa, Sonu Kumari and Harkori Ranwa landed up in his office that day.
To ensure that the girls are cared for, even after he is transferred, Sohata directed officials to register a society under the Cooperative Societies' Act, with District Literacy Officer Rakesh Kumar Lata as its Secretary. Informs Lata, "He felt it would be worthwhile to let a society take on the responsibility of the girls."
Both Gupta and Sohata have taken measures to secure their 'daughters' financially. Gupta has opened an account for Bhumika in Bank of Baroda with an initial amount of Rs 11,000.
Interested citizens have been invited to contribute and already Rs 72,500 have been collected in this account, which can only be jointly operated by the collector and the superintendent of child care homes.
In Sikar, Sohata has given Rs 21,000 to the Zila Ri Ladli Kalyan Samiti, while superintending engineers of the Public Works Department (PWD), Public Health and Engineering Department (PHED) and the Power Department have donated equal amounts. Lata, too, has given Rs 11,000 to add to the kitty.
This move by the Banswara and Sikar collectors has earned them accolades from many quarters but social activists are viewing this effort with due scepticism.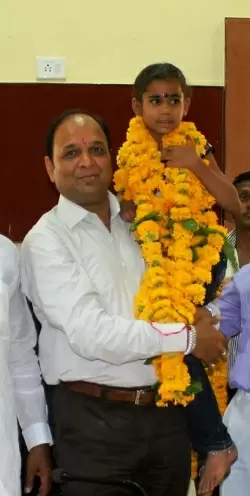 Bhumika Bhoi, 9, is now the daughter of Kunj Bihari Gupta, collector of Banswara, a tribal district.
They point out that though this can play its part in motivating more people to adopt girl children, the administration needs to focus enforcing laws like the Pre-Conception and Pre-Natal Diagnostic Techniques (PCPNDT) Act and The Prohibition of Child Marriage Act, which affect girls, more stringently.
"I am not sure if this scheme will continue when the concerned officer gets transferred and a new collector takes charge. Sustainability is the critical issue. Will a new officer feel as passionately about the welfare of these girls as the one that had chosen them?" is Rajan Chaudhary's concern.
He was present in Sohata's office when five girls were adopted. "Only time will tell how far this scheme is a success but I do think it should be institutionalised. Moreover, why should the collector not make the process of legal adoption a little less complicated so that more girls find loving parents," he adds.
Chaudhary, a well-known activist, has been advocating for better implementation of the PCPNDT Act in the state since 2009. He has conducted sting operations to trap 18 doctors who have unlawfully conducted sex determination tests.
So far, only 22 cases have been registered statewide under this Act and of these 18 are due to his efforts. Chaudhary operates in the Shekhawati region that comprises three districts of Sikar, Jhunjhunu and Churu, notorious for a poor child sex ratio. In fact, as per Census 2011, only nine districts have reported the ratio of above 900. Sikar has seen the biggest fall in child sex ratio.
Meanwhile, one man who is feeling positive about the adoption drive is Devendra Agarwal, who runs Mahesh Ashram, a home for abandoned baby girls, in Udaipur.
It is also a specialised adoption agency with a licence from the state's Social Justice and Empowerment Department. "Most of the people who approach us want to adopt a boy. Perhaps this move by district collectors would motivate them to change their mindset towards the girl child," he says.
Interestingly, much before this official order, there have been some individual efforts made by government servants. For instance, the Kotwali police station in Jaipur adopted a girl, Muskan, in 2011 when a beat constable found out that her father had abandoned her mother and her when she was just two.
Pushpendra Singh, the then Station House Officer, says, "All of us decided to pitch in to bear her expenses, including school fees, books, uniforms and a treat on her birthday." They have kept their promise to Muskan, who is now 11.
Such adoptions may be different from the ones that are done formally, inasmuch as there are no legal claims or family linkages. But clearly, the care-giving and the emotional attachment are no less than what one gets from a real family. - Women's Feature Service


Trending Now: