Boyfriend proposes to girl as she collects her degree!
17-May-2012
Vol 3&nbsp|&nbspIssue 19
Just like any Hollywood movie, a graduation ceremony in the US turned unforgettable for a young girl when her boyfriend of four years proposed marriage on stage as she collected her degree.
Just as Sarah Cooper, from Marlboro, New Jersey collected her college degree, her boyfriend of four years, fellow American University student Sam Miller, popped the most awaited question on stage -- "I have a question... Would you marry me Sarah Cooper?"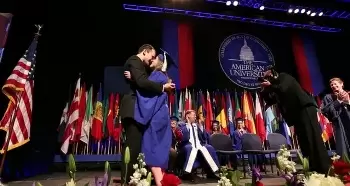 A video grab of the occasion from a American University footage
A video of the event showed, how Miller hovering nearby just as Cooper's name was announced and she approached the stage in her purple gown, the Daily Mail reported. After collecting her degree, Sam stepped to the front of the stage.
The audience, noticing him too, began to cheer. His voice could barely be heard above the screams as he leaned on one knee to propose her for marriage. The room erupted as she nodded and ran towards her fiance to enjoy a kiss, with members of university staff applauding behind her.
Miller then placed the ring on Cooper's finger and they left the stage for photographs and thanked all those nearby for their congratulations.
Sarah was graduating from the American University with a Justice, Law, and Society degree and received a secondary teaching degree.
She met her boyfriend Sam, a public communications and psychology double major from South Bend, Indiana, a week before classes had started four years ago.
"I knew that I wanted to spend the rest of my life with Sarah about three months into our relationship," the Daily Mail quoted her as saying.
But their families had suggested them to wait until graduation before being engaged.
'I chose to propose on stage at her graduation because I don't want to wait another minute for her to be my fiancee,' he said.
Miller has accepted a job as a communications assistant at a public relations firm, while Cooper is still looking for a teaching job in D.C. - IANS


Trending Now: