With peace making a reluctant return, 160 Kashmiris have given up guns

Sheikh Qayoom
&nbsp | &nbsp Shopian (Jammu and Kashmir)
11-May-2012
Vol 3&nbsp|&nbspIssue 19
Do they thank god or the government? An extraordinary question in the conflict-ridden politics of the Kashmir valley, but the Dars in Narpora village send their heartfelt thanks to both as they celebrate the homecoming of their son after 11 years of being a gun-wielding militant in Pakistan.
After years of fear and uncertainty of not knowing what had happened to their son -- who had in 1991 crossed the Line of Control (LoC) that divides Kashmir between India and Pakistan -- 65-year-old Abdul Gani and his wife Sara, 60, are looking at hope and a return to some happiness again.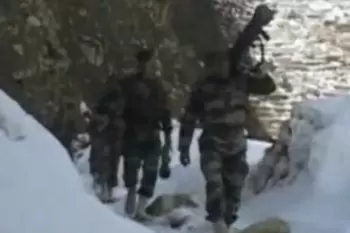 Ninety youth who had crossed the LoC have so far returned with their family members (In pic: The army patrolling the snowy mountains of Kashmir)
The couple in Shopian district's Narpora village, about 55 km from summer capital Srinagar, say they are thankful to god and the Omar Abdullah government's rehabilitation policy for making their son's return possible.
"We had lost all hope. It is as if our son has been reborn after 11 years. We have lived under fear during the last 11 years," says Abdul Gani, who has three sons and six daughters.
Jammu and Kashmir's rehabilitation policy, aiming at an honourable return home for youth who had crossed the LoC during the last 20 years for obtaining weapons, has clearly started paying dividend.
Abdul Rashid Dar, who was only 25 when he left home to join the separatist guerrillas across the LoC, is one of those who has benefited. Dar said he and his Pakistani wife came back after the rehabilitation policy announced by the state government in November 2010.
In the 11 years he was away, Dar, who returned about four months ago, met his Pakistani wife Shabina Naaz. The couple has a daughter and a son -- seven-year-old Isu and five-year-old Hamzala.
The children are going to a local village school, where Shabina, 32, also teaches. And Abdul is tending the family's agricultural lands. It is a far cry from the tumultuous years he spent away from home, where violence was a way of life.
Dar refuses to reveal the route he had taken to return to the Valley but seems content to return.
"The state government must continue the policy so that more and more youths who are eager to return avail themselves of the goodwill gesture," said Dar, reluctant to divulge any details of his years away from home.
His wife Shabina, who worked as a journalist for Pakistan's Frontier Post newspaper, echoes her husband's call for quiet. She wants to live peacefully, taking care of her husband's parents and children in Kashmir.
"There is no alternative to peace. It is time my husband and I started caring for his old parents and the future of our children who must not suffer because of violence," Shabina said.
With Shabina being a Pakistani, there are many bureaucratic hurdles to be crossed.
"We are still living on approval in our Narpora Shopian village. A case is going in a local court regarding my wife's right to continue living with me in Kashmir," Dar disclosed.
He added that other than routine questioning, police had not harassed him or his family.
In a rare case of officials and a returned militant in sync with each other, a government official said he believed the state would take a "compassionate view".
Asked what the government policy is on the spouses of returning militants, the official said: "We are treating them as the spouse of Indian citizens and allowing them to live here for the time being.
"Finally a call will have to be taken as per the law of the land, but I believe the state will take a holistic compassionate view of this situation."
According to a state intelligence official, the government has received 1,034 applications under the rehabilitation policy.
"Ninety youths who had crossed the LoC have so far returned with their family members. The total number of people is 160. Nine more are expected to reach here in the next two days along with their families, a total number of 40 people."
So, more happy endings then in a state where strife and violence have been a way of life for more than two decades and where peace is making a hesitant return. - IANS


Trending Now: