Baba, black sheep, and the black money trail

Sam Rajappa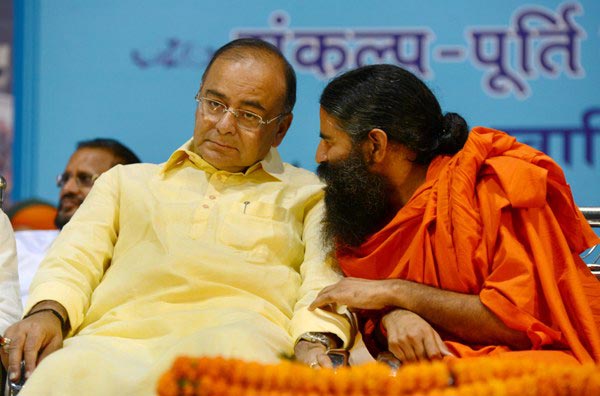 The BJP's Lok Sabha election slogan "Abki baar Modi sarkar," has become "Abki baar U turn sarkar" as the NDA government informed a three-judge Bench of the Supreme Court comprising Chief Justice HL Dattu and Justices MB Lokur and AK Sikri on 17 October that the names of persons with black money stashed away in foreign banks could not be revealed because of the confidentiality clause in the Double Taxation Avoidance Agreement the Congress government had signed with Germany in 1995.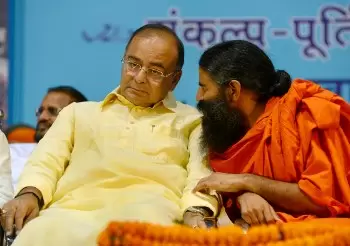 Finance Minister Arun Jaitley with yoga guru Baba Ramdev at 'Sankalppurti Mahotsav' a programme organised by followers of Ramdev after the electoral success of the BJP in New Delhi in May this year (Photo: Indian Photo Agency)
Hasan Ali, Baba Ramdev and their ilk whose names figure in lists of foreign account holders are having the last laugh. Attorney-General Mukul Rohatgi said that all amounts deposited in foreign banks by Indians could not be termed as black money.
Ram Jethmalani who was responsible in persuading the Supreme Court to set up a Special Investigation Team to bring back black money was not amused. Prime Minister Narendra Modi hosting a Diwali dinner for his Council of Ministers at his Race Course Road residence reportedly said "kuchh naam batayenge (we will reveal some names)."
Finance Minister Arun Jaitley said names of foreign bank account holders would be released only after carrying out independent inquiry and added, "The Congress will be embarrassed by the names when we reveal them in court."

From promising to bring back ill gotten wealth stashed in foreign countries in its election manifesto, the BJP is now talking of revealing names to embarrass the Congress.

Politicians who have something to hide skirt the main issue which is not mere naming of holders of ill gotten wealth abroad but also taking bold steps to bring the black money back into the nation's financial system. Otherwise, money laundering, gunrunning and terrorism will continue to thrive.
To understand the BJP's attitude to black money before Modi assumed leadership of the party one should go back to Anno Domini 2011. On 1 February that year, an independent task force drawn up of domain specialists, Ajit Doval, security expert presently holding the office of National Security Adviser, Professor R Vaidyanathan, financial expert, Mahesh Jethmalani, senior lawyer, and S Gurumurthy, well-known chartered accountant, released a well researched report on black money running into almost 100 pages, at a function in New Delhi presided over by LK Advani of the BJP and leaders of the National Democratic Alliance, then in the opposition.

The media chose to censure the report, but Sonia Gandhi, whose name figured prominently, in a confidential letter to Advani, castigated him for endorsing the "scurrilous allegations" against her family.

"I deeply regret the distress caused to you," Advani wrote back promptly to Sonia Gandhi. To call the report 'scurrilous' is a travesty of truth. It quoted two independent sources about Gandhi family's secret Swiss accounts and other slush funds.

The first was Schweizer Illustrierte, a reputed news magazine of Switzerland, dated 11 November 1991, which carried a story of 14 leaders of third world countries with secret bank accounts. Rajiv Gandhi was one of them with $ 2.2 billion to his credit.

The second was a book based on declassified KGB documents written by Yuvegina Albats and published in 1985 when Rajiv was Prime Minister. He was reported to have expressed gratitude to KGB for financial largess to the Gandhi family.

The story was exposed first in The Statesman by AG Noorani, well known author, in 1988, and subsequently by Rajinder Puri. If the information was false, Sonia Gandhi could have sued The Statesman for defamation which she never did. It only confirms the authenticity of the report.

James Madison, the fourth President of America, had said, "The citizens' right to know the facts, the true facts, is one of the pillars of a democratic State." In India, politicians in power, irrespective of party affiliation, believe in hiding facts from citizens.

According to information provided by the Indian Institute of Finance to ASSOCHAM, generation of black money has gone up from Rs. 600 crore a year in the 1950s to Rs. 60,000 crore a year in the current decade.
Ved Jain, chairman of ASSOCHAM Direct Taxes Council, suggests the Modi government declare a short-term amnesty scheme to facilitate voluntary transfer of hidden money back home by paying 40 per cent tax. It estimates $ 2 trillion black money from India is stashed abroad.

The proposal has been sent to the Special Investigation Team formed at the behest of the Supreme Court to recover black money. The court was forced to take this step in view of persistent official lapses in the case of Hasan Ali, Pune businessman who is under arrest now, for secreting $ 8 billion in Swiss banks.
When repeated reprimands failed to stir the UPA government into action, the court intervened. The Supreme Court has entrusted the onerous responsibility to Justice Jeevan Reddy, head of the SIT.

The 4 July 2011 order of the Supreme Court also directed Manmohan Singh to respond positively to BJP leader Subramanian Swamy's letters to the Prime Minister seeking permission to prosecute Sonia Gandhi and others under the Prevention of Corruption Act.

By refusing to act, Manmohan Singh has committed contempt of the Supreme Court. The court said that if the State was soft, especially in tackling the unholy nexus between law makers, law keepers and law breakers, the moral authority to exercise control over the economy and society would wither away.

When Germany gave the names of 26 Indians who had stashed black money in the LGT Bank in Liechtenstein, a tiny European kingdom sandwiched between Austria and Switzerland, in 2008, the government tried to conceal it.

Ram Jethmalani, Subhash Kashyap, former Secretary-General of the Lok Sabha, and KPS Gill, former Director-General of Punjab Police, filed a public interest petition in the Supreme Court to ferret out the names of the account holders.

The government took shelter under the Double Taxation Avoidance Agreement (DTAA) which says, "Any information received by a contracting State shall be treated as secret." India never signed a DTAA with Liechtenstein. A Bench comprising Justices B Sudershan Reddy and SS Nijjar said the money stashed abroad was "pure and simple theft of Indian money."

During the 2009 Lok Sabha election campaign, Manmohan Singh promised to "bring back the black money stashed by Indian banks in foreign banks within 100 days of coming back to power." He had not even bothered to reply to a letter written jointly by NDA leaders reminding him of his poll promise.

Instead, he dismantled the Income Tax Department's Directorate of Criminal Investigation which had made significant progress into inquiry of Indians holding accounts in HSBC Bank, Geneva.

Herve Falciani, a French executive in the HSCB office in Geneva, decided to turn whistleblower and furnished a list of about 3,000 illegal account holders to the French authorities in December 2008. Finding a number of Indians in the list, Paris forwarded their names to New Delhi in July 2011.

India in collusion with the Swiss authorities found a way out to safeguard the illegal account holders. No legal action need be taken on the basis of "illegally obtained information."

The White Paper on Black Money brought out by the UPA government in 2012 warned, "The fight against generation and accumulation of black money is likely to be far more complex, requiring strong intervention of the State in developing countries like India than in developed countries….It needs a very strong resolve to fight the menace."

Clearly, Manmohan Singh lacked that resolve. The first decision of Modi on assuming office as Prime Minister on 26 May was to set up a Special Investigation Team, as directed by the Supreme Court in 2011 and ignored by the UPA government, to deal with bringing back black money stashed abroad. Unless Modi's Cabinet colleagues share his resolve, the menace of black money will continue to plague India's economy.

Sam Rajappa is Consulting Editor of The Weekend Leader