Goa should look east, emulate Bali's success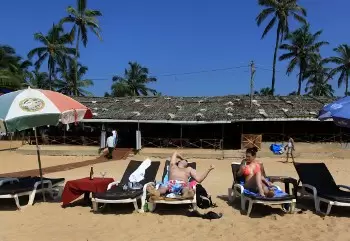 Goa should look east and learn from the transformation of Indonesia's Bali province from a backward region with poor infrastructure in 2001 to a beautiful, thriving beach tourism paradise.
As things stand now, Bali, as a tourism destination, is far ahead of Goa. We have the advantage of emulating its successes and keeping its negatives at bay.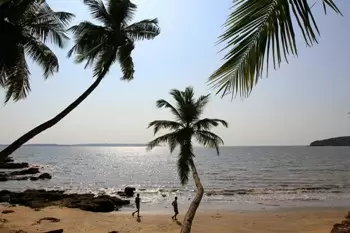 Goa has much to learn from Bali to become a better beach destination (Photos: Indian Photo Agency)
As tourism destinations, Bali and Goa share similarities. We attract European tourists while they get lots of Australians.
Both also cater to domestic travellers. And like in Goa, in Bali too domestic tourists spend more than foreign visitors. They have, however, struck a healthy balance between both tourist groups.
The island state's geographical, sociological and tourism profile is not too dissimilar from Goa. Blessed with beaches, palm trees and natural tropical environs, Bali's land area is a modest 5,780 sq metres.
Its local resident population is 4.2 million but it attracts 11.27 million visiting tourists, 3.27 million of whom are from Australia, China, Malaysia, Singapore, Thailand, the Philippines, Britain, Russia and Western Europe. A majority of its population is Hindu.
Its beaches, though not as good as ours, are extremely clean and without beach shacks. All restaurants are separated from the beach by a service road.
Bali's infrastructure is excellent. The roads, signalling systems, scientifically designed footpaths, proper signage and one-way main arterial roads allow accident-free flow of traffic. Civic sense on the roads too is impressive.
The airport is well planned. While it is modern internally, its architectural facade is traditional Balinese, complete with a sloping tiled-roof.
Compare this with the airport in Goa, which has no local feel. This feature can be incorporated at the proposed Mopa airport here, which can have our traditional sloping clay-tiled roof for the front entrances.
The phased development and transformation of Bali is owed to its master plan which dictates both investment and priorities for the present and the future.
For example, the airport can handle 25 million tourists a year and is expected to be saturated by 2017. Plans are already in place to expand its capacity.
The beautiful landscape is thanks to a novel building regulation which bans constructions higher than a coconut tree. Barring one, no building in Bali is higher than 15 metres. The Balinese authorities also encourage villa development for hotel accommodation.
Though there are big, international branded hotels at various important beaches, some of the villas are fabulous, with individual wrap around pools accessible from the room, open kitchens, open decks and all modern amenities. This way all the locals benefit and earn revenue from tourism.
Many restaurants and businesses are run by foreigners. Locals claim that such businesses serve as a catalyst to attract more foreign tourists to Bali.
Bali's efficient taxi service, which is lacking in Goa, is split into two operations: non-metered 'contract taxis' which have point to point contract rates and the blue "Bali Taxi" which is a metered service and radio controlled with smartly dressed, honest taxi drivers who are well informed of the eateries and shopping areas. All speak good English. A regular taxi can be hired for a day for $30.
For women, Bali is safe even at night. Most private villas have no locks on their doors. The Balinese people are peaceful and laid back. This shows in their road discipline even during traffic jams.
There is a well-organised garbage management system in place at every beach. A toll is collected by civic bodies for handling garbage collection and disposal.
Excellent infrastructure, good transport system, safe environment and zero garbage are the most important factors for Bali's tourism prowess.
Bali's famed night clubs and the party scene are incredible and go on till 4.30 a.m. in areas like Kuta, Saminyak and Sanur which are party destinations. There are no timings for bars and restaurants and therefore many of them on the beach are open till early morning. However, the night clubs and pubs are incident free and more importantly accident free.
Roads are driver friendly, designed to minimize accidents. And with an efficient taxi service in place, drunken driving is minimal.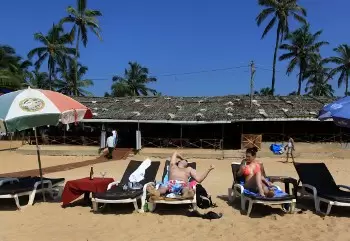 Foreigners relaxing in a Goa beach
Many high-end, beach-fronted hotels are also coming up at Nusa Dua now. Many international brands that haven't debuted in the Goan commercial space are there in Bali because the place caters to low-end as well as top-end tourism.
We would, however, do well to stay away from the negatives which have slowly cropped up in Bali -- like prostitution, drugs and the dubious spas and massage set ups which mingle along with genuine establishments.
All said, compared to the rapid strides made by Bali, Goa appears to have stuck in a time warp. Bali is now comparable with European destinations in terms of infrastructure.
For a beach destination like Goa, there is a serious case for learning from Bali's impressive footprint in the sand.
(Francisco de Braganca is President of the Travel and Tourism Association of Goa. The views expressed are personal) - IANS