What made Antony jump the gun
Arackaparambil Kurian Antony slept over the resignation of Admiral DK Joshi, Chief of the Naval Staff, on moral grounds for the series of accidents involving naval vessels and submarines, for 50 days before naming Admiral RK Dhowan as the new Navy chief because the carefully crafted "line of succession" plan, an innovation of the Congress-led UPA government, had gone awry.

But he has moved with alacrity to name the successor of General Bikram Singh, Chief of the Army Staff, who is due to retire on 31 July only. The convention is to name the successor two months in advance.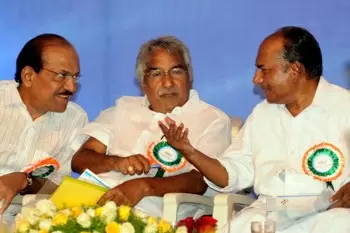 Antony (extreme right) moved with alacrity to name Bikram Singh's successor (Photo: Indian Photo Agency)
The UPA II government will have to demit office by the third week of May, which leaves more than two months for the new government to be formed by whichever party is voted to power to name the new Army chief.

It would be a gross act of impropriety if the Election Commission permits the lame-duck government of Manmohan Singh to name the next Army chief to fit in with its scheme of succession plan in the armed forces, something never heard of before, which the arms lobby has succeeded in putting in place with the connivance of the political leadership.

In a fervent appeal to President Pranab Mukherjee to put an immediate end to this "extremely harmful illegally timed appointment," Subramanian Swamy, BJP leader, drew his attention to the "devious machinations" of the UPA government that have seriously impacted the national security of the country.

In a letter dated 25 April, he pointed out that there has been the "holy hand of a Devi" blessing the officer as he is being pushed up the chain of command. The officer in question is Lt-Gen Dalbir Singh Suhag, who could not even pass the Staff College in spite of three attempts.

Within the Army, a pass in Staff College is considered a pre-requisite even for commanding an infantry battalion. Whenever politics entered top appointments in the armed forces, it was explained away as merit over seniority, even as merit became the first casualty of such manipulation.

At least on two occasions Suhag came under a cloud and on both times he was 'exonerated' by people who themselves were in the direct chain of command and should have logically been his co-accused.

In 2010, he was General Officer Commanding III Corps with Assam, Nagaland and Manipur as his areas of responsibility. These areas were covered by the Armed Forces Special Powers Act. The Dimapur-based Intelligence Unit, commanded by Col Shreekumar, came directly under Suhag.

On 13 March, 2010, three Manipuri boys were abducted and shot dead by Shreekumar's outfit. Two days later, their bodies were exhumed from a temporary grave in Rangaphar and thrown into a river. The Assam police seized the bodies at Lakhijan in Karbi Anglong on 19 March. It was cold blooded murder attracting Section 302 IPC. Despite evidence on record with the police, III Corps and the Eastern Command refused to act on the crime.

On 20 December, 2011, an armed party of 15 soldiers dressed in battle fatigues under the command of Capt Rubina Kaur Keer, an officer of Shreekumar's IU, raided the house of Poona Gogoi, an army contractor in Jorhat, who was away in Guwahati.

Gogoi's wife Renu and three children were tied up and on orders of Keer soldiers snatched the keys of locked cupboards and took away a licensed pistol with 13 cartridges, jewelry worth Rs. 6.5 lakhs, Rs. 1.5 lakhs in cash, a laptop and four mobile phones.

On return from Guwahati, Gogoi filed an FIR in the local police station. A week after the incident, police made a breakthrough when a call was made from one of the stolen mobile phones to a number in Haryana. It was traced to Havildar Sandeep Thapa of III Corps Intelligence and Surveillance Unit who had participated in the raid on Gogoi's house. He confessed to the crime.

In an attempt to bury the incident, the Corps returned most of the stolen items. The police was told by Suhag that it had no jurisdiction in the matter and that the Army would deal with the case. The two crimes were committed in an AFSPA covered area by the IU under Shreekumar's command.

AFSPA is a critical shield to protect soldiers from false cases. Shreekumar had been Gen JJ Singh's OSD when he was the Chief of the Army Staff. The IU raid comes under the definition of dacoity. Punishment laid down under Section 395 of the IPC is life imprisonment or rigorous imprisonment up to 10 years.

Tarun Gogoi, Chief Minister of Assam, had complained to Gen VK Singh when he was the COAS, demanding action against the erring officers and men. Poona Gogoi, meanwhile, moved the Guwahati High Court demanding action.

It turned out the reason for the raid was to kidnap and hand him over to a militant organisation for extortion, and that it was done at the behest of one Nirmal Gogoi, also an army contractor, based in Dimapur, who was a business rival of Poona Gogoi.

A Court of Inquiry by a different formation which was not under Corps III was convened by the Eastern Command Hq to investigate the matter, but it was deliberately headed by a Brigadier rank officer to keep Suhag out of its purview. Being directly responsible for the IU, he should have been the first person answerable to its illegal actions. Despite clinching evidence Shreekumar could get away because the top brass at the Eastern Command and III Corps were shielding him.

A Show Cause Notice (SCN) was issued to Suhag by COAS VK Singh on 19 May, 2012, for some serious lapses in his command responsibilities and was placed under a Discipline and Vigilance (DV) ban. The SCN brought out lapses noticed by the COAS for not handling a unit placed under the Corps Commander's direct command in a professional and appropriate manner and for not following on certain other complaints sent earlier through Eastern Command HQ.

The Minister of Defence was informed of the DV ban by the Army HQ on 25 May, 2012, and the Cabinet Secretariat was duly informed of it on 29 May. Contrary to rules, Suhag was appointed Acting Army Commander on 1 June, 2012, even before he could reply to the SCN. An Acting Army Commander rank is given only when there is no substantive vacancy.

In this case, there were two substantive vacancies, in the Eastern Command and the Western Command. In normal course, Lt-Gen Ravi Dastane, next in seniority with a clean record, should have been named the Eastern Army Commander, but that would have upset the "line of succession" drawn up when JJ Singh was the Army chief.

In two weeks time, the DV ban was lifted by the new COAS, Bikram Singh, in an illegal manner. Dastane has approached the Supreme Court for justice. Instead of treating it on a priority basis, as it involved the appointment of Army chief which has to be completed by July end, the case has now been posted for September.

Spin-doctors of the UPA have already made false statements in the Supreme Court and would have us believe the Jorhat incident is nothing but a misguided havildar stealing a cell phone!

Though Suhag and Bikram Singh tried to hush up the whole thing, the Court of Inquiry led to Court Martial. In December last, the Court Martial ordered dismissal from service for Havildar Sandeep Thapa. Shreekumar was given a severe displeasure while Rubina was given a reprimand.

Havildars Bupen Hatimuta and Jeevan Neog got severe reprimands. These are no punishments considering the gravity of the crimes, dacoity and murder. In the discussions in the electronic media, it was made to appear that the entire issue was raked up by VK Singh to stall Suhag's elevation so that the former's Samadhi, Lt-Gen Ashok Singh, Southern Army Commander, could succeed Bikram Singh as COAS whereas, if rules were followed strictly, Ravi Dastane would be the successor.

No one in the print media was willing to write about the well planned conspiracy to place chosen ones in command for ulterior motives which is now coming to fruition. The arms purchase and commission lobbies are the happiest lot even as the higher echelons of the armed forces are getting criminalised.

Sam Rajappa is Consulting Editor of The Weekend Leader