When Dhoni had the last laugh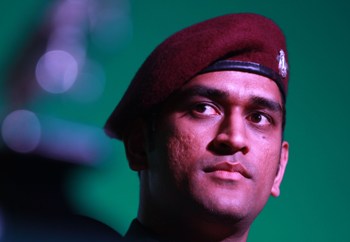 How easy it is to explain away your prophecies in politics and cricket! If proved right you can have a triumphant didn't-I-say-so look and when proved wrong you can still justify your stand attributing the unexpected turn of events to luck and providence.
At the half-way stage in Friday's second semi-final of the World Twenty20, experts on FM radio stations had charge-sheeted India skipper Mahendra Singh Dhoni for his omissions and commissions in the field. Some had written the match off for India and some played safe saying his bizarre moves gave South Africa 50-50 chance! Eventually, India cantered to a six-wicket victory with almost one over to spare.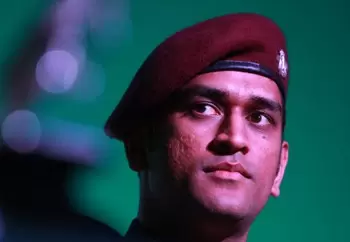 Dhoni has proved his detractors wrong with his captaincy in the T20 world cup (Photo: Indian Photo Agency)
One worthy accused Dhoni of playing favourites by including his Chennai Super Kings medium-pacer teammate Mohit Sharma in place of "incomparable" Mohammed Shami. Another pundit was sore with the captain for not bringing Shikhar Dhawan back and for ignoring the X-factor in the southpaw.
They also wondered why Dhoni hadn't bowled Ravichandran Ashwin with the new ball like he had done in the earlier games. Generally, they had a lot to say on his unimaginative captaincy - not using Ravindra Jadeja after bowling two steady overs. Then they had a caveat: if Dhoni wins the match the mistakes will not be talked about.
Their tone and tenor was a dead giveaway, they just can't stand the captain any longer and he must be attacked. Not that Dhoni is incapable of making mistakes or doesn't give you ample scope to haul him over the coals, but he must at least be given an opportunity to reason out his decisions.
Why change a tactic of bowling Ashwin with the new ball? Luckily, Dhoni was asked about it after the game and his explanation sounded logical, that he wanted the off-spinner to bowl in the middle-overs to check the explosive AB de Villiers and didn't want to use fast bowlers who can be hit through the line using the pace.
It worked and De Villiers couldn't impart enough power in his pull shot to clear Rohit Sharma at long leg. His wicket at that juncture certainly kept the target to attainable limits. Of course, if the move hadn't worked out as calculated, Dhoni could have been panned.
What should be realised is that Dhoni overly depends on his deputy Virat Kholi and Ashwin.
Tactics are invariably intuitional and don't necessarily always click. Not long ago he was baked for not being proactive and allowing things to drift in South Africa and New Zealand. His critics will still have their way saying that he is good only in the shorter formats of the game because he is a finisher.
Come to think of it, Dhoni had come out to bat for the first time in five matches in the tournament and faced just one delivery, only because Kohli didn't finish the game off the previous one. That not only shows the quality of the batting strength, but also the comfort with which India won all their matches.
When confronted with some resistance for the first time, Dhoni's two trustworthy lieutenants produced match-winning performances. Ashwin provided the first turning point in the match by dismissing Hashim Amla with a gem of a delivery, the carom ball befuddling the batsman as it pitched outside the leg stump and turned sharply to take the off stump, reminding one of Shane Warne's beauty that castled Mike Gatting.
Even Ashwin admitted that he might not be able to bowl a similar dream delivery again. Australian great Adam Gilchrist was so amazed that he called it the T20 delivery of the century! Ashwin then proved his captain right by removing skipper Flaf du Plessis and De Villiers. When every other mainline bowler was treated shabbily, Ashwin returned with figures of four for 22 in his four overs.
Ashwin deserved to at least share the Man-of-the-Match award with Kohli, who completed the task with his now familiar masterly batting display.
If Ashwin is Dhoni's turn-to bowler in desperate situations, the team looks up to Kohli while batting. Ashwin may have had off-days but seldom has Kohli let the side down. Like his captain, Kohli does not betray his emotions much these days. He raises the comfort levels of his teammates both out in the middle and in the dressing room.
Out at the wicket, neither the coach nor the captain can think for the batsmen and here Kohli is showing great maturity. Like his telling Suresh Raina that they should look to finish the game by the 19th over and not leave it to Dale Steyn's last over. They knew if anyone could stop them, it would be Steyn and they stymied Du Plessis plan of keeping the fast bowler's last two overs till the end. How well the two planned and executed it.
A lot of thinking has gone into the whole exercise. In cricket, partnerships matter a lot and every batsman right from Rohit Sharma to Raina showed a calm intent and made worthwhile contributions, building meaningful partnerships.
The Indians will now run into Sri Lanka and both have history to chase. The Sri Lankans have made it a habit of losing the big matches and the Indians meticulously winning them all. If they pull the final off, they will have completed the cricket slam of winning the World Cup, Champions Trophy and the T20. The match will have all the trappings to watch.
(Veturi Srivatsa is Sports Editor at IANS. The views expressed are personal.)