Why Kashmiris cheer for Pakistan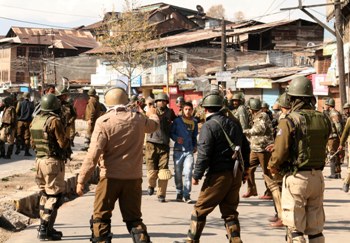 The recent controversy over the expulsion of 67 Kashmiri students by a private university in Meerut for celebrating the Pakistani cricket team's victory against India in the Asia Cup held in Bangladesh early March has generated a lot of debate in the country.

This is not the first time Kashmiris have cheered for Pakistan. Kashmiris have been cheering for the Pakistan team, since decades.
Police arrest protesters during a demonstration at Srinagar against human rights violations in Kashmir (Photo: Indian Photo Agency)
Whenever India plays Pakistan, Kashmiris cheer-up the latter, applaud their every run, boundary or six and celebrate their win by bursting fire-crackers.

The match between the two arch rivals is always witnessed here with full of emotions and drama.

Whenever the two teams clash, streets and roads look empty, traffic plying on the roads is thin and everything gets shut early.

Groups of people can be seen thronging at many places, be it shops or Sumo stands or restaurants or dhabas, to catch the match live on TV screens. Many prefer to stay home and are glued to the television sets.

The Pakistan cricket team enjoys large fan following in Kashmir. A question that arises is what drives Kashmiris to support the Pakistani team?

On the surface, it would look like the reasons are emotional. But digging deeper, there is more than meets the eye.

Apart from the affinity towards the team, cultural resemblance and proximity with the country are other reasons. People of Kashmir consider themselves culturally closer to Pakistan.

There are some who argue that the support is due to the religious affinity. However this is negated by the absence of any support towards Bangladesh or Afghanistan cricket teams, which automatically disproves this theory.

Kashmiris support any team that is playing against India. Let us take the examples of the 1983 and 1986 one-day matches in Srinagar. The crowds then cheered for the West Indies and Australian teams that played against India.

It is the anti-India political sentiment that surfaces during such situations. Some people argue that it is a form of non-violent resistance to India's politics in Kashmir.

They term it as a tactic to resist human rights abuses, political dominance and other human sufferings that mostly go unreported. People hardly get an opportunity to express themselves freely.

For them the game serves as a platform to give vent to their feelings, to express their emotions, anger, and political resentments. They metaphorically consider the cricket pitch as a stage wherein they are more interested in seeing the Indian team being defeated.

There are also people and parties who want Kashmir to be part of Pakistan. That too is the reason for them to support the Pakistan cricket team.

Kashmir has been a stumbling block in the relations between India and Pakistan, since 1947. The dispute has been so intense between the two nuclear armed countries that it has already led to three wars between the two countries.

Armed conflict started in the Kashmir valley in the early nineties.

India states that militants are being trained and abetted by Pakistan, whereas Pakistan maintains that it provides only moral and diplomatic support to people of Kashmir.

Support for the Indian cricket team in Kashmir cannot be completely ruled out, but the percentage is comparatively low.

There is also a section of the population, which supports the team that performs well. It can be Australia or Sri Lanka.

Afsana Rashid is a Srinagar based journalist. The views expressed in the article are the author's and do not necessarily reflect the views of the publication