What no TV anchor will tell you about Modi
Bharatiya Janata Party's prime ministerial candidate Narendra Modi has assiduously worked to create a larger than life-size image of himself. All the bigwigs of India Inc. are rooting for him, throwing open their money bag.

Modi has commissioned several multinational marketing, public relations and event management firms for his image makeover task, allocating close to Rs. 4,000 crore.
Modi hard sells the Gujarat model of development to voters (Photos: Indian Photo Agency)
Modi is master of demagoguery. There is no one in the Congress or for that matter in any other political party, who can match him in delivering a hair-raising speech. He is a master marketer who modulates his voice to perfection, with right intonation, pitch and slogans.

He seeks to strike a chord with his voters by appealing to their linguistic, regional, cultural and religious affiliation. He uses almost every conceivable medium to convey his message – newspaper, television, 3-D projector, Internet and even animation film.

Like a street juggler-cum-magician, Modi's mesmerizes his audience so that they buy his goodies without questioning what potion he is selling and at what price.

He goofs up quite often – calls Mahatma Gandhi as 'Mohanlal' instead of Mohandas, sends Bhagat Singh to the gallows in the cellular jail of Andaman, makes Alexander fight his last battle on the banks of the Ganga in Bihar. He is least bothered that his goof ups go viral on social networking sites, invoking chuckles.

Modi is hard-selling the 'Gujarat Model' of development and appeals to the voters to give him a chance to become the Prime Minister if they want India to become as developed and prosperous as Gujarat.

Remember what Lalu Prasad Yadav had promised to the people of Bihar before he was elected the chief minister the first time? "I will make the roads of Patna as smooth as the skin of actress Hema Malini's cheeks!"

Ironically Modi has borrowed several marketing ideas from the Congress party. Consider the slogan "Vote for India, Vote for BJP".

Sounds familiar, doesn't it? During the black days of the Emergency, the then Congress president D K Barua had coined the phrase: "India is Indira, Indira is India."

Like Mrs Indira Gandhi, Modi has also politically finished his potential rivals in BJP to ensure there is no one to challenge him in the race for Prime Ministership.

His first victim was none else but his one-time mentor Lal Krishna Advani whose Somnath to Ayodhya Ram Rath Yatra he had chaperoned.

Using his clout with the Rashtriya Swayamsevak Sangh (RSS), Modi got himself anointed as the BJP's PM candidate to the chagrin of Advani, Murli Manohar Joshi and Sushma Swaraj. Remember how Mrs Gandhi too had sidelined and cut to size several senior Congress leaders in 1969 and during the Emergency?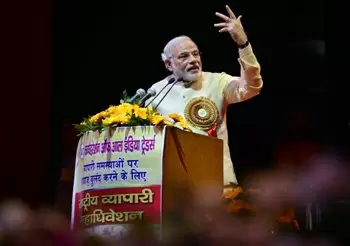 Modi has managed to win over his detractors like Ram Vilas Paswan
In his home turf Gujarat, Modi has emasculated his own party leaders and even his cabinet colleagues. He has hand-picked the state party president and all other office-bearers.

His cabinet colleagues have been reduced to the status of rubber stamps with even seemingly routine administrative decisions such as transfers and postings of officials in all departments requiring Modi's approval.

To prevent inquisitive journalists from gathering information on government affairs, the state secretariat has been kept under strict surveillance, with ubiquitous webcams installed at every nook and corner of the state secretariat and their entry restricted and monitored by a console kept in the chief minister's office.

Modi keeps away from journalists. Even when he calls a press conference, only he talks and unabashedly ignores question from journalists. Whenever he has been pushed to a corner by a journalist, he has simply ended the interview and walked away.

He has tightened his vice-like stranglehold over the civil and police administration with his carrot and stick policy by rewarding servile officials and punishing those who refuse to bend.

On the political front, Modi has brought back into BJP leaders of all the break-away factions such as former Karnataka chief minister Yedyurappa and Gujarat's former home minister Gordhan Zadafia.

He has proven beyond doubt that politics makes strange bed fellows by forging alliance with Ram Vilas Paswan who had quit the Vajpayee government over Modi's complicity in the 2002 anti-Muslim pogrom.

The obvious message that Modi is trying to din into the minds of the people is: "The country has only one choice – Modi, Modi and only Modi."

Nachiketa Desai is an Ahmedabad based journalist who joined the AAP recently. He is the grandson of Mahatma Gandhi's personal secretary Mahadev Desai. The views expressed in the article are his own and do not necessarily reflect the views of the publication.