Kejriwal and Parrikar: Story of two Congress slayers
Aam Aadmi Party's (AAP's) battering of the Congress and the emergence of Arvind Kejriwal as a beacon of political hope bear remarkable similarity to the summer of 2012 when Manohar Parrikar and the BJP took power in Goa in a near similar manner.
So much so, the increasing public mistrust of Parrikar -- who promised result-oriented governance -- could well serve as a cautionary note on the road ahead for Kejriwal.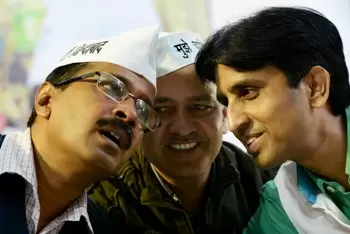 Kejriwal (left) and Parrikar share common traits (Photos: Indian Photo Agency)
To begin with, there are stark similarities between Parrikar and Kejriwal, apart from their respective moustaches and side-hair partings.
The 57-year-old Parrikar and the 45-year-old Kejriwal were born in nondescript, non-metro Indian towns but ended up in elite higher educational institutions.
While Parrikar passed out as a metallurgical engineer from the Indian Institute of Technology (IIT) Mumbai, Kejriwal is an IIT Kharagpur alumnus who specialized in mechanical engineering.
Both are known for their trademark, at times oversized shirts, worn untucked, and sandals.
While it is not rare to find Kejriwal pop up on the seamier streets of Delhi eating an aloo tikki, Parrikar's regular midnight snack haunt is a street-side chat and fruit in his hometown of Mapusa, Goa.
"There are the obvious parallels of IIT education, a yen for the simple life; both give the impression of being representative of the common man from the middle class, yet promising to lift the poor and release the constraints from the rich," says Bevinda Colaco, the only woman member on the Goa State Planning Board.
Both Parrikar and Kejriwal represent the face, body, intelligence and momentum of their respective political outfits, with perhaps the exception of noted lawyer Prashant Bhushan who is also easily identifiable with the AAP.
Both Parrikar and Kejriwal reduced the Congress to a single digit in the Goa and Delhi assemblies.
While the ruling Congress in Goa was reduced to nine legislators in the 40-member house in 2012, Kejriwal's heroics hammered the Congress down to an even worse eight in the 70-member Delhi legislature.
In their respective manifestos, both the Goa BJP and the AAP promised major price concessions on essential commodities like petrol in Goa and electricity in Delhi. While Parrikar pledged to slash VAT on petrol reducing the price by Rs.11, the AAP's promise to cut power tariff lent the spark to its manifesto.
The note of caution, however, rings at this juncture.
The widening gulf between promise and delivery has been one of the biggest criticisms against Parrikar in Goa, a factor fast eating into his popular image.
Yugank Naik, a student of international relations at the Goa University, claims that the AAP campaign was "built on idealism, extreme populist promises and the larger than life image of its poster boys".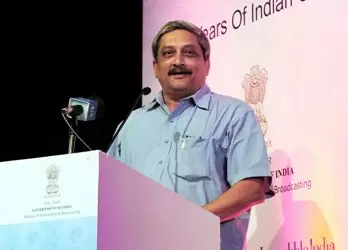 Parrikar is facing criticism for the widening gulf between promise and delivery
This was not something too dissimilar with the mode of campaign Parrikar adopted in 2012.
"The syndrome in Goa after elections fizzled out because too many things were promised out of few resources," Naik says.
While Parrikar has doled out cash-intensive schemes to all and sundry, his failure to enforce the promised crackdown on the mining mafia, casino industry and corruption, among other issues, has resulted in his image being sullied, even amongst those considered Parrikar sympathisers, in less than two years after being voted to power.
"Parrikar in Goa promised action on the massive mining scam, offered a solution to the vexed medium of instruction and Regional Plan issue, vowed a crackdown on drugs and talked of zero tolerance to corruption. Yet today not much significant positive progress seems to have been made," says Chinmay Bhandare, a Detroit-based techie who is a keen commentator on Goa affairs on the social media.
(Mayabhushan Nagvenkar is a writer with IANS. The views expressed are personal. He can be contacted at [email protected])