Victory to Tamils, New Delhi bows to Chennai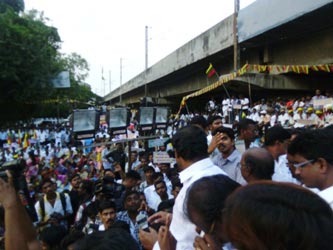 Contrary to claims in certain sections of the Indian media that the Indian Prime Minister not taking part in Sri Lanka's CHOGM compromises the country's 'national foreign policy' in favour of 'regional interests', a decision by the highest political authority of India to avoid participation in this event is precisely in favour of India's national interests.
If India really had long-term strategic vision, it would completely boycott the CHOGM, but that is a different argument.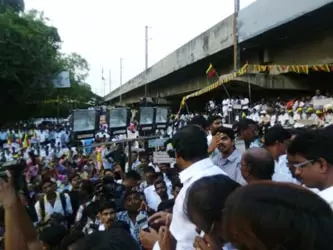 One of the numerous protests that were staged in Chennai against India's participation in CHOGM
Let us also leave the moral question of engaging with Sri Lanka – a country accused of genocide, war crimes, systematic rape and torture – aside.
What could be a rational reason for Dr. Manmohan Singh to boycott the CHOGM?
The Arthashastra emphasises that the welfare of a state depends on an active foreign policy. The operative word here being 'active'.
An active foreign policy takes into consideration not just relations between states, but also intra-state relations, especially those between power blocs within a state, and the geographical location of these power blocs.
In the Sri Lankan context, an active foreign policy of India must, in all rationality, be mediated by the geographical and demographic power bloc that is Tamil Nadu, which is historically and culturally, not to mention emotionally, connected to Tamil Eelam.
In that sense, the 'regional interests' of Tamil Nadu must be part of any Indian foreign policy calculation vis-a-vis Sri Lanka.
At no point of time in history has pro-Tamil Eelam activism in Tamil Nadu been so politically charged and conceptually clear as in the years succeeding the genocide in May 2009.
The new generation activists, smooth, suave and adept in their use of social media for political purposes, have generated tremors in the state in their protests against the US resolution earlier this year.
The heat generated by the Tamil Nadu youth, besides inspiring diaspora youth to stage similar protests, also compelled the Tamil Nadu government to pass resolutions calling for a referendum among the Eelam Tamils.
And it is precisely their pressure and that of grassroots Tamil political parties, which compelled Tamil Nadu State Assembly to pass a unanimous resolution calling for a full Indian boycott of CHOGM in Sri Lanka.
There is another thing to note here. While pre-2009 pro-Tamil Eelam activism in Tamil Nadu was directed primarily against Sri Lanka, after May 2009 the informed political discourse began challenging the role of the world establishments – especially the US and India – and their role in assisting the Sinhala state.
Except during the period of anti-Hindi agitations in Tamil Nadu, at no other point has Tamil civil society been mobilized en masse to challenge a policy of the Indian Centre.
After all this, if Dr. Manmohan Singh, the political head of the Indian state, goes to Sri Lanka, not only would it have been suicidal for the Congress party's political prospects in Tamil Nadu, it also would have given fuel to greater anti-Centre sentiments in the region.
So, a decision for Dr. Singh to boycott the CHOGM is indeed taken in 'national interest'.
If those 'experts' in the media commenting on "foreign policy objectives" and placing national interest over "political expediency" fail to take this into account, it only reflects their sad ignorance of ground reality.
It should be added here that activists in Tamil Nadu are not satisfied with this gesture alone and continue to demand a total boycott of CHOGM and the removal of Sri Lanka from the body.
Informed activism in Tamil Nadu has a reached a stage where it knows to differentiate a symbolic gesture from a strategic victory.
Yet, can anything be deciphered from Dr. Singh's decision?
One, the Indian government realizes that Tamil Nadu can turn volatile on Sri Lankan issue and therefore is trying to balance collective Tamil sentiments.
Two, the pressure exerted by peaceful democratic mass movements in Tamil Nadu has a potential to influence the centre via the periphery.
Three, Indian foreign policy on Sri Lanka cannot be blind to the power bloc of Tamil Nadu as it has been doing all the while. It needs to take in the 'local' factor into consideration if it indeed has a long-term 'national' vision.
Overall, Dr. Singh's absence at the CHOGM signifies a symbolic victory for Tamil Nadu. Though symbolic, a victory nevertheless!
After all, the British Prime Minister is attending the meeting despite protests in his country against the same. Besides, this move is also a snub to Northern Province Chief Minister Wigneswaran and certain 'analysts' from Colombo who were pleading with the Indian PM to attend.
The power relations are rather explicit here. It is obvious that a strong Chennai carries more impact than a dummy in Jaffna or the stooges of Colombo.
India needs a serious re-think on its overall policy towards Sri Lanka. In this Information Age, the Tamils world over have emerged as a well-networked community.
Activists from three centres of Tamil power namely Tamil Nadu, Tamil Eelam and the Tamil Diaspora actively engage in knowledge sharing exercises through various medium, constantly expanding their spheres of influence in opinion making.
Through shared images, notes, articles and videos, the Tamils are constructing a political discourse that informs them of the oppression the Eelam Tamils suffer in the island and the remedy that is required.
And this creates intellectual ammunition for critical and radical voices in the Tamil Nadu polity.
The key questions that Indian foreign policy analysts with vision should consider is this – given that it is in the very nature of the Sri Lankan state to be hostile to Tamil interests, wouldn't you rather lose Sri Lanka as a friend than gain Tamil Nadu's enmity?
Does India really want to create instability in Tamil Nadu for the sake of creating stability for the Sinhala state? Does India want to antagonize a Tamil community that is global in its reach and potential for the sake of a failed state?
As for Dr. Singh's decision, this symbolic victory of the Tamil Nadu activists must be converted to a strategic victory by eventually compelling the Indian government to do a complete re-evaluation and an overhaul of its current myopic foreign policy towards Sri Lanka.
Karthick RM is a research scholar at the University of Essex. He writes on issues of identity politics, nationalism, culture and Marxism.