How sale of MBBS seats started and how it is going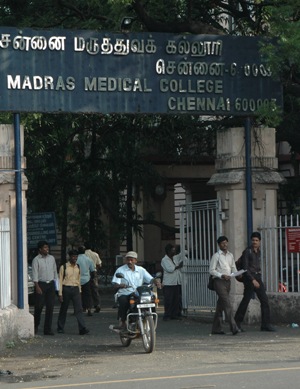 On a hot summer day in 1952, H Bhasker Bhat, a bright young man from Chennai was being interviewed by TMA Pai for a teacher's post in a school run by the Academy of General Education in remote Manipal in South Kanara district, then part of Madras Province.

During the interview Pai came to know that Bhat, son of a doctor, failed to get admission to Madras Medical College for three consecutive years simply because he was a Brahmin and belonged to the affluent class.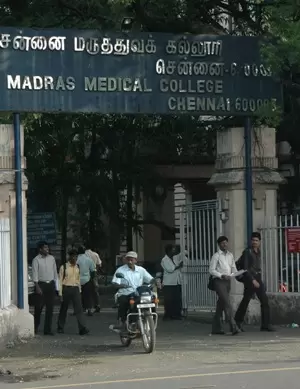 Self-financing medical colleges offer more seats today than the government colleges (Photo: Media Ramu)
The State government's policy was to give preference to children of backward classes. Pai, who had the ambition of adding a medical college to the list of educational institutions his Academy was running in Manipal, asked Bhat if he were to charge Rs. 3,000 as donation to reserve a seat in a medical college, would his parents acquiesce?

His answer was a firm yes. Pai placed an advertisement in the leading newspapers inviting applications for admission to a medical college with a bank draft of Rs. 3,000.

The response was overwhelming and that was how the Kasturba Medical College, the first self-financing professional college in the country, came to be established. But the journey was not an easy one.

The Medical Act of 1916 which was in force then prohibited granting of degrees by any medical college unless it was affiliated to a university and had the permission of the State to operate. After the Academy's earlier experience with Madras University, Pai had no desire to seek affiliation in Chennai.

Karnatak University in Dharwar, which was then in Bombay Province, came to his rescue as the then Chief Minister BG Kher was a personal friend of Pai, and he extended full cooperation to the project.

Attracting qualified teaching staff to serve in rural Manipal seemed an insurmountable problem. Retirement age for those in government service then was 55.

Pai offered a five-year contract to the retiring professors of government medical colleges and was able to assemble one of the best faculties.

As things were moving in the right direction, a Bombay newspaper wrote: "If a medical college is to be opened in a rural area like Manipal, the founders may have to commit suicide so that their bodies will be available for dissection."

In the Madras High Court Pai was asked the same question: "How are you going to get dead bodies for dissection in that remote district? Even in the hospitals not many are available."

AB Shetty, who was the Health Minister of Madras, was a native of South Kanara district and was familiar with Manipal Academy's yeomen service in the spread of education, issued a government notification extending the area from which bodies could be collected from South Kanara district southward all the way to Coimbatore, and providing that all unclaimed bodies in the region should go to Kasturba Medical College for teaching purposes.

On 30 June, 1953, Kasturba Medical College was opened with 100 students on a 18-month trial period to be followed by an inspection by the Indian Medical Council.

Just when everything seemed to be working smoothly, Union Health Minister Rajkumari Amrit Kaur came to know about the Kasturba Medical College 'selling' MBBS seats and threatened to close it down.

She was highly critical of the governments of Bombay and Madras for clearing the project and Karnatak University for extending affiliation. On a request of Pai, Amrit Kaur deputed a representative of her ministry to inspect the college whose report dispelled her misgivings.

In January 1955, she visited Manipal to dedicate the new Physiology Block of the college when she said: "I welcome this college not only as one more addition to our medical colleges, but as one unique in conception and execution. This is an excellent atmosphere in which to give relief to suffering humanity."

From this lone, self-financing medical college in 1953, their number multiplied to 194, offering in all 25,055 seats. All the government medical colleges put together offer just about 20,000 seats, far from adequate for a nation of 1.2 billion people.
Karnataka leads the States with 32 private medical colleges, followed by Andhra Pradesh 26, Maharashtra 24 and Tamil Nadu 24.

Because of the gulf between supply and demand of medical seats, most of the private medical colleges have resorted to charging hefty capitation fees, ranging between Rs. 40 lakhs and Rs. 90 lakhs for a MBBS seat, depending on the popularity of the institution. Seats are in fact booked well in advance.

It was to curb profiteering by selling medical seats the Medical Council of India notified the National Eligibility-cum-Entrance Test for medical courses in the country in 2010.

The Medical Council Act, 1956, and the regulations framed under it, do not empower the MCI to formulate and enforce a single window admission process for medical colleges. Under Article 19 (1) (g) of the Constitution, education could not be considered trade or commerce carried on with a profit motive.

In 2006, a Constitution Bench of the Supreme Court comprising seven judges ruled that common entrance test for admissions to medical colleges, including minority institutions, was necessary and should be conducted by a credible agency, and said that a test of this nature would not violate Article 19 (1) (g) or the religious rights conferred in the chapter on fundamental rights in the Constitution.

Former Chief Justice Altamas Kabir, in the majority judgment - that was delivered recently - agreed to by Justice Vikramjit Sen, struck down NEET as unconstitutional.

The judgment also held that NEET, which required medical colleges to admit students based on its results, was in violation of the rights of religious and linguistic minorities to establish and administer educational institutions enshrined in Articles 29 and 30 of the Constitution.

In a dissenting note, Justice AR Dave observed, "It cannot be said that introduction of NEET would either violate any of the fundamental or legal rights of the petitioners or even adversely affect the medical profession. In my opinion, introduction of NEET would ensure more transparency and less hardship to students eager to join the medical profession."

He did not think a common entrance in any way impinged on the rights of minority institutions or undermined the reservation policy in of the government.

He regretted the three judges did not find time to discuss their draft judgments among themselves as the Chief Justice was keen on delivering it on his last day in office.

"Justice hurried is justice buried." Justice Kabir's reasoning is contrary to the 2006 ruling of the Constitution Bench which said: "If capitation fee and profiteering is to be checked, the method of admission has to be regulated so that it is based on merit and transparency and the students are not exploited. It is permissible to regulate admission and fee structure for achieving the purpose just stated."

When there is common entrance examination, AIEE, for admission to engineering colleges, why not for medical colleges also?

The majority judgment delivered by Justice Kabir, in effect, enables management of private medical colleges to sell seats to the highest bidders and gives them immunity from legal scrutiny.

Sam Rajappa is Consulting Editor of The Weekend Leader