Why it's public interest to question CAG appointment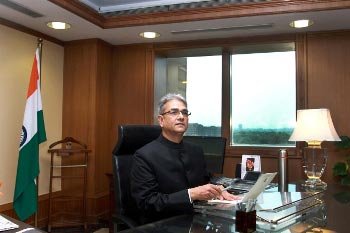 Some judges show themselves more executive-minded than the executive. A Bench comprising Chief Justice Altamas Kabir and Justices Ibrahim Kalifulla and Vikramajit on Monday declined to entertain a petition of N Gopalaswami, former Chief Election Commissioner, and eight other eminent citizens, challenging the appointment of Shashi Kant Sharma as the Comptroller and Auditor-General (CAG) of India.

Senior counsel Fali Nariman told the Bench that the Supreme Court should intervene as the matter was of importance. The Bench asked the petitioners to approach the High Court instead for relief.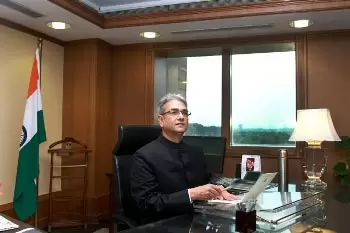 Questions are being raised over Shashi Kant Sharma's appointment as CAG (Photo courtesy: Tehelka)
Although the Constitution provides for concurrent or simultaneous jurisdiction to both the High Court and the Supreme Court (SC), the SC, CAG and the Election Commission (EC) were created under the Constitution mainly to ensure that people remained the focal point of all executive and legislative decisions.

The SC was established to scrutinise executive and legislative decisions to ensure that they did not breach the Constitution and the fundamental rights it guaranteed.

The EC was mandated to ensure free and fair elections to allow people to decide who should govern them.

The CAG was entrusted the task of auditing the expenditure of the Union and the State governments and point out where and how misuse of funds happened. He has been given a stature and oath akin to the judge of the SC.

Unlike the SC and the EC, the CAG is a single-member body. In the opinion of BR Ambedkar, chairman of the drafting Committee of the Constitution, the CAG was the most important officer of the government of India.

Rajendra Prasad, the first President of the country, had said: "When the government is incurring a huge expenditure on so many welfare projects, it is essential that every rupee that we spend is properly accounted for. This important task devolves upon the CAG. In accordance with the powers vested in him, he has to carry on these functions without fear or favour in the larger interests of the nation."

When the appointment of PJ Thomas as the Central Vigilance Commissioner (CVC), whose remit is not as high as that of the GAG and much lower in rank, was challenged legally, the Supreme Court had no hesitation in entertaining public interest writ petitions.

The court found the appointment of Thomas would dilute the integrity of the statutory institution of the CVC.

"If a duty is cast under the proviso to Section 4(1) of the High Power Committee to recommend to the President the name of the selected candidate, the integrity of that decision making progress is got to ensure that the powers are exercised for the purposes and in the manner envisaged by the said Act, otherwise such recommendation will have no existence in law…If the selection adversely affects institutional competency and functioning, then it shall be the duty of the HPC not to recommend such a candidate.

"Thus the institutional integrity is the primary consideration which the HPC is required to consider while making recommendation…This vital aspect has not been taken into account while recommending the name of PJ Thomas for appointment as CVC. We do not wish to discount personal integrity of the candidate. Institution is more important than individual. For the above reasons, it is declared that the recommendation made by the HPC on 3 September, 2010, is non-est in law," the SC ruled.

The above judgment eminently applies with much greater force in the appointment of the CAG, the petitioners pointed out.

"The government has followed no system of selection. There was no selection committee, no criteria, no transparency and no call for applications or nominations. The process was entirely arbitrary and opaque, and completely violative of several judgments of the SC.

"The fact that selection has to be made for such a high constitutional post would mean that there has to proper criteria, selection committee, call for applications, and set procedure for evaluation of merit. Sharma, who was appointed arbitrarily, suffers from grave conflict of interest, rendering his appointment unconstitutional and liable to be declared non- est in law," the petition said.

Sharma held key positions in the Defence Ministry from 2003 till his appointment as CAG in May this year that involved decision-making powers over purchases running into tens of lakhs of rupees. From 2003 to 2007, he was the joint secretary.

After a brief stint as additional secretary, he was posted as Director-General of Acquisitions in charge of all defence purchases and was appointed Defence Secretary in July 2011.

One of the defence deals cleared by Sharma was the procurement of 12 VVIP helicopters from Italy which has turned out to be a major source of embarrassment for the government.

This Rs. 3,500-crore deal with Anglo-Italian Agusta Westland has been investigated by Italy and prosecutors there have stated in their charge-sheet that more than Rs. 350 crore kickbacks had been paid to middlemen to clinch the deal.

The former CAG had said in a report in November 2012 that between 2007 and 2011, India concluded five offset contracts in the defence sector valued at Rs. 3,410 crore that were not in consonance with the provisions laid down in the defence procurement procedure.

The tenure of Sharma as Defence Secretary saw the eruption of the Tatra trucks scandal. As Acquisition DG he cleared all purchases in 2008 and 2009.

In 2011, former Army Chief Gen VK Singh tried to break the chain by refusing to accept a bribe of Rs. 14 crore to extend the annual contract for Tatra trucks at highly inflated price and complained to Defence Minister AK Antony.

There was a huge uproar in the country and a CBI investigation was ordered. Gen Singh was eased out of service nine months ahead of his actual retirement age and Sharma had the last laugh by ensuring resumption of Tatra trucks purchase without let or hindrance.

The last few years saw the enormous growth of the defence budget as well as a number of defence-related scams. From Rs. 147,334 crore in 2010-2011, it has touched Rs. 203,672 crore in 2013-2014. A major share of the budget is spent on defence procurements and acquisitions.

One of the major tasks of the CAG is to audit these expenditures. By appointing Sharma as CAG, the government has created a clear situation of conflict of interest by making him virtually a judge in his own case, as he would be auditing the defence purchases he himself had sanctioned.

He cannot recuse himself from auditing defence accounts because there is no provision in the Constitution or in the CAG Act for that. Major defence procurement decisions cannot be exempted from audit.

If Sharma recuses himself, audit cannot be conducted and no report can be submitted to Parliament as no one other than the CAG can sign an audit report.

The government cannot plead that it has not foreseen these problems because Common Cause, a registered society in New Delhi, anticipating the UPA's clandestine move to name Sharma as the CAG to cover up the scandals in defence procurement, in a memorandum dated 23 November, 2012, called for the constitution of a selection committee with the Prime Minister as chairman, Speaker of the Lok Sabha, Leader of the Opposition in the Lok Sabha and the Finance Minister as members, and the chairman of the Public Accounts Committee as convener. It was ignored.

In a democratic polity, the accountability of the Executive to Parliament is exercised through control of the exchequer.

Parliament sanctions money for various activities of the government through annual budgetary appropriations. The CAG ensures that the amounts voted are spent by the Executive with due diligence and economy.

Courts cannot brush aside the public interest litigation filed by the former Chief Election Commissioner Gopalaswamy, retired Admirals RH Tahiliany and L Ram Das, both former Chiefs of the Naval Staff, BP Mathur, former deputy CAG, Kamal Kant Jaswal, former government Secretary and director of Common Cause, Ramaswamy R Iyer and EAS Sarma, former government secretaries, S Krishnan, former IAAS officer, and MG Devasahayam, former IAS and Army officer, challenging the appointment of Sharma as the CAG.

Sam Rajappa is Consulting Editor of The Weekend Leader