Taking the blow and getting up with a smile
03-December-2016
Vol 7&nbsp|&nbspIssue 49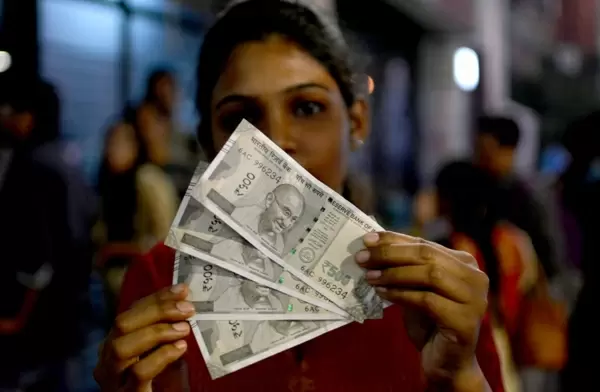 A woman holding the new Rs 500 denomination currency notes outside an ATM kiosk in Kolkata (Photo: Kuntal Chakrabarty/ IANS)

This talk about black money has gained currency in the last few weeks, since the time Prime Minister Narendra Modi declared that Rs 500 and Rs 1,000 notes will no longer be legal tender in the country.
I don't intend to write about the merits of the move, which has anyway caused great misery to millions of ordinary people. Supporters of demonetisation say this pain is necessary, and after a while everything is going to improve and India will be better off than ever before.
But the jury is still out on whether demonetisation is an antidote to cleanse corruption and black money.
Forget all those super-rich guys who have stashed away their wealth in foreign banks and the ingenious methods of money laundering that people have adopted in the past or the estimated Rs 6 trillion bad loans (or the non –performing assets) of Indian banks.
Let's also not talk about the liberalised remittances scheme (LRS) – you can google and learn more about it if you are interested – through which an estimated 4.6 billion USD or Rs 30,000 crore funds have been legally transferred out of the country between June 2015 and May 2016.
But I do think demonetisation must have hit hard those who had lots of black money in their homes. To suddenly realise that the stacks of cash they have zealously guarded has suddenly lost its value unless it is returned to the banks, must have been one hell of a shocker.
(Most wouldn't go to the banks, because that would bring them under the IT department's radar. They would prefer to hold on to the cash and explore other options of laundering.)
The funny thing is that none of the people in this category let out even a whimper. They took the blow like a pro, wore a big smile on the face, and just came out on social media welcoming the government move.
I just want to say, hats off to you bravehearts!
The writer of this column, P C Vinoj Kumar, is Editor of The Weekend Leader
Wish to share your story?
Trending Now: