Banu brings Mayavaram cuisine to Chennai
03-October-2016
Vol 7&nbsp|&nbspIssue 40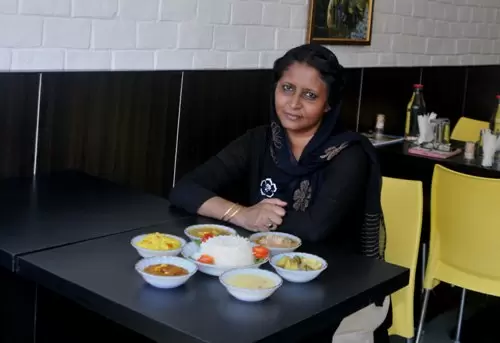 Halima Banu is passionate about promoting Mayavaram cuisine and has opened an eatery at OMR Food Street in Chennai (Photos: H K Rajashekar)
It is not too often I decide to do something like this, to get off and explore a place without any prior planning. But the nameboard 'OMR Food Street' at Navalur on Old Mahabalipuram Road sounded a bit inviting and before I knew it, I was inside the place, "just looking", as we would say.

I was in a hurry to make a quick tour and leave. I had no plan to write about the place, when suddenly on a hunch I stopped at an outlet – Bans Kitchen, I would learn later - where a few youngsters were dining.

I stepped inside and asked for the menu card. I ordered chicken biryani, but the friendly owner, Halima Banu, came up to me and recommended I try their special, 'anju kari soru', which she revealed was the traditional food of Muslim families in the Mayavaram region of Nagapattinam district.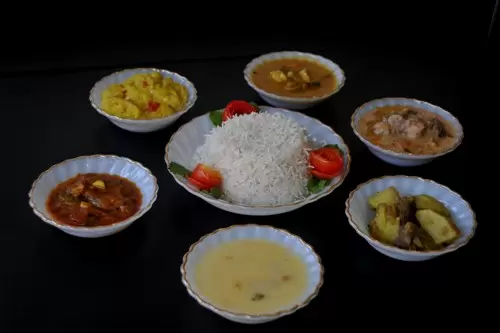 Anju kari soru, a traditional food of Muslims in coastal Tamil Nadu

I had not heard of anything like this before, and so I was game for trying it.

She didn't know I was a journalist, but Banu started talking. Owner of a software company in Chennai, she said she planned to retire from her business soon and follow her passion of promoting 'Mayavaram cuisine'.

"Muslims from our region have travelled around the world and that influence is reflected in our cuisine. Like the Sri Lankans we add plenty of coconut milk in our food and we use pandan leaves like people of South East Asian countries in our curry," said Banu.

"Each house would have a pandan plant back in our village," she said.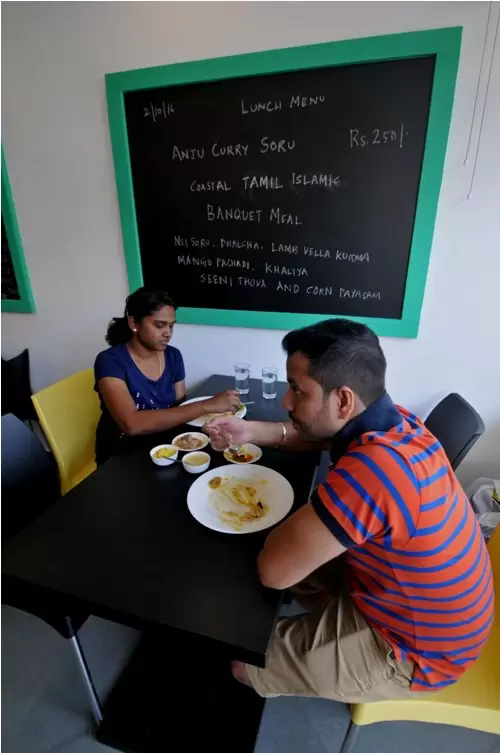 Youngsters getting a taste of the food at Bans Kitchen
Anju kari soru comes with five dishes including a type of ghee rice, a bowl of tender mutton curry, and a sweet called seeni thovai – which Banu suggested I try eating with the mutton curry.

On the whole, it turned out into a pleasant experience.

My best wishes to Banu's efforts to introduce 'anju kari soru' and Mayavaram cuisine to the world.
The writer of this column, P C Vinoj Kumar, is Editor of The Weekend Leader

Trending Now: