Beating the dominance of hybrid seeds by growing traditional seeds
06-February-2012
Vol 3&nbsp|&nbspIssue 5
Grimy plastic jars of various sizes sit proudly on the shelves of Amarjeet Sharma's room. A 55-year-old farmer in Chaina village of Punjab's Faridkot district, Sharma says the containers hold seeds that go back to his younger days.
"Farmers used to grow these, swap them with neighbours and preserve them for the tough times," he says, adding how these little seeds have beaten the odds several times, evolving all along.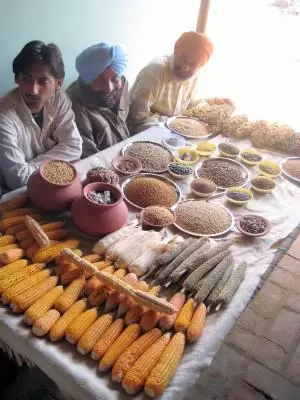 Amarjeet Sharma (extreme right) and other farmers with traditional seeds (Photos: Kheti Virasat Mission, Punjab)
But it's difficult to find the seeds these days, he bemoans. "I collected them after getting in touch with farmers all over the country. They are not available where I live and since they are difficult to procure, the seeds have to be multiplied before they turn worthless," he explains the reason for their importance.

That our traditional seeds have become a collector's item indicates the dominance of hybrid seeds that are pushed by private companies and hailed by policy makers.

But farmers can't grow these 'quality' hybrid varieties as they are designed to give a good yield for just one generation. They have to buy them every year from the traders.

As a result, farmers, who were the creators of seeds, have to now rely on the whims of private companies. More often than not, this results in costlier food on our dining table.

However, this was not always the case. The Indian government had given utmost importance to agriculture after independence, not only to ensure food security, but also to provide livelihood to a vast majority of rural population engaged in farming.

Huge investments were made in the research and development sector, besides extending subsidies to farmers. Today, there are around 100 institutes and 50 universities operational under the Indian Council of Agricultural Research (ICAR).

It is because of the high-yielding varieties (HYV) developed by these universities – combined with changes in agricultural practices – that led to the first Green Revolution in 1960s.

The public institutes developed over 2,000 varieties of seed and for greater social good, the Indian government decided against granting any intellectual property rights on these inventions.

This placed the seeds in public domain and farmers were free to exploit them to increase productivity. Seed corporations were established to produce and distribute quality material among farmers.

However, as is the wont of public sector institutes, these corporations were soon dogged by inefficiency. Instead of addressing the glitches, the government conveniently handed over the science of HYV to private sector.

The impact of this policy shift can be gauged from the fact that in 2010, the Indian seed market was pegged at Rs 8,000 crore, of which 70 per cent demand was met by around 150 private companies.

"There has been a gradual decrease in support to research in public sector. As the royalty-free varieties developed by these institutes started vanishing from the market, the private players stepped up the tempo and filled the gap.

"For instance, there is no HYV of cotton available from public sector which is why Bt cotton is grown across India," explains Dr G.V. Ramanjaneyulu, the executive director of Centre for Sustainable Agriculture (CSA), Hyderabad.

Today, all vegetables, maize, 95 per cent of cotton and 30 per cent of paddy are produced with hybrid seeds. Work is going on to develop hybrids in wheat and once they hit the market, there will be absolute hold of private companies on the seed business.

Even the National Seeds Policy 2002 favours replacement of farm-saved seeds with "quality seeds", with a major contribution envisaged from the private sector. Policymakers claim this is important as traditional seeds can't give high yields when compared to hybrids.

However, people like Amarjeet Sharma differ. "I grow cotton using traditional seeds and get a yield of 13-14 quintal from one acre, which is equivalent to Bt Cotton albeit with less input cost on pesticides, fertilisers and water," he says.

Dr Ramanjaneyulu agrees that if the purity of farm-saved seeds is maintained, they are a better option. "Maintenance of genetic purity is not a tough task and the government needs to invest in creating awareness about this, instead of batting for hybrids," he says.

With the entry of private sector, not only are the farmers losing control over seeds, they also find it difficult to procure them. A leading cause of the Indian farmers' rising indebtedness is the high cost of seeds.

For instance, depending on the quality and brand name, tomato seed price ranges from Rs 475 to Rs 76,000 per kg, while capsicum seed is available for anything between Rs 3,670 and Rs 65,200 for a kilo.

A poor farmer is left with no choice but to take a loan. Using hybrid seeds means he needs to buy more pesticide and fertiliser for a good yield, adding to his financial burden. No wonder, farmer suicide is on the rise.

Worse still, the seed companies can't be held liable under the present legislation. Last year, the Bihar government awarded Rs 61 crore compensation to farmers who had sown private hybrid maize seeds that failed to germinate.

The problem was not witnessed in seeds provided by public sector corporations. Despite being confronted with these facts, the seed company refused to take the blame for the inferior seeds.

Similarly, farmers in Warangal district of Andhra Pradesh experienced large-scale failure of the expensive Bt cotton seed in 2005 but the company refused to make up for the losses. Enraged by such instances, activists are seeking a Seed Liability Bill on the lines of Nuclear Liability Bill to ensure exemplary damages, apart from criminal as well as civil liability for spurious/sub-standard seeds.

"When seed fails to germinate or develop grains, it is the farmers' livelihood that is destroyed. Such is the extent of damage that many farmers prefer to commit suicide unable to bear the loss.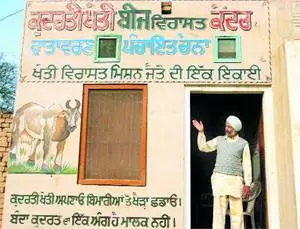 A seed bank of Kheti Virasat Mission in Punjab
"Considering that a good crop not only provides for food security but also economic security for the farmer's family, the loss cannot be measured simply in terms of the seed price that the farmer had incurred. Compensation must include the livelihood loss, and should include a minimum liability amount," says Devinder Sharma, an expert on food and agriculture policy.
Seed companies also claim the right to fix prices. One such firm, Mahyco Monsanto, took the Andhra Pradesh government to court, challenging its legislative power to regulate prices and royalty.

The Seed Bill 2010, which will be tabled in the Parliament soon, had invited criticism from the civil society groups since it failed to address the concerns related to high cost of seeds and lack of clarity on state government's role.

After several rounds of negotiation, the Union government accepted that seeds would be governed by the Essential Commodities Act under which the state can regulate prices.

However, the battle is only half won. "We are seeking a draft price regulation bill for seeds, just like the one for essential medicines, so that prices depend on production cost instead of arbitrary decisions by companies," says Dr Ramanjaneyulu.

Besides the much-needed policy interventions, civil society groups are also focusing on community initiatives to ensure preservation of traditional seeds.
Punjab's Amarjeet Sharma distributes samples of traditional seeds to around 200 persons every year and asks them to circulate them further. "I start by multiplying the seeds till they reach a stable quantity of around 10 kg. Then, anybody who wants can take them for free. However, I request them not to seek them again," he says.

Prakash Raghuvanshi, a farmer from Varanasi in Uttar Pradesh, has also been distributing seeds of high-yielding varieties he's developed for free. Till now, he has passed around the seeds among more than 20 lakh farmers in 14 states.

"Besides free seed distribution, farmers need to be guided on selection and plant breeding so that they know how to maintain the quality for best return," he says.
Because of his relentless efforts, around 2 lakh farmers in Maharashtra are growing their own seeds and sharing them with others. However, it is not a simple task, says Amanjot Kaur of Kheti Virasat Mission, a group working with Punjab's farming community. "We collected around 100 seeds from various states with great difficulty but none germinated due to poor quality," she laments.

The problem can be tackled only with systematic establishment of seed banks. "Such institutions should maintain a catalogue of traditional as well as high-yielding varieties, containing details of their physical characteristics, method of cultivation, use and expiry date, besides directory of farmers and the seeds they possess," suggests Dr Ramanjaneyulu.

Navdanya, a group of seed keepers, follows this practice with around 65 community seed banks established in 16 states. Similar initiatives have been taken in Andhra Pradesh and West Bengal.

Their rate of success has been encouraging. But as the activists' lobby accepts, the pace of corporates is much faster and unless more farmers shun the current agricultural practices, there is little hope.

Seed, it is said, holds the key to future – a reason that makes the struggle between corporates and community one that would write destinies, and change them too. – GOI Monitor


Trending Now: