A curious case of a conservation law pitted against a conservationist
26-January-2012
Vol 3&nbsp|&nbspIssue 4
Anand Deval is an agricultural engineer from Udaipur district in Rajasthan, who loves to plant trees. Years ago, he planted a variety of trees and plants in his sizeable backyard including teak and bamboo. Over time, and under his expert care, his backyard turned into a forest.

When he set out to cut some trees for maintenance and to make space to build a house for his daughter, he was informed that doing so was illegal. His backyard had been classified as a forest, which, as per the amended 1996 version of India's 1980 Forest Conservation Act (FCA), meant he needed permission to carry out any felling.

The 1980 version of the Act only covered the conservation of areas the government allocated as forestland, regardless of whether there was tree cover or not. Not only did this lead to areas that were not actually forests coming under the purview of the Act, it also left other sensitive areas unprotected.

To protect real forests being degraded due to lack of regulation, the Supreme Court of India passed a decision in 1996 stating that the FCA would also include all areas that are forests in the dictionary meaning of the term, defined by tree density.

Thus, Deval's back-yard fell in this category, rendering it protected under law. He could not fell any tree without getting a working plan, for how he would go about it, approved by the Central government.

He was indignant at first and lodged a case in the court in 2003, arguing for his rights over the forest he had grown.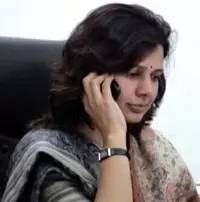 Shailaja Deval is known for her pro-people approach

Imagine his surprise and amusement then, when in 2004, his daughter Shailaja Deval passed the Indian Civil Services exam and was accepted into the Indian Forest Services, and posted in Rajasthan.

"It was April 1," recalls Shailaja with a laugh. "My father kept saying I was making an April fool of him. But he was also very proud of me."

As for the case: "My father and I don't talk about it, ever. He has never informed anyone, during his many visits to the department, that he's my father, and I don't deal with his case."
The problem with the case, she says, is that "it had no precedent. It was a completely unintended consequence of a well-meaning act, and no one quite knew what to do. Eventually, my father came to see it as a beneficial situation."

Deval got a working plan approved by the government that allows him to harvest 25 per cent trees every year. This is more than enough to meet his needs and results in the protection of his much-loved forest-garden.
His land is in a hilly, undulating terrain, which best serves as a forest as it is not good for any other use. He withdrew the case in 2008.
Shailaja Deval, meanwhile, is well known for her pro-people approach. When asked about it, she readily admits, "Yes I am." This is not to be confused with her being pro-exploitation.
"There are misconceptions about the forest department on all sides. We are not here to mark out all forestland for exploitation. But we are not here to stand in front of the forests and disallow development either," says Deval.

"We are facilitators and speed breakers. The Forest Rights Act is there to facilitate development works. I look at them as top priority. But the forest department is also there to slow down the process of unregulated and ill-planned development.

"We make the time it takes to plan and execute a project longer, so that the agents can be forced to think long-term in terms of the implications their projects will have on the environment."

On the subject of unintended consequences of forest laws such as in her father's case, she states, "In my tenure, I have realized our system is not foolproof. While we make good legislation, we miss out on certain things. In my father's case, things fell into place very nicely, but that is not always the case."

In a refresher course for the forest officers, officer Deval advocated for Forest Rights Act, which enshrines the rights of tribal and forest communities to forestland.

"Everyone was up in arms against me, but I said those communities are already sitting there. Act or no Act, you can't find another place for them. They're tilling tiny pieces of land, smaller than that of most small farmers, eking something out of them. What's the harm in it? They're not murdering anybody!"

"There are immense amounts of forestland where these tribes do not live. I think we should take care of them, and prevent the mass industrial exploitation of those areas, rather than stop the tiny bit these communities are doing."

She argues these communities are the responsibility of the government. "The role of government is to ensure the protection of the poor and the weak. It's been 50 years since Independence, and we haven't succeeded in providing them education, health, insurance or shelter.

"Yes, I am very pro-people, and I think it is a joint responsibility to be shared by more than just the forest department. It is the responsibility of the health, education, animal welfare and others departments as well."

By arrangement with Down to Earth


Trending Now: